How to Hang a Picture Frame: A Step-by-Step Guide
By Luke Arthur Wells published
Learning how to hang a picture is an easy way to stamp your personality on a space. Here's a guide, plus DIY tips, to make the process easy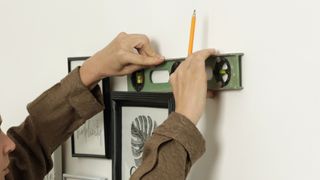 (Image credit: getty images)
How to hang a picture is DIY 101, but if you're a beginner when it comes to do-it-yourself, it can still be a job that can cause mess and potentially even some damage (though hopefully nothing a bit of filler can't fix).
If you're not sure whether you can hang a picture just on nails, when you need to use special fixings or are looking for an easy way to hang a picture straight, you've come to the right place. Here are some quick DIY tutorials to make hanging a picture frame easy and get you started on customising your home.
Get the right equipment – including the best cordless drill your budget will allow, in the case of heavier pictures or mirrors – and learn how to hang different types of frames with our photo tutorial below.
What Tools do you Need to Hang a Picture?
If you have a light picture frame, you may be able to hang it simply by hammering nails into a masonry wall. However, largely, you'll need to use screws and rawl plugs or fixings to suit the type of wall, which will mean you will also need a cordless drill and screwdriver.
When drilling into brick, a standard rawl plug should suffice, but for hanging pictures on plasterboard stud walls, you can use specialist arrow-shaped plasterboard plugs which expand on the other side of the plasterboard, securing them into place.
To avoid electrical wires and pipes in walls, or to find a stud to hang a heavier picture frame on a non-solid wall, you should use a multi-detector before marking and drilling your holes.
Depending on how you've decided to hang your picture, you'll require a few other tools too, such as picture wire, pliers and masking tape.
What Height Should you Hang a Picture Frame?
The general rule of thumb for hanging a single picture is to aim for eye-level height, though of course this is different for everybody. As a general rule, aim for the base of the picture to sit between 150-165 cm from the floor, depending on the size and shape of the picture or mirror, and your height of your room.
How to Hang a Picture Frame with Wire
Learning how to hang a picture with wire and D-rings is by-in-large the easiest way of undertaking this task, but isn't always suitable for very heavy frames which would benefit from sitting directly on screws in the wall.
If your frame has D-rings attached already, you're ready to start, but you can purchase picture hanging kits with a range of different fixings if you want to change how your frame is hung. D-rings should be positioned about a third of the way from the top of the frame on either side so that the wire doesn't show when hung.
1. Start by cutting your picture hanging wire with pliers. You'll need it to be a few inches longer than width between the two D-rings.
2. Tie a simple knot in the wire around the first D-ring, leaving a little length that can be tightened with the pliers for a secure finish.
3. Do the same on the other side ensuring that the wire has a little give in it so that it can be hung on a screw or nail in the wall.
4. Once secured, measure down from the top of the frame to get a measurement for where your screw or nail should be located.
5. Mark on the wall in pencil where you'd like the top of the frame to sit at the central point. Measure down by the length measured earlier and mark for where the screw or nail will sit.
6. Nail or drill into the mark after ensuring it's safe to do so with a multi-detector. If using a screw, insert your rawl plug, and drive in your screw.
How to Hang a Picture Frame With Sawtooth Hangers
This tutorial for hanging a picture with sawtooth hangers can be used for frames with D-rings, not using wire.
1. Using masking tape, cut a piece that sits perfectly on the centre of each sawtooth hanger on the frame.
2. Place the tape on the wall where you want to hang the picture. You may want to measure down from the top of the frame to the hanger to get this positioned correctly. Use a spirit level to ensure the tape is straight.
3. Mark at each end of the tape for when to drill into the wall, making sure these points are level.
4. Drill the wall, insert a rawl plug and drive in your screws.
5. Carefully lift the frame into place, hooking the sawtooth hangers over the screws
How to Hang a Heavy Picture
Hanging picture frame hooks directly onto hangers or screws is the best option for heavy frames. Don't use picture wire or chains apart from for lightweight frames.
I'd suggest that anything over around 10kg shouldn't be hung on a plasterboard stud wall, unless it's affixed on the studs themselves. Metal plasterboard anchors are also stronger than plastic ones, so if in doubt about the weight, use these.
This is generally why you'll find heavier objects such as large pictures and mirrors hung on masonry walls.
You can also find more heavy-duty hanging hooks for walls for heavy pictures. The bigger and deeper your rawl plugs and screws, the stronger they will be, but they still need to fit your frame's hooks or rings onto them, so check this first.
Luke Arthur Wells is an award-winning interiors blogger and stylist. His blog has been one of Vuelio's top 10 interior blogs for four years running, and he recently won the Best Creative Skill category at the Amara Interior Blog Awards. Luke has worked with some of the UK's biggest brands, from John Lewis and Made to Farrow & Ball and B&Q. He's a big DIYer, and loves coming up with creative woodwork projects for his home, a Victorian terrace renovation in Essex.
Homebuilding & Renovating Newsletter
Get the latest news, reviews and product advice straight to your inbox.
Thank you for signing up to Homebuilding. You will receive a verification email shortly.
There was a problem. Please refresh the page and try again.