Downstairs Bathroom Ideas: Beautiful Yet Practical Solutions
By Natasha Brinsmead published
Our downstairs bathroom ideas take into account the issues raised by locating this space on the ground floor to ensure a practical and stylish end result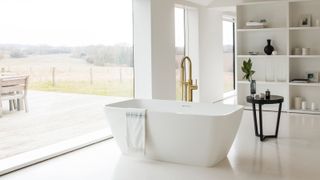 (Image credit: Clearwater)
Whether you are after some downstairs bathroom ideas to transform an existing, dated ground floor space, are self building a single storey property or want to create an accessible bathroom to future-proof your home, our brilliant round-up takes all requirements into account.
Once seen as old-fashioned and impractical, downstairs bathrooms actually have a lot going for them. They make it possible to one day locate an extra bedroom on the ground floor, perhaps for a family member with mobility issues that makes navigating stairs difficult, but they are also popular with those building 'forever homes'.
Downstairs bathrooms should not just be viewed as a room that provides an alternative for those that can't get upstairs though — they make sense in any household where an extra bathroom is needed but can't be squeezed in to the first floor.
If you still aren't convinced, we've gathered up some of the best and most creative ideas around to leave you in no doubt about the benefits of a ground floor bathroom.
Practical Downstairs Bathroom Ideas
Unlike normal bathroom design ideas, ground floor spaces have some very unique requirements that need taking into consideration. These include:
Location: If not working with an existing room, take time to consider the best location for the new bathroom — ideally it will be located so that pipes and waste can easily be taken outside and away from the main living areas.
Ventilation: Don't forget the need for a window or extractor fan.
Privacy: Think about window placement and treatment carefully.
Soundproofing: Ensure walls are well soundproofed to ensure the entire household doesn't have to listen to anyone's daily ablutions over breakfast.
Size: What will you have space for? You need enough space to enjoy using your new bathroom without feeling hemmed in.
Once you have planned out the practical side of your bathroom design it is time to start enjoying all the benefits of a ground floor bathing spot.
1. Make a Design Statement With a Freestanding Bath
It can sometimes be risky to install a very heavy feature bath into a first floor bathroom if the floor isn't designed to take the additional weight. Often floors need reinforcing to overcome this issue.
However, when it comes to downstairs bathrooms, it is far more common for floors to be solid in their construction making them ideal for anyone who has their heart set on a hefty bathtub with some wow factor.
This stunning ground floor bathroom has a walk-in shower, fitted with Acquabella's Flow Zero shower tray, with a view of the pretty Mediterranean courtyard garden outside.
2. Ensure Privacy With High Level Windows
Privacy can be an issue in downstairs bathrooms and while it can be lovely to enjoy your morning shower or evening bath while taking in far-reaching views over the countryside, this isn't always a possibility.
If your bathroom will be overlooked, avoid becoming the talk of the neighbourhood by fitting high-level clerestory windows that will allow light in but keep prying eyes out. The stylish aluminium windows here are from ID Systems.
3. Squeeze a Shower Enclosure into a Downstairs WC
If you have the space in an existing or new cloakroom, why not consider making it part of your shower room ideas? It is always handy to have an extra shower, whether that is for a growing family or to make having guests to stay a little easier.
Despite the low, narrow proportions of this space, it has been possible to incorporate The Boutique Walk-In enclosure from Matki. It appears to be almost completely frameless and has an integrated low-profile tray, so takes up very little space visually.
4. Connect The Space to Your Garden
Make the most of the ground floor location of your new bathroom by allowing it to be opened up to the garden when required. While you might not want to expose the space to the elements in freezing cold weather or in the middle of a family barbecue, at other times this can be a real luxury — step out of the shower and onto your terrace for a zen-like experience.
4. Stick to Built-in Sanitaryware in Small Spaces
If you are looking at ways to make the most of a small bathroom, then this one is for you. Most bathroom suppliers now have ranges designed specifically to tackle the issue of compact spaces — and built-in sanitaryware is an ideal solution.
The Ultra Modern Fitted Bathroom suite from Mereway Kitchens & Bathrooms shown here manages to incorporate handy storage space while making the best use of a limited footprint.
5. Indulge in a Sunken Bath
If you have always had your heart set on a sunken bath then a downstairs bathroom could finally help you realise this dream.
While it is possible to build up the floor level in a first floor bathroom in order to install a sunken bath, it is a tricky design feature to achieve on upper storeys, where the ceiling height beneath needs to be taken into consideration. Fitting this style of bath into ground floor bathrooms, particularly when building from scratch, is usually far simpler.
6. Combine a Utility Room With Your Bathroom
If you like the idea of a downstairs bathroom but are struggling to fit one into your layout, consider combining your utility room and bathroom into one space.
This is actually one of our favourite utility room ideas and is really practical, making it possible to place dirty clothes that are shed on entering the shower straight into the washing machine. It should also mean cleaning products are close to hand when required.
7. Invest in Good Blinds to Spare Blushes
It is all well and good dreaming of enjoying views out over your garden while you shower though full-height glazing, but what about the views enjoyed by those outside looking in? If your new bathroom windows are located in a spot that is likely to be frequented by passers by, be sure to fit them with good blinds or shutters.
These PVC waterproof Bathroom Blinds from English Blinds are washable, wipe-able, mould resistant and blackout.
8. Design Your Layout to Be Peek Proof
There are ways to allow plenty of light into your downstairs bathroom and to get great views of your garden at the same time as sparing your modesty. For this to be a possibility you need to carefully plan your bathroom design and locate fittings such your shower enclosure and bath away from windows, using roof lights or similar in these spots.
Reserve full-height glazing for areas of the space where you are likely to be a little less exposed. The example here is ideal — the shower is tucked discreetly into a corner away from the sliding doors, while a cosy seating spot is allowed to enjoy the garden views.
9. Invest in Good Ventilation Methods
Not only will adequate home ventilation be a requirement of the Building Regulations, it is also important from a comfort point of view when it comes to downstairs bathrooms in particular.
Without proper methods of extracting steam and moisture from the space, it is likely to escape out to your other ground floor spaces too and no-one wants to be struggling to see the television because it has steamed up after someone has taken a shower.
10. Make The Most of Space With a Wet Room
Most wet room ideas are perfect for smaller downstairs bathrooms as they are very space effective. Providing the space has been properly tanked, you may well not need to fit a shower enclosure or even a shower screen — a huge benefit, as you won't need to worry about opening and closing a shower enclosure door. Do consider installing underfloor heating though as it is the best way to dry out the floor quickly.
The Slate Shower Tray and Floors from Matki shown here can be made to measure in square or rectangular shapes in any size up to 2000mm x 1000mm.
11. Sneak in a Washing Machine
If you are struggling to find space in your utility room for a washing machine or would like to avoid installing one in your kitchen, then consider locating it in your downstairs bathroom instead. It can make sense to locate appliances that need water supply and waste provision in a bathroom, where these will already be a necessity.
12. Fit a Bath Into a Downstairs Bedroom
If you have a ground floor guest bedroom but are struggling to find the space for an en suite or separate bathroom – or just want to add a touch of luxury to the space –then how about installing a bath within the room?
If this idea takes your fancy be sure to work through the practicalities so that your new bath is a pleasure rather than a pain — you will need to think about how you will get water to and from the bath, provide adequate means of ventilation and choose bathroom flooring ideas that can withstand the odd splosh or spill.
The Stream Freestanding Bath by Waters Baths of Ashbourne in this stunning bathroom makes a real style statement.
Natasha is Homebuilding & Renovating's Associate Editor and has been a member of the team for over two decades. An experienced journalist and renovation expert, she has written for a number of homes titles. She has renovated a terrace and is at the end of the DIY renovation and extension of her Edwardian cottage. She is now looking for her next project.
Homebuilding & Renovating Newsletter
Get the latest news, reviews and product advice straight to your inbox.
Thank you for signing up to Homebuilding. You will receive a verification email shortly.
There was a problem. Please refresh the page and try again.