How Much Paint do I Need? How to Estimate Accurately for Your Project
By Steve Jenkins published
The first question of any painting project: how much paint do I need? Our expert decorator offers his tips for estimating before buying paint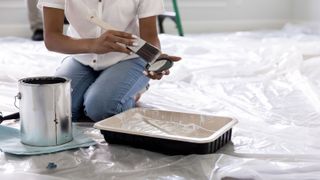 (Image credit: getty images)
So you've decided on the colours for your room makeover, but now the big question: "how much paint do I need?"
Buy too little and you won't be able to get the job finished. This can leave unwanted edges when painting a wall or door. It can also leave a colour mismatch. The same colour from a different batch may vary slightly and will be noticed, especially on a large wall.
So make sure you get your tape measure out, calculate your square meterage and use an online paint calculator to discover how much paint you will need.
How Much Paint do I Need to Paint a Room?
How much paint you'll need to paint a room will vary from room to room, depending on how many walls you are painting and how many doors and windows are in the room. However, a very rough guide for the average size room is one litre per coat per wall. Most walls will need two coats so two litres per wall. Count the ceiling as a wall as it will be a similar size.
If a wall has a door and window half the amount for that wall. Typically 10 litres of emulsion will do two coats on four walls and the ceiling in a room and have some left over for touch ups.
For a quick estimate, pace out the size of the room — each step is roughly a metre. But if you are to measure a room it's a better idea to use a measuring tape. Measure the length and height of each wall and deduct any areas such as windows and doors and use a paint calculator to get a more accurate calculation.
To calculate trim such as painting skirting boards, measure the length of each wall and this will give you the square footage. For example, if you have 14 metres of skirting and your paint has a coverage of 14-16m2 you'll need around a litre of undercoat and a litre of top coat. Buy a 2.5l to make sure you have enough and you can store for future jobs. If you will be painting windows, don't forget to include those in your trim calculations.
When you're buying the best wall paint, especially coloured paint, buy more than you need. If you need 8 litres buy a 10 litre tub. This will make it ideal for touch ups in the future and ensuring you won't run out.
How Much Paint do I Need for One Wall?
As a general guide, a standard wall is approximately 12m2 and a standard emulsion wall paint has a common coverage of between 12-14m2 per litre. Most interior walls will need two coats, so 1.5-2 litres is a rough guide for a single wall. If you have a door and window, obviously less paint will be needed. But check the coverage of the paint you are using to paint the wall to help calculate that you have enough.
If you are painting a feature wall like a chimney breast you will need less paint, but you will probably still need at least a litre, maybe more, for two coats. So a 2.5l tin will still be needed.
Use the leftover paint for touch ups or a small recess (if you have one) to complement the feature wall.
How Much Paint do I Need to Paint a Door?
Whether you're painting a front door or an internal door, they're common sizes, so it's relatively easy to calculate how much paint is needed. Internal doors are typically around 2 metres tall and under 1 metre wide, though sizes vary they do not to any great degree. Front and back doors are often slightly larger.
As a general guide a door is 2m2 for each coat. Undercoat and satin or gloss typically has better coverage than emulsion, but check the paint you are buying. So to do one coat of undercoat and one top coat you will need around half a litre of each to paint a door.
Does a Second Coat use Less Paint Than a First Coat?
If painting over a wall that already has a coat of emulsion or painted door in reality, there isn't a great deal of difference in the amount of paint used on a first and second coat. But if laying down a first coat on a new surface the first coat will typically use more than the second but not a great deal more. When calculating how much paint you need, just assume that each coat will use the same amount of paint.
What a first coat does is create a base for the second, which will make it much easier and quicker to apply than the first coat.
Online Paint Calculators
This simple and straightforward selection of calculators lets you add dimensions to get a quick and approximate guide to how many litres of paint will be needed.
For a more brand and paint specific calculator try these. They allow you to choose a specific paint and estimate how much you need to buy.
Steve is an avid DIYer with over 20 years of experience in transforming and renovating homes. He specialises in painting and decorating, but has strong all-round building skills, having previously worked in the industry for 10 years.
Homebuilding & Renovating Newsletter
Get the latest news, reviews and product advice straight to your inbox.
Thank you for signing up to Homebuilding. You will receive a verification email shortly.
There was a problem. Please refresh the page and try again.