Cavity Wall Insulation Problems: What Issues Can Occur?
By Tim Pullen published
Having cavity wall insulation problems? Find out what may be causing issues with this expert guide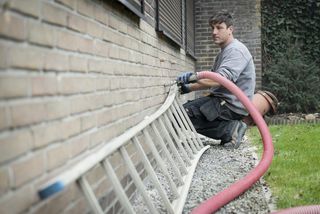 (Image credit: Knauf )
Cavity wall insulation problems are usually the preserve of older homes, which have had insulation retrofitted, rather than new builds. However, it can cause issues that affect your home's energy efficiency and warmness, so it's something you'll want to get sorted.
In the worst cases, you'll need to have cavity wall insulation removed to solve your problems, a process which can be costly.
Find out more about the potential issues surrounding retrofitting cavity wall insulation and whether it's worth it in the first place with our handy guide.
What Causes Cavity Wall Insulation Problems?
Standard masonry wall construction consists of two skins of brick (or block) with a cavity between. In a new build there will be a minimum 70mm insulation installed in that cavity, as the wall is being built, to meet current building regulations.
In this case it is very rare for the cavity insulation to cause any problems. What we are concerned with is retrofit insulation to existing properties where poor installation, poor materials and installation to unsuitable properties can cause serious problems.
There are three basic types of insulation material for retrofit situations. In order of efficacy they are:
Injected foam. This will gives the best U-value and best resistance to moisture penetration. It is installed by drilling a series of (small) holes in the external skin where the foam is injected under pressure.
Polystyrene beads. These are available if two forms, white beads and graphite beads. The graphite beads can be coat with glue as they are injected and stick together, giving a better U-value with less chance of settlement.
Blown fibre. Can be either glass fibre or mineral wool. Gives the poorest U-value and is susceptible to getting caught on wall ties and mortar protruding into the cavity, forming cold-spots. This option is probably best avoided.
(MORE: How to Insulate a Wall)
How Common are Cavity Wall Insulation Problems?
As of 2020 there were an estimated 6 million homes with cavity wall insulation. Of those an estimated 1.5m have problems, according to The Guardian. That means that 75% of those homes are problem free.
What Problems can Occur With Cavity Wall Insulation?
Of the 25% a proportion will have a problem with the installation company rather than the cavity wall insulation itself – things like not clearing up after themselves, not turning up – any of the problems that might be expected with any project.
The rest are likely to have one (or both) of two potential problems; damp penetration or cold spots. They will both be fairly apparent and the first will be the result of something bridging the cavity and the second by a void in the insulation. Both will need to be remedied by getting the installer back to fix it, which is why the guarantee offered by Cavity Insulation Guarantee Agency (opens in new tab)is a good idea.
What Types of Property are Cavity Wall Insulation Problems Likely to Occur?
Having a cavity is obviously the primary criteria.
If your house was built after 1920 it is likely to have one, if it was built after 1930 it is almost certain, and the cavity is likely to be 50mm (2 inches) wide. Prior to 1930 it may be only 25mm wide which makes installation of cavity wall insulation more tricky, more expensive and less effective.
Cavity wall insulation was first introduced in the 1970s but would then have been no more than 25mm thick, with a 25mm cavity. It is very difficult to introduce more insulation and most installer will refuse to take on the job. The only option in either of these cases is internal wall insulation.
Working on the premise that wet insulation is worse than no insulation, the internal surface of the walls needs to be dry. Any damp patches need to be fixed before installing cavity wall insulation.
(MORE: How to Treat Damp)
On the same basis the external skin of the wall needs to be in good condition and able to withstand severe weather. It could be that rainwater is penetrating that outer skin and getting into the cavity without reaching the inner skin (and therefore not appearing as a damp patch). It that case the insulation will absorb the moisture and effectively suck heat out of the house, as well as forming internal damp.
Some installers also suggest that cavity wall insulation may not be suited to walls that are regularly exposed to driving rain, although it is not made clear what 'regular' or 'driving' actually mean. But we do know that the west of the country gets more wind and rain than the east. In all cases the previous points apply; the wall needs to be in good repair and dry.
Finally the condition of the cavity itself is critical. A full inspection using a probe camera will establish if there are lumps of mortar bridging the cavity, if the cavity ties are in good order or if there is a collection of mortar fallen to bottom of the wall and again forming a bridge.
If any of these issues apply then cavity wall insulation alone is not a good idea. The solution is a new external, water resistant barrier, although that would significantly increase the cost.
Is Cavity Wall Insulation Worth Installing?
According to the Energy Saving Trust 35% of the heat escaping from an uninsulated house leaves through the walls. Which is probably reason enough. Ovo Energy suggest that the average cost of cavity wall insulation (CWI) for a 3 or 4 bedroom detached house is £720 and reduces the heating bill by £275 per year (a 32-month payback).
Reducing the heating demand will also save around 700kG of CO2 emissions per year, the equivalent to planting 11 trees each year.
Without question there are positive and strong reasons to install cavity wall insulation. The potential for problems is still daunting due to the possible cost and disturbance involved in fixing them. But stick to the rules around whether the house is suitable and use a good installer and the potential for those problems occurring becomes diminishingly small.
How do I Find a Competent Cavity Wall Insulation Installer?
Cavity wall insulation has been a bit of a bandwagon with a number of less than perfectly qualified people jumping on it to take advantage of grant funding. The numbers of these people has reduced in more recent years but they are still there. A major problem with the cavity wall insulation may mean it has to be removed, and that can be eye-wateringly expensive.
All the normal rules of finding a good installer apply, of reputation, references and length of time in the business. In addition there is the Cavity Insulation Guarantee Agency — an installer registered with this agency is highly likely to do a good job as there are legally enforceable financial implications of fixing any failures.
The key issue is, perhaps, the lengths the installer goes into to establish if the house is suitable for cavity wall insulation. As a minimum it should involve an inspection of the external brick work to establish that the pointing as well as the bricks themselves are in good order and properly resisting rainwater penetration. It should also involve an inspection of the cavity to establish that it is clean enough for cavity wall insulation to be effective.
In short, if the installer does not do these inspections then do not use them
Tim is an expert in sustainable building methods and energy efficiency in residential homes.
Homebuilding & Renovating Newsletter
Get the latest news, reviews and product advice straight to your inbox.
Thank you for signing up to Homebuilding. You will receive a verification email shortly.
There was a problem. Please refresh the page and try again.