Do radiator reflectors work and could they save you money?
How well do radiator reflectors work and are they a good way to lower your bills and keep your home warmer? We investigate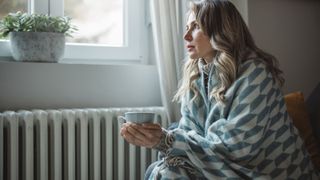 (Image credit: Getty)
Do radiator reflectors work? Rising energy prices and the high cost of living right now have us all looking for energy saving tips and ways to slash our household bills without sacrificing comfort — so could a radiator reflector be one method to add to the list?
Anything that makes our homes warmer without the need to crank up the thermostat is most welcome for anyone at the moment, particularly as the nights begin to draw in.
Radiators remain one of the most popular ways to heat a home and here, we take a look at one common method of maximising the efficiency of them — radiator reflectors. We explain what they are, how they are fitted and just how much money and energy they are likely to save you.
What are radiator reflectors?
Radiator reflectors are, quite simply, a sheet of reflective material that is placed between the back of a radiator and the wall. Usually they are made of metal (commonly aluminium) or a foil-wrapped slimline board. They can be used with most types of radiators.
How do radiator reflectors work?
To understand how radiator reflectors work, it is useful to consider that your radiators radiate, or give out, heat both into your room as well as into the wall that they are fitted to.
Obviously you very much want the heat they give off into the room, but you need to do all you can to minimise any heat loss through the wall behind — which will be more of an issue with external walls (particularly those that are uninsulated) than it will with internal, partition walls.
The purpose of radiator reflectors is to reflect any heat that would otherwise be lost through the wall back into the room. This should increase the efficiency of your radiators — something you will no doubt be keen to do if you have gone to the effort of insulating a wall in the first place.
They tend to be most effective when used on walls in the most exposed areas of the home — namely exterior walls. Internal walls and even party walls will not benefit as much as less heat is lost through these.
How much money can radiator reflectors save you?
First off, how much do radiator reflectors cost? They vary in price (and quality) but to give you an idea, radiator reflectors from Radflek start from £21.99 for a pack of 3 sheets measuring 1200mm x 600mm, two strips of Radstik and 12 fixing clips.
The money you save will obviously depend on the size of your house, how many radiators you have and how much you use them, the thickness of your walls (solid walls, for example, can be far more prone to heat loss) and your current insulation levels, as well as the type of fuel you rely on to heat your home. It will also depend on the product you choose.
The energy saving claims from companies vary, but Radflek, whose products have been tested by the British Board of Agrément (BBA) and verified by the BRE, say their products can reduce heat transfer through walls by 45%.
The findings go on to state that in a house built before 1976, with cavity walls, using their radiator reflectors could save £2.75 per radiator, per year.
Of course, it is important to remember that these kind of energy-saving measures will benefit from being used in conjunction with other steps to improve the efficiency of your radiators. Learn how to bleed a radiator to keep them working efficiently and invest in a thermostatic radiator valve too.
"Radiator reflectors only really work well when radiators are really hot and the wall behind is cold," explains David Hilton, a renewables and ventilation installer, with over 35 years experience.
"As we move towards lower flow temperatures in our central heating systems (Building Regs now require a maximum 55°C flow as against older homes with a 65°C flow) and our homes are more insulated, these reflectors are less useful. Spend the money on insulation and draught proofing."
"Radiator reflectors would be just one of the options that people should consider in order to improve the heat retention of a room, says Nick Duggan, Director at The Radiator Centre. "Some other methods might have a greater impact, such as chimney cushions (20% of heat can disappear up an open chimney), draught excluders around doors and windows, and rugs over [uninsulated] wooden floors."
How do you fit radiator reflectors?
Although every manufacturer will have their own set of installation instructions – which are usually very simple to follow – in many cases you will simply need to measure your radiator, cut the reflector to fit before fixing it between the radiator and the wall.
Some products come with clips that are fixed to the brackets that attach the radiator to the wall. The reflector then hangs from these clips. In other cases, double sided adhesive tape or sticky pads are used to attached the sheets to the wall.
Can you use kitchen foil as a radiator reflector?
Although this is undoubtedly a cheap idea, it is not necessarily going to give the best results.
Standard kitchen foil has a tendency to crinkle up, tear and be awkward to work with. While it may well work in the short term – providing you can get it to sit flat behind the radiator – it is unlikely to last as long or perform as well as products that are made specifically for this purpose.
Get the Homebuilding & Renovating Newsletter
Bring your dream home to life with expert advice, how-to guides and design inspiration, direct to your inbox.
Natasha is Homebuilding & Renovating's Associate Content Editor and has been a member of the team for over two decades. An experienced journalist and renovation expert, she has written for a number of homes titles. Over the years Natasha has renovated and carried out a side extension to a Victorian terrace. She is currently living in the rural Edwardian cottage she renovated and extended on a largely DIY basis, living on site for the duration of the project. She is now looking for her next project — something which is proving far harder than she thought it would be.