Best Water Butts: 6 Great Buys to Help You Start Saving Water
These are the best water butts to help you store up a handy water supply for your garden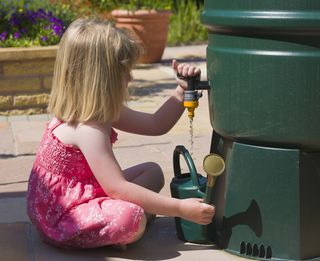 (Image credit: Getty)
Owning one of the best water butts means you can capture and collect rainwater, ensuring a useful supply for your garden and lowering your mains water usage.
Water butts are essentially large containers which operate through a connection to your downpipe, which will lead off your guttering.
Many come complete with diverters, designed to fit on to the end of your downpipe and direct the water into the butt. Some also come fitted with hose fit taps. These not only act as taps from which to dispense your collected water, but can also be fixed to your hose.
When looking for the best water butts, look out for models with a lid. This is handy as it can prevent leaves and debris falling into your water and act as a safety measure for those concerned about children, pets or wildlife falling into the water.
Use our guide to find the best water butt for your home.
(MORE: What is an Eco Home?)
What are the Benefits of Water Butts?
There are lots of great reasons why you should get yourself a water butt, such as:
If you are on a water metre and find yourself regularly using your mains supply to water the garden you will see your water bill drop — particularly during the summer months
Waterwise states that, if every household in the UK got a standard water butt around 30,000 million litres of water could be saved each summer
Plants and wildlife respond better to rainwater than tap water
Hosepipe bans will no longer be an issue for you in the summer months as you will have stored plenty of rainwater.
Quick Links to Best Water Butts
Which is the Best Water Butt?
1. BeGreen Mini Rainsaver Water Butt Kit
Compact no-nonsense design
Stand included: Yes | Capacity: 100 litres | Diverter included: Yes | Dimensions: 38 x 38 x 124 cm
Compact for small spaces
Made from recycled plastic
Complete kit
100 litre capacity not enough for everyone
A great simple, fuss-free water butt, suitable for even small gardens. The BeGreen Mini Rainsaver Water Butt Kit comes complete with everything you need to get started, including a lid, rain diverter, stand and hose fit tap.
The entire thing is made from recycled plastic and the hose fit tap is compatible with lots of systems including Hozelock.
Buy the BeGreen Mini Rainsaver Water Butt Kit now
---
2. Rainsaver Mini Grey Water Butt
Good value, neat basic water butt
Stand included: Yes | Capacity: 100 litres | Diverter included: Yes | Dimensions: 38 x 94 cm
Inexpensive
Complete with stand, diverter and hose fit tap
Compact dimensions
Tap hole cover can be stiff to remove
Perfect for those with limited space looking to reduce their mains water consumption.
This simple water butt holds up to 100 litres of water and comes with a stand, hose fit tap and diverter. The grey colour is a good option for owner of contemporary homes as it fits in well with crisp white render and aluminium windows, although its discreet design and smaller proportions mean it could blend in pretty much anywhere.
Buy the Rainsaver Mini Grey Water Butt now
---
3. Charles Bentley Garden Round Plastic Water Butt Set
Smooth, round design with a large capacity
Stand included: Yes | Capacity: 210 litres | Diverter included: No | Dimensions: 97 x 57 x 57cm
Large capacity
3-part stand for extra sturdiness
No diverter
With a capacity of 210 litres, this is an affordable option that's great for watering small to medium-sized gardens throughout the summer.
It comes with a three-part stand, which provides extra stability, as well as a simple and effective downpipe filler kit which makes it easy to install. There's also a lockable lid included to help keep your water secure in place once collected, although you'll need a screwdriver to unlock it.
Buy the Charles Bentley Garden Round Plastic Water Butt Set now
---
4. Sankey 1229 150L Beehive Water Butt
Make a real design statement
Stand included: No | Capacity: 150 litre | Diverter included: No | Dimensions: 77 x 60 x 60 cm
Unique design
Good capacity
Weatherproof
Stand and diverter not included
The first thing you'll notice about this water butt is the beehive design, and you'll likely either love it or hate it. But that's one of our favourite things about this water butt: you won't want to hide it away behind the shed.
It is made from 100% recycled materials but styled to look ceramic, and will easily blend in with any garden pots. It's lightweight too, weatherproof and very durable.
The only negative is that it doesn't come with a stand or diverter.
Buy the Sankey 1229 150L Beehive Water Butt now.
---
5. Strata Products Slimline Water Butt
Slimline water butt at a great price
Stand included: No | Capacity: 100 litre | Diverter included: No | Dimensions: 35 x 35 x 94 cm
Great low cost option
Slimline design
Lockable lid and tap included
No stand or diverter included
Cheap and cheerful — this neat plastic water butt is ideal for those just getting started in the world of rainwater harvesting.
Whilst a diverter and stand will need to be purchased separately, this water butt does come complete with a lockable lid and a tap. If you don't want to buy a stand, a couple of bricks placed around the base will do a similar job in helping you raise it up in order to get your watering can underneath the tap.
Buy the Strata Products Slimline Water Butt now.
---
6. Whitefurze G29WB Water Butt Kit
Great value for money kit
Stand included: Yes | Capacity: 100 litre | Diverter included: Yes | Dimensions: 40 x 40 x 86 cm
Easy to install
Comes in 2 capacity sizes
Base could be sturdier
This no-fuss water butt kit from White Furze is fantastic value for money. Not only is it easy to install (no drilling is required), but it comes complete with a stand, diverter, tap, t-piece and flexible hose. Its slim design makes it well-suited for smaller gardens.
Plus, there are internally threaded holes designed for taps and connections, and a supplied template with easy-to-follow instructions is very handy. Simply fix to your downpipe and it will begin collecting rainwater.
It's available in three different colours (green, gunmetal grey and forest green). And it also comes with 230L capacity, if you're looking for something a little bigger.
Buy the Whitefurze G29WB 100L Water Butt Kit now
How to Choose the Best Water Butt
When choosing a water butt you should take into account the space you have available for it. It will need to be located so that the downpipe that runs off the guttering of the house or building can easily reach it. Most water butts come with a diverter that fits onto the downpipe and directs water into the butt.
Water butts usually sit close to a wall, so do choose one that won't take up too much space or be in the way of any doors or windows.
You should consider safety and practicality too. Choose a butt with a lid to prevent children or pets from falling in.
Investing in a stand to raise the water butt off the ground will make connecting a hosepipe or filling a watering can from the tap simple.
Natasha is Homebuilding & Renovating's Associate Editor. She is at the end of the DIY renovation and extension of an Edwardian cottage.
Homebuilding & Renovating Newsletter
Get the latest news, reviews and product advice straight to your inbox.
Thank you for signing up to Homebuilding. You will receive a verification email shortly.
There was a problem. Please refresh the page and try again.