Kitchen island costs: How to save money on this design feature
Kitchen island costs need not set your budget adrift. Our guide is here to reassure you that, however much you have to spend on this new feature, there is something out there for you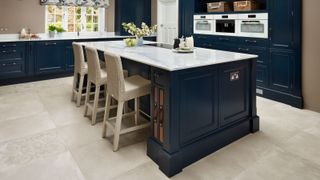 (Image credit: Davonport)
Many people assume that kitchen island costs will stand in the way of them including this kind of feature in the design of their new dream space — yet this need not be the case.
Thanks to the massive rise in the number of people now interested in designing a kitchen island as part of their overall layout, there really is now an island for every size, style and spec of kitchen. This has meant that while it is quite possible to spend thousands on a kitchen island, there is nothing to say you have to.
Here, we take a look at the various options you might like to consider when choosing an island for your kitchen, where you can make savings and the various factors that are likely to affect what you eventually spend on this element of your new space.
What does the average kitchen island cost?
It is impossible to give one fixed cost for what your kitchen island will cost you — just as it is really hard to accurately answer that frequently asked question, 'how much does a new kitchen cost?' However, it is possible to give you an idea of the kind of prices you are likely to be faced with.
Freestanding islands can be bought for as little as around £300, rising to £6,000. Bear in mind that these won't feature electrics and appliances, but are a great way of adding extra storage and work surface.
When it comes to fitted islands, costs are harder to pinpoint. This is because what you pay will come down to your individual requirements, how you intend to use it and your supplier — in short, there is no fixed price.
"The cost of adding a kitchen island is dependent on several factors, from the size, materials, worktops and any appliances or extras you add in," says Richard Davonport, Managing Director at Davonport. "For a Davonport kitchen, we work on an average cost of £2,200 per metre of furniture. This includes installation and, generally, the worktops. As a minimum, you are looking at an additional £6,000 - £8,000 for the island."
"Typically, a kitchen island will set you back around £5,000 - £8,000 says Al Bruce, founder of Olive & Barr. "This is of course dependent on the size of the island and any additional features you choose to include with it."
There are several main factors that will determine the cost of your kitchen island:
Its size
Your design preferences
Any appliances you decide to include
How much and the type of storage you incorporate
Your choice of worktop
The supplier you choose
The installation route you take
Can I buy a kitchen island separately?
In the majority of cases, a kitchen island will be specified at the same time as a fitted kitchen, in which case, the quote you receive will be for the whole thing, although most suppliers will give you a breakdown of the price. It makes sense to order your entire kitchen at once — it is easier and usually more cost effective too.
That said, should you have started to mull over kitchen island ideas at a later stage and want to add a one to your existing layout, most suppliers will be happy to do this.
Alternatively, you can purchase a freestanding kitchen island — simple to install and a great way to add an eclectic, mix-and-match look to the space.
1. Kitchen island size
This is one of the main deciding factors when it comes to how much your new kitchen island will cost — the bigger the island, the more units and materials will be used in its make up, not to mention the extra worktop needed. You will also need to think about the additional lighting needs of a larger island.
Of course, there is no point in going to the time and effort of designing a kitchen island that is not going to be big enough for your needs or that will look too small in its proportions compared to the size of your room.
While there is no 'standard' when it comes to kitchen island sizes, the average island is approximately 1,000mm x 2,000mm and kitchen design experts tend to agree that you should avoid going any smaller than 1,000mm x 1,0000mm if you want it to be a useful feature.
That said, you don't want to go too big either — a maximum width of 2,200mm is useful as a guide to avoid a space in the middle of the worktop that is somewhat unreachable.
2. Kitchen island design
The type of kitchen island you go for will play an enormous part in how much it will cost. At the very lowest end of the price scale, you can pick up a small, freestanding kitchen island for several hundred pounds. For example, Ikea's TORNVIKEN Kitchen island offers two handy shelves on one side, with space to sit at on the other and costs just £329.
It definitely tends to be cheaper to go for a freestanding island as opposed to buying one as part of a fitted kitchen — in fact, some of the most stunning kitchen designs feature kitchen islands that have been made from reclaimed or upcycled butcher's blocks or work benches.
"While fitted kitchens are unlikely to ever go out of style, the request for freestanding pieces is on the rise," says Al Bruce, founder of Olive & Barr. "Rather than kitchen islands, we're seeing an uptake in baker's tables — similar to a kitchen island, but on legs. This freestanding piece makes the island feel like a piece of furniture while still having all of the benefits of a usual island with deep drawers and a place to perch."
Alternatively, if you are keen to avoid the relatively high costs associated with fitted kitchen islands, you can take a pick 'n' mix approach to its design and construction, by buying off-the-shelf, flat-pack kitchen base units and topping them off with a worktop of your choice.
3. Kitchen island materials
Just as when buying kitchen units, when it comes to your island certain materials are going to cost more than others. Solid timber carcasses and doors are more expensive than those made from particle board with a melamine, timber veneer or foil finish.
If you are looking for a great way to save money without sacrificing appearances, opt for carcasses made from particle board and fit them with a more expensive door, made from timber, glass or stainless steel for example.
4. Integrated kitchen island appliances
If you decide to specify your kitchen island to incorporate appliances such as an oven, hob, wine cooler, dishwasher, sink and so on, you will obviously be looking at a feature that ends up costing considerably more than if you were to opt for a design that acts as nothing more than a dining and food preparation space. That said, this will become your main working hub and you will likely find that any units you fit elsewhere in the space won't cost you as much.
"Possibly one of our most asked questions is what should go on the island and there's no real right or wrong answer here," says Al Bruce. "A hob on the island is the most sociable setting and as you spend most of the time cooking in the kitchen, it's nice to have the space to entertain while you're rustling up dinner. However, some prefer a sink on the island and that's perfectly fine too."
The good news is that integrated appliances, on the whole, tend to be cheaper than freestanding, so installing them in your island makes sense from this perspective.
If you decide to include a hob within your island design, be sure to factor in the cost of finding the best kitchen extraction fan you can — you will need a downdraught hob or a freestanding ceiling-mounted extractor and these are usually more expensive than other types of extractor hood, such as wall-mounted versions.
And, finally, if you plan on fitting appliances and a sink into your kitchen island you will need electrics and and water supply, as well as a waste pipe, fitted — all of which will push up costs, although again, these are services you will be installing as part of your kitchen design anyway. To avoid costly delays, make sure you inform your builders, plumber and electrician, along with your kitchen fitter if applicable, of your plans.
"If you decide to have your hob or a sink installed within the island, this will increase the costs, not just for the product but also building work such as running pipes or electricity or gas to the island," says Richard Davonport.
5. Kitchen island storage
If you are going down the kitchen island route you really want to ensure that it works hard for you — and for most people this means providing plenty of additional storage space, be that in the form of cupboards, drawers or shelves.
Wide, deep drawers work really well, as do lots of shelves. Check the sizes of the storage units you want, along with the depths of the appliances you'll be including to ensure your island can accommodate them all.
"Drawers are more costly than doors, so if you're looking for areas to save money, design an island that utilises cupboards," suggests Al Bruce.
Before you can decide on the kind of kitchen storage ideas that will work best within your island, you will need to look at your kitchen design as a whole, the layout of the space and make an inventory of all the items that you will need to find a home for.
Much of this will come down to how you intend to kit your kitchen island out. For example, if you plan on fitting your hob within the island, you will need pots and pans to hand, shelves for recipe books, drawers for cooking utensils and somewhere to keep tea towels and oven gloves to hand will also come in handy.
An island with lots of storage will cost more than one with simple shelves — but you need the space to be fit for purpose.
6. Worktops for kitchen islands
Your choice of worktop will play a big part in how much your kitchen island costs and this is one area where you can really control costs.
Obviously your kitchen worktops need to work on a practical level and as such you should choose a material based on what you plan on using your island for. If, for example, you want to fit a hob or sink into your island, a stain- and heat-proof material will be best — it should also be able to handle spills. In this case, a composite or a sealed stone, such as granite, would be ideal. Typically, these also tend to be the most expensive worktop materials, with starting prices of between £100 - £200/m. Porous stones, such as marble and sandstone, are best avoided in food preparation areas as they stain easily — plus they are a relatively costly option compared to others.
Timber can be quite affordable providing you shop around – beech worktops can be picked up for as little £45/m – but is best avoided around sinks and next to hobs if you want to minimise maintenance.
"A more expensive quartz will push the price of an island up whereas wood, which requires a lot more care and maintenance, will bring the price down," agrees Al Bruce.
Laminate worktops are definitely the cheapest, with prices as low as £20/m. However, bear in mind that your kitchen island is going to be the central focus of your room and as such, you want its crowning glory to do it justice in terms of appearance.
Get the Homebuilding & Renovating Newsletter
Bring your dream home to life with expert advice, how-to guides and design inspiration, direct to your inbox.
Natasha is Homebuilding & Renovating's Associate Content Editor and has been a member of the team for over two decades. An experienced journalist and renovation expert, she has written for a number of homes titles. Over the years Natasha has renovated and carried out a side extension to a Victorian terrace. She is currently living in the rural Edwardian cottage she renovated and extended on a largely DIY basis, living on site for the duration of the project. She is now looking for her next project — something which is proving far harder than she thought it would be.