National Homebuilding & Renovating Show Returns to the NEC
By Rob Keal , Alison Wall published
The self build event of the year is back! Find inspiration, advice, and all the suppliers you need under one roof, this March, at the National Homebuilding & Renovating Show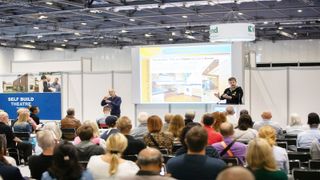 (Image credit: Future)
The National Homebuilding & Renovating Show returns to the NEC, Birmingham, this March to provide self builders, home extenders and renovators with all the tools necessary to create their dream homes.
Embarking on an extension, renovation or self build project? Then the National Homebuilding & Renovating Show is a must-visit event. There are hundreds of products under one roof, together with a packed-out seminar and masterclass programme. Plus, if you have a question about your project or want a second opinion on your plans, then there's opportunity to gain one-to-one advice from independent building experts.
The Show runs over four days — 24-27th March. Here, we round up the highlights and explain how to make the most of your day at the Show — plus, we reveal how to get two free tickets.
What to Expect at the National Homebuilding & Renovating Show
Every day, at the four-day event, you can look forward to the following:
100s of Products Under One Roof
"The virtual world can't quite compete with the experience of seeing high-ticket items in person, or meeting the supplier of your timber frame kit or a potential architect, face to face," says Claire Lloyd, Editor of Homebuilding & Renovating.
The Advice Centre
Our popular Advice Centre offers free one-to-one independent guidance from planning, building and design experts. No matter what stage your project is at – from early planning to working on site – our experts will help you unlock the potential of your home. Be sure to book your 15-minute consultation at the Show soon after you arrive.
Self Build Theatre
If you're new to self build, the seminars at the Self Build Theatre will provide you with the building blocks, so to speak, to kick-start your own project and guide you on your way to a successful build. Seminars running throughout the day cover a variety of topics, from finding a plot for your new home, to planning permission and choosing a construction system.
Home Improvement Theatre
Whether you're a total beginner or a dab hand at renovation, visit the Home Improvement Theatre for tips on maximising the success of your next extension or building project. Architect Allan Corfield will explain how best to utilise the space around your home in his extension design masterclass, while master builder Andy Stevens looks at how to find builders and manage tradespeople on the job.
400+ Exhibitors
See, touch and compare products from over 400 exhibitors, and talk directly with manufacturers and suppliers to help you make informed decisions. Whatever your project, you'll find everything you need under one roof — from windows and doors to roof coverings, kitchens, smart technology, lighting, eco solutions and more.
Tricks of the Trade Theatre
For expert DIY suggestions on everything from hanging doors and skimming walls to avoiding cowboy builders, head over to the Tricks of Trade Theatre. Count on live demonstrations from the DIY Doctor team, as well!
We know from experience that many show visitors discover a new building material, supplier or design approach they hadn't considered before, so please leave plenty of time to wander around and see what catches your eye, whether it be a fresh outlook on loft conversions you haven't thought about or perhaps a more innovative means of building your dream home.
Seminar Highlights at the National Homebuilding & Renovating Show
At the Homebuilding & Renovating Show, we've got a packed programme to keep you up to date with the latest DIY and self build developments, including:
Kitchen and Bathroom Design Masterclass
This inspirational seminar, led by one of the UK's leading renovation experts and HB&R's Director of Content, Michael Holmes, is filled with ideas on how to organise the layout of kitchens and bathrooms — with an eye on maximising space, light and usability. Learn how to avoid common mistakes, too.
How Much Will My Extension Cost?
This seminar will provide all you need to know about successfully estimating the cost of your extension project. Our expert will reveal where the money goes, how you can reduce the costs of the project without impacting on quality, and how to keep your budget on track once you've started.
How to Manage Your Self-Build
This seminar explores the different self build routes, including the pros and cons of managing your own project, and how to do it effectively, thereby reducing costs — and stress. This seminar is essential for anyone looking to understand how to run their own building project.
Other seminar highlights include:
Making the Most of the Latest Smart Home Technologies in Your Home: This session covers what's important and what's not, the benefits and the pitfalls to avoid, plus what you can expect for a budget of £5K, £10K or £50K.
Colour Trends in 2022: Which colour trends are most popular right now? Does this look set to change during the course of 2022?
A Guide to Creating the Perfect Home Cinema: Have you always wanted your own home cinema? Learn how to make your movie dream a reality in any room.
How to Make an Old House Warm: Discover how to improve the energy efficiency of older homes and integrate renewables, as well as addressing common issues such as air leakage, damp and condensation.
What Is the Government's New 'Help To Build' Scheme and How Will It Work?: Here, we discuss the Government's latest initiative designed to give the self build industry a much-needed boost following the events of the pandemic.
How to Choose the Ideal Glazed Patio Door: Sliding, bi-fold or hinged? Our masterclass explores each option as a possible solution for improving your patio doors.
To see the full programme, check out our online programme and what's on beforehand so you can plan your day out in advance.
Are Tickets Still Available for the National Homebuilding & Renovating Show?
Absolutely. Tickets can be purchased online ahead of time, or on the day itself if that's what suits your schedule.
There's even the option to get two free tickets in advance, so make sure you don't miss out on this incredible opportunity!
Rob Keal is the Content Editor at Homebuilding & Renovating. With a background in content marketing, he began his career back in 2016 as a freelancer, before honing his craft at various digital marketing agencies. Looking to specialise in DIY and homes, he joined the team in February 2022.
Renovation has been part of his life since he was nine years old, when his parents bought a medieval cottage and completely revived it, introducing him to kitchen remodels, loft conversions, landscape gardening, and much more besides along the way. A bedroom extension and patio refurbishment are among his next planned projects. He is also passionate about interior design and landscape gardening.
Homebuilding & Renovating Newsletter
Get the latest news, reviews and product advice straight to your inbox.
Thank you for signing up to Homebuilding. You will receive a verification email shortly.
There was a problem. Please refresh the page and try again.