Get Two Free Tickets to The Homebuilding & Renovating Show
By Jack Woodfield published
Need expert advice or design inspiration for your project? The Homebuilding & Renovating Show is the place to be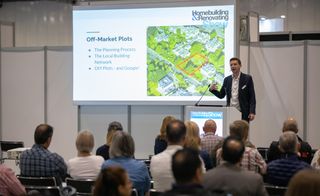 (Image credit: Future)
The Homebuilding & Renovating Show is your one-stop shop for expert advice, inspiration and product information to help you bring your dream home to life.
You'll be able to see all the latest products in person and enjoy live expert seminars to help with your self build, renovation or extension project.
Get two free tickets to the Homebuilding show here now.
What is the Homebuilding & Renovating Show?
The Homebuilding & Renovating Show has everything you need for your self build, renovation or extension project need under one roof, including the latest products to independent expert advice.
GET TWO FREE TICKETS
Get TWO FREE tickets to the Farnborough Homebuilding & Renovating Show
Embarking on a building project can be a daunting task, so our exhibitors will be on hand to demonstrate their products, and our independent experts will be available to answer your building questions.
There will be engaging live presentations and top tips from architects, planning consultants, builders and other homebuilding professionals. From kitchen design to planning permission, building a greener home to renovation tips, we've got every topic covered.
What's more, the Advice Centre will be back, where you get one-on-one advice from our experts — no matter what stage of your project you're at.
What's on at the Homebuilding & Renovating Show?
The Homebuilding & Renovating Show is spread across seven key areas:
Seminars and Masterclasses: These short focused talks are brimming with the detailed advice you need, including the ultimate guide to obtaining planning permission
The Advice Centre: The Advice Centre offers free 15-minute sessions with expert to help get your project on track — whether you're yet to get started or you've hit a few bumps in the road
Ask The Expert: Experts such as project manager Bob Branscombe will be be on hand to answer questions about your project
Ask The Architect: Design expert Allan Corfield will be among the expert architects in attendance
Ask The Builder: Get one-to-one impartial advice on your project from master builders
The Planning Clinic: If you're in the process of applying for planning permission or your application has been refused, book an appointment at The Planning Clinic to find out the tactics to success
Exhibit Hall: Find all the suppliers and products you need for your project, and view live demos
Can I Purchase Tickets on The Day?
Yes, you can buy tickets on the day.
We're currently offering free tickets in advance.
The Show Will be Covid-Safe
Every effort has been made to ensure the show is Covid-safe; the show will comply with the latest official guidelines and measures advised by the government. Please check the Homebuilding & Renovating Show website for updates.
When is the Next Homebuilding & Renovating Show?
The next show will be in Farnborough on 15-16 January 2022. Find out the dates for the 2022 shows here.
Jack is News Editor for Homebuilding & Renovating, and strives to break the most relevant and beneficial stories for self builders, extenders and renovators, including the latest news on the construction materials shortage and planning reforms. Having bought his first home in 2013, he and his wife have renovated almost every room and recently finished a garden renovation.
Homebuilding & Renovating Newsletter
Get the latest news, reviews and product advice straight to your inbox.
Thank you for signing up to Homebuilding. You will receive a verification email shortly.
There was a problem. Please refresh the page and try again.