Infrared Heating: Is it Right for Your Home?
By David Hilton published
Infrared heating offers an affordable, easy-to-fit alternative to a central heating system. Our expert examines if they're worth consideration for your home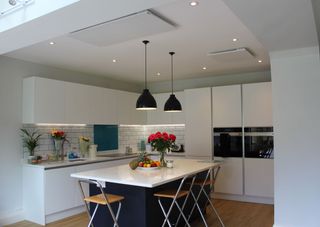 (Image credit: Herschel)
For the right project, infrared heating might just be the solution to your home heating issues. Often found in infrared panels in residential properties, this type of heating operates in a different way than most other kinds of space heating, but it's real value is in it's easy-to-install characteristics, offering a budget-friendly option for retrofitting or adding additional heating to a space.
But how effective is infrared heating? And what kind of projects does it suit? Energy and sustainability expert David Hilton examines the technology and offers his verdict.
What is Infrared Heating?
Did you know?
The thermal mass of the objects has the ability to hold over three times more energy than air so infrared heating will even out the highs and lows in temperature when doors are opened or activities change in that room.
Infrared heating panels, also referred to as radiant heating panels, or far infrared panels, are electric heating emitters that use the radiant heat spectrum to target heat in specific areas. The heat is very similar to the feeling you get from the sun when it peeps out from behind a cloud on a cold day.
Infrared heaters can be used as whole house solutions or as complementary heaters that work alongside an alternative heating, or central heating, system to provide a boost or provide heat in hard to heat areas.
Infrared heating panels use radiant heat and as such they are specifically designed to heat objects rather than the air, so in certain cases a good insulation level is not always required.
According to manufacturers such as Herschel and Jigsaw, we usually feel warm when we are absorbing heat from the environment and feel cold if we are radiating cold out to the environment. So if we warm the walls, ceilings and floor of the room rather than the air our bodies will stop perceiving that we are losing heat and feel warm.
Is Infrared Heating Energy Efficient?
Infrared heaters are 100% efficient, which means what you put in is what you get out. That in itself may not sound very good when the percentages are compared to other heating technologies, but according to the manufacturers it is more about how the heat is used that makes it efficient.
Studies also conducted by the manufacturers indicate that it takes around 40W/m3 to heat air with convection due to the poor heat transfer to, and from, the air, but because infrared does not heat the air the heat requirement from a well designed infrared system is only around 25W/m3.
What Types of Infrared Heating Panels are There?
Infrared heaters have a number of different emitter solutions. Some will deliver heat further away from the emitter but in a narrower 'stream' and others may have a very wide effective area but cannot project that far. The emitters can also be manufactured in many different forms.
There are thin flat panels that can be coloured to match your paint scheme and the panels can be mounted on the ceiling (very useful in a bathroom for intermittent additional heat) or on the wall. They can be crafted to look like paintings, mirrors or sometimes even applied to the ceiling as a fabric-like mesh and simply plastered over, or there are products that can be applied to glass as a clear film.
External infrared heaters are usually the more focused type and as such may have a slightly more industrial look but they will also be weather protected and are useful external entertainment areas to just give that extra feeling or warmth.
What are the Advantages of Infrared Heating?
How Much Maintenance Does Infrared Heating Require?
Maintenance is very rare but also very easy when required and the controls are also very simple electrical thermostatic controls.
Affordability is one of the biggest pulls of infrared heating. The capital cost of putting in the system is a lot lower than a traditional central heating system, especially when you consider the pipework, radiators, underfloor heating and the heat generator — this may be a gas boiler, but it could also be a much more expensive solution such as an oil boiler with an oil tank and groundworks infrastructure, or even an air source or ground source heat pump.
In an existing building these costs can be exponentially higher when we take into account any upgrades to the existing radiator system as well as any new pipework and wiring that will need to be routed through the home. Any qualified electrician can fit the infrared panels, a lot of the time to existing wiring, and being as there is no wet heating system, or moving parts, no motorised valves, no balancing valves, no antifreeze or inhibitors to periodically check and replace and there is also no requirement for specialist training.
This argument for affordability needs to consider the whole cost of ownership. When we think of different systems there are some that are cheap to buy but cost a lot to run. Others may have higher capital outlay but lower running costs. Then there are those that seem cheaper to buy, have lower running costs but may only last 7 to 10 years.
All of these systems need to factor in the installation and maintenance costs but also the cost of replacement.
What are the Drawbacks of Infrared Heating?
We are often drawn towards infrared heating as a potentially green solution. The idea is that you put solar PV panels on the roof and then use the generated power to heat your home and that you can use battery storage to power the heaters at night.
Apart from the fact that we do not generate enough power at the time of year when we need heating, we also have the problem that the current solar batteries would not be powerful enough to support the heaters. If we sign up to a green electric tariff then it could also be argued that the heat is also green, but then the same argument goes for heat pumps as an alternative.
Infrared heating only provides space heating. Hot water heating will still need to be specified and as homes become more and more efficient the percentage of our energy that we spend on hot water production will become larger.
In the home of the future, cars will use the most electricity, followed by hot water production, and our home heating will be a significantly lower amount. When this happens, the capital that we invest in heating systems may need to be a lot lower or the whole of life costs will still be high.
How Much Does Infrared Heating Cost?
Standard infrared heating panels cost between £120 and £180 each. However panels with more complex designs will cost between £300 and £500.
And how much do infrared panels cost to run? According to Herschel Infrared, a manufacturer of infrared radiant heating panels, the total cost per year of employing infrared radiant heaters in an 89m2, three-bedroom home is £804. Gas came in cheaper at £608 but electric storage heaters were £1,734 and air source heat pumps systems were £977.
Is Infrared Heating Worth it?
Many infrared heating products are promoted as whole house heating systems, but do not rush out and buy a load of random products just because they look good or would fit is a specific space. It is important to make sure that the manufacturer specifies the right products for your requirement. They will often need to do heat loss calculations and set up controls and thermostats so that the heat is controlled and managed to deliver a comfortable environment that suits your needs and expectations.
There are mixed reviews of infrared heating, but it seems the negative reviews are partly due to poor quality products, partly due to inexperience or lack of design and also a lack of understanding of what the product does and how it works.
For me the jury is still out as I have not experienced them for long enough, but the total cost of ownership argument is a good one. I do have an infrared heater on the bathroom ceiling for occasional use as a top up when you get out the shower and I also have one in the all important (but uninsulated) barbeque area so I am convinced that this type of heating definitely does work as a complimentary, or supplementary, heating system. In off grid properties, especially those that are harder to treat, perhaps this solution is worth investigating a whole lot more.
David is a renewables and ventilation installer, with over 35 years experience, and is a long-standing contributor to Homebuilding and Renovating magazine. He is a member of the Gas Safe Register, has a Masters degree in Sustainable Architecture, and is an authority in sustainable building and energy efficiency, with extensive knowledge in building fabrics, heat recovery ventilation, renewables, and also conventional heating systems. He is also a speaker at the Homebuilding & Renovating Show.
Passionate about healthy, efficient homes, he is director of Heat and Energy Ltd. He works with architects, builders, self builders and renovators, and designs and project manages the installation of ventilation and heating systems to achieve the most energy efficient and cost effective outcome for every home.
Homebuilding & Renovating Newsletter
Get the latest news, reviews and product advice straight to your inbox.
Thank you for signing up to Homebuilding. You will receive a verification email shortly.
There was a problem. Please refresh the page and try again.