6 Ways to Add an Extra Bedroom Without Extending
By Hugh Metcalf published
Adding a bedroom to your home may prove a cost-effective way to grow your home to meet your family's needs. Here's how you can do so without building an extension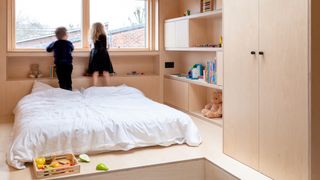 (Image credit: French + Tye for Bradley Van Der Straeten Architecs)
If your family is starting to outgrow your existing home, adding an extra bedroom can be an excellent way to avoid the hassle and expense of moving. However, extending your home isn't necessarily the only way to create another room to your property.
Instead, consider if you've exploited the space you have already to its full potential. From reconfiguring the layout to converting existing areas, there may be ways your home can grow to accommodate more sleeping space to meet your wants and needs.
Here are six ideas to find room for an extra bedroom that are worth exploring before biting the bullet and building an extension or making the decision to sell up and leave.
1. Add a New Internal Wall
The simplest and most affordable way to add another bedroom to your home is to construct a new internal wall to divide an existing room. This can be a real help if you have a large existing bedroom, and is perfect for creating two smaller rooms for children.
However, there are some key things to consider. Under Building Regulations, a bedroom on your first floor, no more than 4.5m above the ground level outside, will require its own window as a means of escape in case of fire.
(MORE: Fire Safety Building Regulations: Part B)
You also need to consider where you will put an entrance to the new room. While building a dividing wall may be relatively simple, if you need to make another doorway in a load-bearing wall, this could lead to greater expense.
2. Reconfigure Your Layout
Another way to potentially add more space to the upper floor of your home is to remodel the layout of the existing rooms. This could be potentially useful if you have some larger existing bedrooms which could be scaled down in order to fit another bedroom into your floor plan.
Use this time to think about your bathroom set up too. As you may be able to include a new en suite bathroom for the main bedroom during the remodelling process to help keep up with the demands of your household.
3. Convert a Garage
Adding a new bedroom is a popular reason for a garage conversion, and its ground floor location can be useful if you're looking to find extra room for an elderly relative to stay with you. Garages will need to be brought up to spec for a habitable space under Building Regulations, however, they are largely considered Permitted Development, meaning you won't need planning permission.
However, check with your local authority, as in some areas, garage conversions are prohibited under PD for the potential knock-on effect on on-road parking.
If your garage has a pitched roof, you may be able to preserve the parking space and create an extra bedroom by building a dormer window to increase the available head height. In this instance, you'll need to consider insulation in the floor as part of Building Regs, as the bedroom will be above an unheated, uninsulated space.
4. Look into a Loft Conversion
A loft conversion is an ideal way to add an extra bedroom. The type available to you may depend on your existing loft and roof structure, as you'll need to achieve a certain head height in order for your new space to be habitable. This can often be achieved with a small extension, such as the addition of a dormer window, a hip to gable or mansard loft conversion.
(MORE: Types of Loft Conversion Explained)
There are very particular rules under building regulations and Permitted Development rights, so be sure to do your research and work with an experienced company to ensure your loft conversion is safe and lawful.
5. Create a Mezzanine Level
If you benefit from high ceilings in your space, a mezzanine can be an impactful way to add an extra room to your home. Think of a mezzanine as expanding a room's floor space — so even where you may not want a bedroom that's open onto another, possibly communal room, it does offer the opportunity to potentially move a living space to a mezzanine, and re-purpose the existing spaces for a bedroom.
6. Remodel Internal Storeys
This incredible home from Bradey Van der Straeten Architects (opens in new tab) is an interesting case study of a home that wanted to add an extra bedroom. With the home failing to get planning permission for a full loft extension, the architect employed a half loft extension, which allowed the re-arrangement of the home's internal storeys to create interlocking floors which allowed for an extra bedroom.
And If All Else Fails, Extend
Building an extension is likely to be a more worthwhile prospect than moving home, and including a bedroom may be easier than you think.
Double storey extensions offer better value for money than single storey ones, as the groundwork cost is the same for both, so why not enlarge your kitchen-living space and include extra bedrooms too?
If you don't want to lose precious garden space, how about extending over a garage? Building on top of a structure can be significantly cheaper than starting from scratch. However, you will have to investigate whether your garage has the right foundations to build over — in some cases, it may be cheaper to knock down the garage and start again.
Hugh is Digital Editor of homebuilding.co.uk and has worked on a range of home, design and property magazines, including Grand Designs, Essential Kitchens, Bathrooms, Bedrooms and Good Homes. Hugh has developed a passion for modern architecture and green homes, and moonlights as an interior designer, having designed and managed projects ranging from single rooms to whole house renovations and large extensions. He's currently renovating a Victorian terrace in Essex, DIYing as much of the work as possible. His current project is a kitchen renovation which involves knocking through walls and landscaping a courtyard garden.
Homebuilding & Renovating Newsletter
Get the latest news, reviews and product advice straight to your inbox.
Thank you for signing up to Homebuilding. You will receive a verification email shortly.
There was a problem. Please refresh the page and try again.