Under Sink Bathroom Storage Ideas for a Clutter-free Space
By Amy Reeves published
Take a look at our pick of the best under sink bathroom storage ideas — from bold choices to clever ways to hide away bottles and bathroom clutter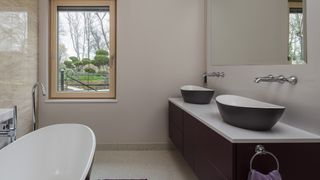 (Image credit: Simon Maxwell)
Under sink bathroom storage ideas are a handy way to keep lotions, potions and clutter hidden away while still being within easy reach when you need something.
Including the right amount of storage in a bathroom design is an important step — be it using freestanding units or completely built-in cabinets. Having somewhere to store shampoos, bath toys, towels and cleaning products is an essential bathroom idea if your newly remodelled space is to remain clutter-free and tidy.
Take a look below to see the most popular styles of storage under a sink, plus a few of our favourite designs to inject character and personality into your bathroom.
Under Sink Bathroom Storage Ideas: Where to Start
The beauty of bathroom storage ideas is that designs that work for each space massively change depending on lifestyle, taste and budget.
If you're planning a busy family bathroom renovation, large-format built-in units that can keep everything in its place and hidden away will be a great help, but in calmer, more luxurious en suites, freestanding vanities or even reclaimed tables with open shelves are more suitable.
When budgeting for under sink storage ideas, get the essential items, such as the taps, sorted first. Cost-saving solutions with tonnes of storage can be found if you look hard enough, but it can be costly to have to replace inappropriate or cheap brassware.
1. Use Drawers for Easy Under-Sink Storage
"Storage is incredibly important and is worth serious consideration," advises Phil Etherdem, managing director at The Albion Bath Co (opens in new tab). "There are two general schools of thought on the subject — either hide the storage area or go bold and make it a design feature.
"A beautiful vanity unit can make your basin a focal point, as well as providing that much needed storage for cleaning materials and lotions and potions. For a more contemporary home, a wall-hung unit with sliding drawers is a popular solution."
This space combines the best of modern bathroom ideas, from the Scandi-inspired wood theme on the drawers, mirror and window sill, to the calm colour scheme of the wall tiles and flooring.
2. Build In Lots of Storage Under the Sink
Although current bathroom trends slightly ignore the entirely built-in storage unit with toilet and sink included, they're an old favourite for a reason.
A single unit with plumbing concealed and usually loads of cupboard space under the sink is a great family bathroom idea with many options to suit any style of bathroom.
3. Hide a Sink Pedestal with a Purpose-Built Cupboard
If your bathroom is lacking in under sink storage ideas thanks to traditional pedestal-style sanitarywear, don't fret. There are solutions for pretty much any style of bathroom these days, including cupboards which can conceal a pedestal within.
This is good news for those who like the look of recent trends towards a freestanding basin atop a surface but without the budget to rip out and replace existing items.
4. Include Slimline Under Sink Units in Compact Spaces
Where space is a commodity and there is no room for a vanity unit, compact and space-saving designs can offer under sink storage without encroaching into the room.
Small bathroom ideas like this are best placed in busy cloakrooms where cleaning equipment needs to be stored, or narrow bathrooms where there is a perhaps some extra open storage, such as a shelf, for bulkier towels etc.
5. Use Open Shelving Alongside Hidden Storage
For the ultimate luxury, find a wall-hung vanity unit with both places to hide away bottles and cotton buds as well as open storage to display prettier soaps and hand towels.
To achieve a really finished look, find a unit with handles that match the colour of taps and other brassware in the bathroom.
This deceptively simply bathroom styling uses contemporary stacked bathroom tile ideas in a muted colour to create a relaxing atmosphere, while the stylish vanity unit and taps adds a feeling of luxury.
6. Repurpose a Dresser as a Freestanding Unit
The bathroom trend towards sourcing unlikely furniture as vanity units has becoming increasingly popular — from butcher's blocks and sewing machine tables to dressing tables and workbenches.
If you choose this route, consider staining or varnishing wood to be suitable around high humidity areas, or upgrading the surface to a stone. Pair this with a statement basin or glamorous taps and you'll never look back!
The cost of fitting a bathroom can be high, so this is a cost-effective and characterful way to finish a bathroom that provides plenty of worktop space beside the sink and a range of different storage solutions beneath it — the style and design can pretty much be up to you.
"There are certain items where it pays to invest," explains Barrie Cutchie design director at BC Designs. "Anything that has moving parts (which can easily break) is not an area to skimp on. Mid- to high-end brasswear can 'lift' a bathroom and make cheaper items such as sanitarywear look more extensive."
7. Opt For a Corner Sink Unit in Small Spaces
Install a corner unit with built-in sink and storage can work even in the pokiest bathroom or cloakroom. This solution keeps everything in its place and out of the way.
Keeping a unit like this in a timeless white enables design experimentation on the walls and using brassware, as in this pink and black-styled space.
8. Paint Under Sink Storage a Fresh Colour
Experiment with contemporary colours on an old vanity unit for a fresh take on a traditional style.
This stunning and bright cloakroom bathroom contrasts a bold blue panelling with a dusky pink on the freestanding unit to an incredible effect.
Assistant Editor Amy began working for Homebuilding & Renovating in 2018. She has an interest in sustainable building methods and always has her eye on the latest design ideas. Amy has interviewed countless self builders, renovators and extenders about their experiences for Homebuilding & Renovating magazine. She is currently renovating a mid-century home, together with her partner, on a DIY basis, and has recently fitted her own kitchen.
Homebuilding & Renovating Newsletter
Get the latest news, reviews and product advice straight to your inbox.
Thank you for signing up to Homebuilding. You will receive a verification email shortly.
There was a problem. Please refresh the page and try again.