Bathroom Renovation: 5 Top Tips to Keep Costs Down
By Amy Reeves
Planning a bathroom renovation? These five simple tricks will help keep finances under control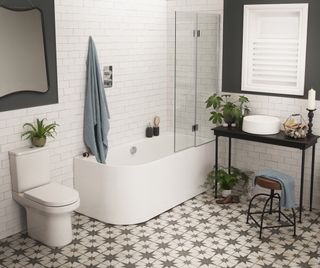 (Image credit: Waters Baths of Ashbourne)
A bathroom renovation can transform a home but with the average price of a new bathroom costing around £3,000, it's worth being smart about where to spend and how to save. Considering finances right from the beginning of a bathroom renovation before you design layout or choose sanitarywear will definitely pay later. 
1. Work With What You've Got
Although it's tempting while updating a bathroom to change the layout around, this can actually be one of the most expensive aspects of a bathroom renovation. Moving the location of the toilet – and more specifically, the soil pipe – is a labour intensive, yet usually avoidable, job. 
As a starting point, mark down the soil pipe's location on some graph paper, along with positions of the windows and door and use this as the foundation of any layout design, big or small. Trial our different arrangements and assess where is best to position other key items of sanitarywear to limit costs. 
2. Don't Forget About 'Hidden' Costs of a Bathroom Renovation
In addition to the obvious new bathroom fittings and the cost of plumbing or electrics, there are some potentially unexpected tasks associated with a bathroom renovation project which could drain a budget. 
For instance, studwork may need to be built to house a new bath or wall-hung sanitarywear and the existing walls may require skimming or replastering once old tiles have been removed. It pays to consider these jobs from the outset. 
3. Shop Savvy for the Best Deals 
Don't be afraid to ask for a discount in store as even the big high street DIY stores like B&Q and Homebase can be open to negotiation on prices. Also, dedicating some time to researching the best possible deals online can also save precious pennies, as can watching out for seasonal sales such as Black Friday and Boxing Day where stocks are priced lowest. 
4. Consider 'Behind the Scenes' Details Early On
A bathroom needs to be the perfect blend between functionality and relaxation so planning lighting well in advance will be worth its weight in gold when you come to using the space day after day. 
Heating is equally as important and a towel warmer is a cost-effective solution to creating a comfortable environment, but consider long-term running costs vs initial savings when thinking about electric underfloor heating mats.
5. Plan Details in Advance for a Luxurious Finish
Adequate storage in a bathroom renovation is a must and definitely a worthwhile investment, but built-in bespoke units aren't the only way to achieve a mess-free sanctuary. Incorporating alcoves into a design with shelving is a good idea, as are free-standing units which can create a sense of space and be picked up at a bargain.
Homebuilding & Renovating Newsletter
Get the latest news, expert advice and product inspiration straight to your inbox.
Thank you for signing up to Homebuilding. You will receive a verification email shortly.
There was a problem. Please refresh the page and try again.