Tiled Skirting: Find Out How to Incorporate This Style
By Amy Reeves published
Tiled skirting is a hardwearing alternative to traditional timber — discover what to consider and how to implement this interior style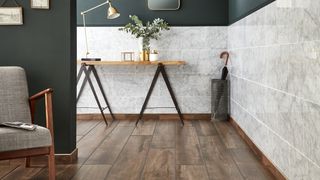 (Image credit: Walls and Floors)
Tiled skirting is a great alternative to traditional timber skirting boards — one which is hard-wearing and readily available in a range of styles and colour to suit any home.
Re-painting skirting boards after they get scuffed or dented is a maintenance job that many homeowners just don't need, especially in high traffic areas like hallways, or in splash-zone areas like a bathroom or kitchen.
Tile offers a durability and water-resistance that pine or MDF boards can't compete with, so take a look at our advice and inspiration below when considering alternatives.
Here we take a look at some of the best tiled skirting ideas and explain why this material might just be right for your home.
What is Tiled Skirting?
Tiled skirting is when tiles are laid along the juncture between the wall and floor of a room, in the same way as 'standard' types of skirting boards would be used.
"Tiles can be used as an alternative to wooden skirting board to create a skirting effect," explains Amanda Telford, marketing manager from CTD Tiles (opens in new tab). "Depending on the size of the floor tile, they can be cut to a similar height as a normal skirting. As well as being practical, tile skirting has aesthetic advantages, tiles visually connect the floor to the walls creating a smooth transition between them."
"Tiled skirting is not only stylish, but also incredibly practical," comments Harriet Goodacre, brand communications manager and tiles consultant at Topps Tiles (opens in new tab).
"Keeping your floor clean is much easier as you can steam clean right up to the edges of a room without worrying about damaging the painted wood of traditional skirting. Once sealed, your tiled skirting will require minimal maintenance, so you don't need to maintain it year-on-year as you would with wooden skirting."
1. Use Tiled Skirting in a Bathroom
Including timber skirting board ideas in area with high humidity and the potential for splash-zones is possible, but might require upkeep that you might want to avoid.
"Using tiles for skirting can be a cost-effective solution, depending on the tiles used it can be more cost-effective than traditional wooden skirting with the benefit of no maintenance," advises Amanda Telford.
Match the flooring to the skirting using similar style wood effects, or even the same tile cut down to the right size with a bit of trim to finish the look off.
2. Choose the Ceramic Tiles for Busy Areas
Weighing up porcelain vs ceramic tiles for skirting? While both are good options, the area in which you are installing the tile is likely to make this decision for you.
"The hardwearing properties of ceramic tiles makes them perfectly suited to protecting walls, they are also very low maintenance and don't require painting touch ups like their wooden counterparts," explains CTD's Amanda Telford.
Hallways and living spaces are best suited to ceramic tiles but due to the porous nature of ceramic, porcelain might be best placed in bathrooms or kitchens.
3. Install Porcelain Skirting in Wet Spaces
"Porcelain tiles are a great option for tiled skirting — not only do they have a high-quality finish which will add to your room's overall look, they're strong and durable, as well as easy to clean, so ideal for high footfall areas of the home," comments Harriet Goodacre of Topps Tiles.
Porcelain tiles are typically more expensive and tricker to lay and heavier than ceramic, so a thinner profile skirting board size may be best.
4. Use Shape to Demarcate Between Wall Tiles and Skirting
Just like traditional skirting designs, tiles can come with particular shapes such as pencil-round or ogee.
"Tiled skirting offers a better finish aesthetically as it offers a neat transition between the wall and floor spaces," comments Louisa Swannell, head of creative design at Walls and Floors (opens in new tab). "In terms of practicality, keeping your floor clean is much easier if you have tiled skirting as you don't have to worry about damaging the timber."
When paired with a pseudo-dado rail, as in this period-style bathroom, the sleek effect is undeniable.
5. Lay Tiled Skirting in Spaces with Irregular Walls
While looking up how to fit skirting boards, you may notice that scribing or caulking must be used on older, bowed walls to get a neater finish.
The same as when you would tile a wall, with tiled skirting the installation is much more forgiving as tile adhesive can be built up to compensate for irregular walls, giving a neat, level finish.
6. Use Tiled Skirting to Mimic Wood Styles
"Another option is wood effect plank tiles — these are a fantastic choice if you're after the look of wood," explains Harriet Goodacre from Topps Tiles. "Skirting is usually 12-15cm wide and plank-shaped tiles usually meet this measurement making them the perfect height to use as skirting."
"We see a lot of wood effect tiles used as skirting, as this creates the traditional look of timber skirting, without the same maintenance," adds Louisa Swannell from Walls and Floors.
7. Use Tiled Skirting for a DIY Option
"Tiled skirting is a practical option that adds the perfect contemporary finishing touch to any room," says Topps Tiles' Harriet Goodacre.
With plank options that can be laid similar to lengths of timber as well as individual tile options available, unique style to suit any home design can be accomplished. However, unlike cutting skirting boards at an angle around corners which can be extremely awkward and time-consuming, using trim and grout with tiles can speed up the process.
"It's simple to create — you can cut any floor tile for skirting to perfectly match your floor," Harriet continues. "Alternatively, opt for a specific skirting piece — skirting tiles come in a range of colours and materials to complement your floor tile. Complete the look with a stylish trim or try a different tile on the wall for a contrasting effect."
8. Pick Contrasting Tiles for Modern Skirting
If a change of shape isn't for you, then perhaps take note of contemporary skirting styles and create a contrast between bathroom tile ideas using a dark colour.
Here, the same size and shape tiles are used for the skirting and main wall tile in a small format brick bond pattern, only differentiated between the bright yellow and dark grey. Note the slim 'dado' and 'picture' rail tiling further up the wall for a modern take on a period tradition.
9. Try Out Half Wall Tiling in a Hallway
"Carrying the tiling up on to the wall as skirting can make your room look bigger," advises Harriet Goodacre. "It helps the eye to travel across the floor and up the wall for a seamless and stylish effect."
This clever take on half wall panelling ideas would work wonders in tight hallways and up staircases, where plaster can get dented and damaged through heavy use.
"Patterned tiles make for a great feature when they are carried up from the floor to the skirting, and metro tiles are great for creating a distinctive look by playing with different colours, layouts and formats," agrees Walls and Floors' Louise Swannell.
Assistant Editor Amy began working for Homebuilding & Renovating in 2018. She has an interest in sustainable building methods and always has her eye on the latest design ideas. Amy has interviewed countless self builders, renovators and extenders about their experiences for Homebuilding & Renovating magazine. She is currently renovating a mid-century home, together with her partner, on a DIY basis, and has recently fitted her own kitchen.
Homebuilding & Renovating Newsletter
Get the latest news, reviews and product advice straight to your inbox.
Thank you for signing up to Homebuilding. You will receive a verification email shortly.
There was a problem. Please refresh the page and try again.