Take a Tour Inside TV's Piers Taylor's Green Home
By Amy Reeves published
Presenter and architect Piers Taylor built this 'transparent' extension to a dilapidated folly 19 years ago, before picking up the tools once again to make a few highly energy-efficient improvements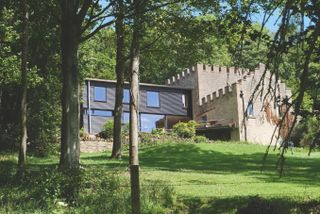 (Image credit: Jim Stephenson)
The saying goes that hindsight is a wonderful thing and while for some that may be true, architect Piers Taylor of Invisible Studio found himself tormented by the extension he and his wife Sue had built just under two decades previously.
In 2001, after they bought a derelict, crenelated folly in the centre of a forest overlooking the Somerset countryside, the Taylors set out to build a modern side extension for their young family.
"Basically, we bought it because it was cheap and had no car access," begins Piers. "We designed the new space to be as big as we could under the greenbelt development rights and built a narrow structure that spanned the plot. The old schoolhouse folly had no views and tiny windows so we wanted to make the most of it and feel like we were really living in the landscape."
(MORE: Building an extension)
Project notes
Homeowners
Piers Taylor and Sue Phillips
Construction Timber frame extension
Location Near Bath
Size 190m2
Build time
3 months
House cost Already owned
Build cost £70,000
Built on a shoestring budget by Piers himself, the new building was plagued by construction issues. The main contractor dropped out before the project started, and access was extremely restricted meaning that all the materials had to be carried to the site by hand. This necessitated that lightweight materials were used throughout the building. Almost 20 years later, it was getting a little worse for wear.
"It was too hot in the summer and too cold in the winter," says Piers. "Also, my own thinking had developed and I came to really hate the house because of all the things that hadn't worked as a result of the compromises made to build it quickly and cheaply." While spending more time at home during the first lockdown, he began to solve these problems by retrofitting the structure, fixing past mistakes and improving energy efficiency.
(MORE: Ways to Build a Greener Home)
Image 1 of 3
Image 2 of 3
Image 3 of 3
Retrofitting an Existing Extension
Under Permitted Development, work got underway to remove what they could of the external walls, all the windows and the roof. The internal linings were left untouched so Piers and his family could live in the house while work began around them.
"We installed layer after layer of insulation and a continuous airtight membrane around the whole house," says Piers. "We chose double-glazed windows because the technology has improved so much over the last two decades that they are twice as good as the old ones."
(MORE: A Guide to Airtightness)
Newly insulated floors are heated using dry retrofit underfloor heating, powered by new photovoltaic solar panels on the roof to mitigate the usually high running costs associated with electric underfloor heating.
Image 1 of 3
Image 2 of 3
Image 3 of 3
Piers and Sue's original investment in the structure of the building paid off, allowing its timber frame extension to be retained. "I knew we could change the kitchen, bathrooms and finishes over time, so we put our money into a heavy frame that would last forever. It made the rest of the house quite straightforward to change," he explains.
'Ordinary' materials still take centre-stage; the old weatherboard timber cladding has been replaced by new, black corrugated metal, for instance. "You can't get more basic – it's on every shed and barn – but it's the detailing, like the flashings around the windows or the new guttering, that makes it special."
Reimagining the Floorplan
Image 1 of 2
Image 2 of 2
That the home would demand once again ensured alterations were as painless as possible. The ground floor has remained very much the same, save a few upgrades to the kitchen finishes, while on the first floor the internal walls were easy to move around to meet the family's needs thanks to the fact that they were non-loadbearing.
"We had an incredible idealistic notion 20 years ago that we wanted everything to be quite open-plan, even upstairs, and we didn't think in terms of acoustic separation. Living in it was a nightmare," says Piers. As well as soundproofing the walls, reconfiguring some of the rooms has enabled Piers and Sue to adapt the layout to suit the changing needs of their children, who are now are grown up.
(MORE: 4 Things You Need to Know About Permitted Development in 2021)
"When we were first building my children were very little and we wanted them as close as possible, but of course as they got older they wanted to be as far away as possible," Piers explains. "Rearranging the layout and retrofitting has breathed new life into the house and the whole structure just feels incredibly robust. It really feels not just like a well made building, but also one that works well."
Changes in Attitudes Towards Efficiency
"In some ways the largest changes in the last 20 years in green building aren't anything to do with bolt-on renewable energy technologies, but rather about attitudes towards the overall performance of the structure," says Piers. "Nowadays everything is about a fabric first approach where insulation and airtightness are key.
"We live off-grid and all of our heating was wood, which was really unsustainable because it's incredibly hard work," he continues. "What I wanted when redesigning the building was a house that needed minimal heating — that type of thinking has developed immeasurably over the last couple of years.
"We took a low-tech approach that depended on super insulation plus an airtight membrane to make sure no air could escape. From under the floor, up the walls, over the roof and back down the other side is one continuous taped membrane, allowing for the openings to naturally ventilate when we choose, not when the weather comes in," Piers concludes.
"Two decades ago that type of thinking just wasn't prominent. People were thinking in terms of leaky buildings, ventilating and bolt-on renewables, rather than getting the fabric to do the work for you."
Assistant Editor Amy began working for Homebuilding & Renovating in 2018. She has an interest in sustainable building methods and always has her eye on the latest design ideas. Amy has interviewed countless self builders, renovators and extenders about their experiences for Homebuilding & Renovating magazine. She is currently renovating a mid-century home, together with her partner, on a DIY basis, and has recently fitted her own kitchen.
Homebuilding & Renovating Newsletter
Get the latest news, reviews and product advice straight to your inbox.
Thank you for signing up to Homebuilding. You will receive a verification email shortly.
There was a problem. Please refresh the page and try again.