8 Ways to Build a Greener Home: From Big Ideas to Easy Updates
By Tim Pullen , Katie Corcoran published
With a rise in clever construction materials and renewable energy systems, there has never been a better time to build a greener home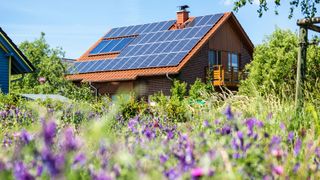 (Image credit: Getty Images)
Choosing to build a greener home will not only be incredibly rewarding but it will also lower your energy bills, reduce your carbon footprint and leave you with an energy efficient home.
You can build an eco house from scratch by adopting a fabric first approach at the design stage, or you can make your existing home greener with some inexpensive updates.
No matter what your focus is, the end result should remain the same - to create a home that is as environmentally friendly as possible. Here are eight ways you could make your home greener.
1. Build With a Fabric First Approach
A fabric first approach is considered more sustainable than renewable energy systems because it doesn't require you to install anything - the building does the work for you.
Building with a fabric first approach means you'll invest in the building's envelope to ensure high quality insulation, airtightness, solar gain and natural ventilation are factored in at the design stage.
You can even build to the strict criteria of Passivhaus standards if you want to ensure your home is as airtight as possible.
2. Insulate Your Home Well
Getting the insulation right in your home will increase its energy efficiency, which in turn uses less energy.
For a self build it's vital to adopt a fabric first approach and keep your home as airtight as possible, but any homeowner can make insulation updates.
You can add cavity wall or solid wall insulation to older houses if they don't have it and it's always wise to ensure your loft is well insulated so heat can't escape from above.
3. Use Natural Materials
There are great sustainable benefits when building with natural materials as they reduce the need for man-made resources which often require a lot of packaging and transporting.
The best way to build greener is to use wood, stone, recycled glass, reclaimed bricks and even straw!
Natural building materials to consider include:
Wood - one of the most sustainably sourced materials, wood is a fantastic renewable source that has minimal carbon emissions and is versatile and strong
Straw - building with straw can provide you with efficient insulation and a home that is strong and long lasting - if maintained well it should last more than 200 years!
Timber - building with responsibly sourced timber will leave you with less material wastage, plus timber frame constructions are light, often meaning simpler (and less expensive) foundations are required.
4. Install Renewable Energy Systems
Renewable energy is energy that comes from the earth's natural resources such as the sun, water and wind. These can be used to power your home to create electricity, hot water and heat.
Here are some of the best renewable energy systems to consider:
Solar panels - which use the sun's energy to heat your home. You can get solar panels that provide heat, electricity or hybrid versions of the two
Heat pumps - there are two main types of heat pumps: ground source heat pumps, which extract energy from the earth, and air source heat pumps, which use air. A heat pump will take heat from one source and transfer it to another (through a heat exchanger) and into your heating system
Biomass boilers - a good, reliable way to heat your home using natural wood pellets or logs, which offer net zero carbon emissions.
5. Use Reclaimed Materials
While reclaimed materials are often used in renovation projects, they're often overlooked in a new build. They may not be ideal for structural elements, but there are plenty of places where they can make a valuable contribution.
Used roof tiles, floorboards, skirtings, and reclaimed bricks as outer skins to timber frame walls can not only add character but also save on the embodied carbon of new materials.
To help reduce building waste look for reclaimed materials and items such as bricks, tiles, doors, stone and wood.
6. Collect Rainwater
By collecting rainwater and reusing it, you will reduce your need for using excess water from the mains.
If you don't want to spend a lot, you can install a water butt in your garden for as little as £30 and use the collected rainwater to irrigate your garden.
If you are after something more substantial, you could go down the route of installing a rainwater harvesting system which could allow you to collect enough rainwater for car washing, toilet flushing and even clothes washing.
7. Switch to LED Bulbs
Using of the best LED bulbs is an easy way to help make your home more energy efficient. The low cost of LED lights, the tiny amount of energy they use, the variety of shapes available and light quality they offer means that there is no reason to install anything else.
Manufacturers claim longevity for LEDs of 20,000 to 50,000 hours which, for a lamp that is used for four hours per day, gives a lifespan of 14 to 34 years. Install a good quality one and you may never have to buy another.
8. Invest in Heating Controls
Save how much energy you use with a smart heating control system that allows you to determine when, and to what temperature, each room is heated.
This can help to minimise your home's heating demand, and it's worth considering in any rooms that you don't plan to use every day.
Go Greener with These Simple and Inexpensive Ideas
There are lots of easy ways to help make your home more energy efficient without breaking the bank or undertaking serious building work, including:
Draught proofing - seal up cracks and gaps with foams and tapes around windows and doors to help keep heat in and save energy
Insulating pipes and hot water tanks - use pipe wrap or foam pipe sleeves to insulate water pipes and wrap an insulating jacket around a water tank to keep water warmer for longer
Turn your thermostat down - even if you are unable to do any of the above, by just turning your thermostat down by 1°C you can reduce your energy consumption.
Tim is an expert in sustainable building methods and energy efficiency in residential homes.
Homebuilding & Renovating Newsletter
Get the latest news, reviews and product advice straight to your inbox.
Thank you for signing up to Homebuilding. You will receive a verification email shortly.
There was a problem. Please refresh the page and try again.