4 Things You Need to Know About Permitted Development in 2021
By Jack Woodfield published
From legal challenges and slum housing to rabbit hutches - 2020 was a dramatic year for Permitted Development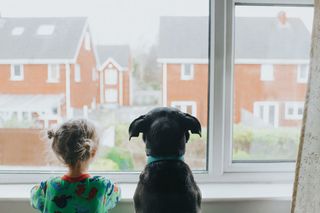 (Image credit: Getty Images)
There was a shortage of lots of things in 2020, including toilet roll and tinned food, but there was no shortage of Permitted Development (PD) updates. And as 2021 nears, these were the key moments which could shape how PD rights may affect you next year.
You Can Extend Up By Two Stories
It took a while to get to this point, but you can now extend by up to two storeys under PD providing you have prior approval. On the one hand, this is a positive development for homeowners looking to utilise more space for growing families, but many don't see it this way, and remain concerned about the possibility of waking up one morning to see a Death Star-shaped extension erected by their neighbours.
So fervent was the criticism that it led to a failed legal challenge from Rights:Community:Action (RCA) to reverse the rights in November, and the government had to defeat a parliamentary vote in September seeking to overturn the new rights. But the new rights are now in effect, subject to appeal in that legal case. The new rights also allow two-storey extensions to blocks of flats.
New Homes From Demolished Buildings
From one controversial new PD right to another, the government confirmed in August 2020 that developers would be able to demolish commercial and residential buildings and rebuild them as homes.
While developers were given the green light, industry experts were left seeing red. Adrian Dobson, executive director of professional services at RIBA, said the plans "would make it easier to build the slums of the future", and a Lords Committee report in September warned this could increase the construction of low quality housing.
Perhaps unsurprisingly, the legal challenge from RCA fought against this right too. However, the move was welcomed by some within the industry who said it could increase the housing supply.
Minimum Space Standards
All new homes delivered through Permitted Development will need to meet minimum space standards from 6 April 2021, the government confirmed in October 2020.
Housing secretary Robert Jenrick said the move would stop "a minority of developers abusing the system", and this announcement was far more warmly received. Brian Berry, chief executive of the Federation of Master Builders (FMB), said the move would prevent people from being expected to live in a "rabbit hutch" home.
There's a New Proposal Underway...
Just when you thought the drama was done for 2020, the government unleashed a stunning denouement. In November it confirmed its intention for new Permitted Developments rights to be introduced to enable commercial buildings to be converted into homes.
The proposal would allow most commercial premises, such as offices, restaurants, shops and gyms to be converted to homes without planning permission. It is also intended to apply in Conservation Areas.
The government hopes this will accelerate housing delivery in England, and has launched a consultation over the proposal, which will run until 28 January 2021.
Jack has worked in journalism for 11 years and is the News Editor for Homebuilding & Renovating, a role he has had since 2019. He strives to break the most relevant and beneficial stories for self builders, extenders and renovators, including the latest news on the construction materials shortage and hydrogen heating. In 2021 he appeared on BBC's The World at One to discuss the government's planning reforms.
He enjoys testing new tools and gadgets, and having bought his first home in 2013, he has renovated every room and recently finished a garden renovation.
Homebuilding & Renovating Newsletter
Get the latest news, reviews and product advice straight to your inbox.
Thank you for signing up to Homebuilding. You will receive a verification email shortly.
There was a problem. Please refresh the page and try again.