Swimming Pool Ideas: 12 Stylish Outdoor Designs
By Amy Reeves published
Want to design a refreshing retreat with swimming pool ideas? From materials and heating, to shapes and styles — find out what to include, and the best ideas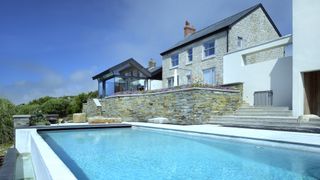 (Image credit: Nigel Rigden)
Design the perfect outdoor sanctuary with these swimming pool ideas — from small, yet stylish spots on a budget to large lap spaces for exercise.
Swimming pools are an investment in your enjoyment of your home, bringing relaxation, entertainment, fitness and, usually, an impressive view to look upon from inside.
There are definite considerations that must be taken into account when designing a new pool or updating an existing, however. We delve into heating, flooring choices, shapes, styles, jets and lighting ideas below, with tips from industry experts and architects.
Swimming Pool Ideas: Where to Begin
"As swimming pool shells get better insulated, and hot tubs and spa pools become more popular, having a pool is no longer the preserve of the rich and famous," begins sustainable energy expert David Hilton.
"A pool certainly can now be a good and feasible investment, and the running costs do not need to break the bank. The pool will give you house of fun and relaxation and also become a great asset in the home.
"Even in tropical climes, swimming pools still need heating. Without heating you could expect to use an outdoor pool for two or three months of the year and with heat maybe eight months of the year. Given that our sunshine is a little less predictable than most countries, we need heating even in the warmest months."
1. Install a Small Jet Pool Where Space in Limited
If you want a pool but don't have the space, modern companies have been working on solving this exact problem for years. A calming dip in a small pool is also generally cheaper than in larger designs.
"Smaller pools are clearly easier to insulate, as well as being cheaper to install and heat," says David Hilton. "But they are not so useful for swimming lengths in, unless you fit a counter current hydro jet. This is an adjustable pump that creates a stream of water that you swim against. It is similar to a treadmill, as it allows you to swim for miles 'on the spot'. These pumps costs from around £1,200 upwards."
The clever design of this urban courtyard has meant that a swimming pool has been introduced (installed by Home Counties Pools & Hot Tubs). With a load-boarding cover that acts as decking when not in use, the pool also has hydro jets, meaning the homeowner can exercise. Her pool cost £80,000.
2. Integrate a Swimming Pool into a Garden Landscape
Planning your swimming pool as part of a wider garden design landscaping scheme will help combat against a 'plonked-in' look.
Using patio ideas from other areas of your garden to inform the materials used in and around the pool, for instance, can help create a cohesive look. Planted beds and trees can not only create privacy and a wind break around your pool, but also make the pool area feel more established.
This stunning contemporary design uses evergreen plants in a corten raised planters to shelter the pool, while bringing a spot of colour that can be enjoyed even in the colder months.
3. Consider the Eco Options for a New Pool
Natural swimming pools encourage a thriving habitat for wildlife and ecology without the need for chemicals to clean the water — and as an added bonus provide a great place to swim.
They need careful planning, with specific planting required to filter and purify the water. However, more and more self builders and renovators are considering natural pools as an option as they offer low-maintenance results and a natural aesthetic.
This home, built using Passivhaus principles, has a natural pool replenished by a rainwater harvesting system.
4. Get Creative with the Shape of Water
Don't feel limited by rectangular shapes for pool designs and let the landscape and garden size and shape inform your design.
Contemporary curved shapes are an enticing option for those with a usual or irregular garden space while sloping gardens might suit an infinity pool style as part of a terrace.
5. Use a Heat Pump to Heat your Pool
Traditional pools of times gone by were often seen as wasteful — being heated year round for occasional use. However, using heat pumps for swimming pools is a great way to combat this.
"A heat pump will heat the water at a third to a fifth of the cost of direct resistance electricity, and a dedicated swimming pool heat pump will cost under £2,000 for a swimming pool and around £1,500 for a hot tub or spa," advises David Hilton.
A swimming pool was a must for the homeowner behind this renovation project. It is heated by a heat pump, meaning it can be used for a daily swim even in the cooler months.
6. Make a Garden Pool Look Nice with Careful Designing
Just as you would any other room in the house, begin a swimming pool plan with a moodboard of inspiring images and ideas that you want to capture.
Include lighting for late-night dips and an atmospheric evening look, as well as more obvious elements like paving and shapes.
Take the lead from the house's style and detailing for a really thought-through scheme. This modernist house design is echoed in the pale paving and careful side planting. The downlighting on the exterior of the house is also reflected in the side spotlights of the pool.
7. Choose the Right Paving for a Pool Surround
Use garden paving ideas to inform the right material to surround your pool. Practical considerations must be made in terms of anti-slip coatings, porosity and sharp corners.
Porcelain paving pros and cons for pools include great moisture and slip resistance, but it can be a costly choice if for a large area. Its contemporary nature and the wide variety in choice might swing the vote for this being the best option for around pools.
Conversely, while garden decking ideas looks fantastic around a pool it can be slippy and high-maintenance when near bodies of water so it might be better to go for a more expensive composite material.
8. Give Privacy Some Thought
Position your pool in a place that will afford a bit of privacy. Think about secluded spots around the side of a house, or near an stablished hedge.
Alternatively, plan a little extra into your budget for garden fence ideas that will shield from neighbours or passersby.
This Compass Pools design beautifully located the pool within a walled garden, creating a contrast between the modern styling and traditional setting.
9. Incorporate a Pool into a House Design
The beauty of building your own home is that luxurious elements like swimming pools can be included into the design from the off. Be sure to detail to your architect when and why you will be using a pool and discuss how best to blend with the overall design.
"The swimming pool at Gowland House (pictured above) was designed to suit the specific setting out of the external patio anti-slip tiles avoiding the need for cut tiles," explains Tom William, director of ID Architecture.
"The full size tiles form the edge to the pool creating an elegant termination detail with the retracting pool cover hidden beneath.
"This required a lot of careful detailing with the external drainage as the pools sits within a glazed U-shape arrangement, which meant we needed to fall the patio away from both the frameless glass windows (serving the open plan space, hallway, formal dining area and ground floor bedroom) while also falling the patio away from the swimming pool to prevent contamination.
"The depth of the pool was also carefully designed to suit the height of our clients as they wanted to ensure the water level came up to their shoulders when standing as the heated pool was to be used all year round."
10. Install the Right Pool Covering
"The simplest covers are bubble covers. They are effectively a UV- and chemical- resistant blanket of bubble wrap that floats on the surface of the water," explains David Hilton. "A roller station which sits on the outside of the pool, is used to roll the blanket off the pool and store it safety (as shown above).
They are often referred to as solar covers because they slow the convective heat loss, resulting in a small net temperature rise in the water. A solar bubble cover costs from around £400 upwards.
"Most bubble covers are not considered to be safety covers (some do function in this way — check the manufacturer's specification). If you jump or fall onto it you could become enveloped, and as such they often need to be installed with a sturdy safety net or be anchor to the edge of a pool.
"A rigid slatted pool cover is a more durable option. It can be installed as an above-ground solution and can be fitted to many new pools with an integral motorised roller. Rigid covers start at around £2,000."
Another option is a retractible rigid cover which can be used as decking when the pool is closed. Expect to pay at least £6,000.
11. Opt for an Above Ground Pool Design
For a swimming pool without the budget or installation fees, above ground options can be disassembled and reinstalled elsewhere (ideal if you're thinking about selling in the next few years and don't want to lose your investment).
Both above ground swimming pool and hot tubs aren't known to be the prettiest of choices, but structures and facades can be construction around them.
The pictured pool, for instance, has been elevated aesthetically using a traditional stone screening surround.
12. Build a Pool House or Garden Room
Introduce garden room ideas into your swimming pool plans for a versatile and practical addition to an outdoor space.
Essential elements for a pool house include a space to store pool supplies and maintenance equipment as well as a changing area/shower room.
Other, more exciting, ideas for this space could also be an outdoor bar/kitchen, guest suite or even a home office with a pool-side view.
What is the Cheapest Option for a Pool?
Certainly an outdoor pool. Prices start from about £60k including vat with the average being around £100k when you add some must have eco and safety options such as solar safety cover, variable speed pump, and heat pump.
"An above ground pool will cost less to install than an in-ground one, as there will be less groundwork necessary. For a smaller pool of around 4m x 2.5m you will be looking at around £6,000," says David Hilton. "Therefore (on the budget end of the scale) you could realistically have a pool installed with a counter flow pump and a fully insulated safety cover with change from £9,000."
How are Swimming Pools Heated?
"No matter where you put your pool you will need to insulate it as best you can," says David Hilton. "Conductive heat will be lost to the ground and convective heat will be lost through evaporation to the air.
"Most swimming pools now have insulated shells, which will reduce heat loss to the ground. The surface of all pools should be covered and insulated to prevent evaporative heat loss."
Do You Need Planning Permission for a New Pool?
"Often planning permission is not required for an outdoor swimming pool, but unfortunately it is not a simple yes or no answer as there are certain constraints surrounding permitted development rights," explains Tom Williams, director of ID Architects.
"Currently, when constructing new build dwellings, if the internal pool is attached to the house (within the dwelling itself) the pool will qualify for zero rating and therefore VAT exempt. However, interestingly, when constructing an outdoor pool, even as part of a new build house, unless a hydrotherapy pool, VAT will be applicable."
Assistant Editor Amy began working for Homebuilding & Renovating in 2018. She has an interest in sustainable building methods and always has her eye on the latest design ideas. Amy has interviewed countless self builders, renovators and extenders about their experiences for Homebuilding & Renovating magazine. She is currently renovating a mid-century home, together with her partner, on a DIY basis, and has recently fitted her own kitchen.
Homebuilding & Renovating Newsletter
Get the latest news, reviews and product advice straight to your inbox.
Thank you for signing up to Homebuilding. You will receive a verification email shortly.
There was a problem. Please refresh the page and try again.