Small Kitchen Design Ideas: 14 Ways to Make the Most of a Small Space
By Amy Reeves
These small kitchen design ideas will help you make the most of any spatially-challenged room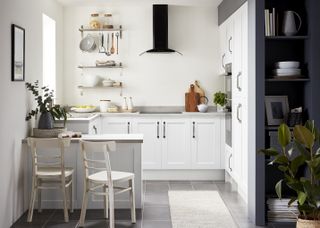 (Image credit: B&Q)
If you're looking for small kitchen design ideas that will not only help maximise the layout of a compact space, but also create an amazing finish, search no more. Not everyone is blessed with room enough for a spacious open-plan kitchen, dining and living space but that's not to say there isn't a lot to consider. 
Planning the best layout for a new kitchen design can be challenging, as can fitting in all the storage required and choosing the right appliances, so take a look below at our design tips and tricks for creating a modern room for any budget. 
(MORE: Get a quote for a new kitchen)
1. Smart Storage is a Great Small Kitchen Design Idea
The success of a compact design hangs on creative kitchen storage ideas. Make every inch work for you by incorporating bespoke solutions like a built-in window seat or versatile shelving, as this practical kitchen demonstrates. 
2. Choose an L-shaped Kitchen Layout for a Small Square Room
Small kitchen design ideas are just as much about the flow and access to other areas as they are about the aesthetics and appliances. 
L-shaped kitchens are great for high-traffic routes through the the garden and give the opportunity for loads of wall unit storage. 
(MORE: Get a quote for a new kitchen)
3. Mix Bold Colours into Your Small Kitchen Design Idea
Some small kitchens suffer from a lack of identity larger spaces can offer. If you have suitable natural light in your rooms, consider choosing an interesting colour for your units, floor or splashback. 
This tiny kitchen (from the Handmade Kitchen Company) was painted in Farrow & Ball's Railings. 
4. Choose Where to go Big and Where to Save Space Wisely
Where space is limited, giving adequate consideration to the things you use most is essential. 
For instance, where there is little room for a dishwasher, a large Belfast sink and plenty of drying space might be just the ticket. Or, could an Aga or range cooker be more worth your while when cooking for a family? 
This small kitchen design cleverly incorporates both and compensates for fewer cupboards with a range of narrow storage units. 
5. Add a Pantry or Larder in a Small Kitchen Design
Larders and pantries are incredibly helpful for outsourcing tinned goods and lesser-used appliances (like stand-mixers or blenders), or even adding a little extra worktop space for small kitchens. 
(MORE: Need a new kitchen? Get a tailored quote)
6. Clever Lighting is a Great Idea for Your Small Kitchen Design
A good lighting design plan is perhaps more important in a petit kitchen than it is in a larger one. 
There's nothing more annoying than trying to chop at a worktop but find you're blocking the light. Under-shelf LED strips are a great investment, as are ceiling downlights to maximise the illumination of every awkward corner.  
7. Small Kitchen Design Ideas Need Injecting with Some Personality 
If your small kitchen feels like a chore to cook in, add in a playful touch to the new design. 
Chalkboard paint, colourful tiles and a statement pendant light will perk up any space — as will a smart home built-in speaker system to blast out your favourite songs if you have the budget.
8. Re-imagine the Small Galley Kitchen 
The beauty of small kitchen spaces is that everything is readily to hand and this is definitely true of galley layouts. 
Make the most of a narrow and long space by using the golden rule of a kitchen triangle to arrange the sink, oven/hob and fridge, but be sure to consider that galley kitchens are open at both ends so thoroughfare and smelly foods will impact the how you lay out the space. 
(MORE: Get a quote for your new kitchen)
9. Utilise Flexible Modern Appliances in Compact Kitchens
Inserting built-in ovens into unit at eye level doesn't just save you bending over, but also frees up precious storage space. 
Also, newer models can feature a slide and hide door which is perfect for navigating a tight layout. 
10. Create a Calm Small Kitchen Design with Pale Colours
Lighter colours make small rooms feel more open and bright so think about opting for a palette of warm whites, light greys or pale cashmere units which, when combined with a warm yet practical timber worktop, will create a comfortable and cosy kitchen. 
11. Declutter with the Latest Fixtures
When kitting out a small kitchen with appliances and fixtures, investing in new space-saving designs is guaranteed to maximise every inch of space. 
Boiling and filtered water taps, like this Qettle product, will get rid of the need for a kettle, while induction downdraft hobs (like Smeg's HOBD4 below) do away with bulky and boxy extractor units. 
12. Open Up a Small Kitchen with Open Shelving
Replacing top units with open shelves not only looks great but creates the illusion of a room being larger. 
Be they short and practical (as pictured) or long enough to span a wall and display your favourite crockery, freeing a kitchen of that claustrophobic feeling built-in units can transform a pokey space. 
(MORE: Get a quote for your new kitchen)
13. Introduce Loads of Natural Light
Rooflights, bifold doors and picture windows all do their part to make small kitchens feel larger. 
This small side-return extension to a terrace house transformed the way the homeowners utilised their kitchen and even allowed for them to create the perfect casual dining area. 
(MORE: Choosing bifold doors for your project)
14. Maximise Worktop Potential in a Small Kitchen Design Idea
Worktops can work twice as hard in small kitchens by adding stool to double them up as breakfast bars. Or, if you need a versatile layout, choose a lightweight freestanding island unit to be positioned depending on demand. 
Need a New Kitchen to Fit a Small Space? Get a Tailored Quote
Homebuilding.co.uk partners with the UK's best kitchen specialists to match your requirements with their services. 
Simply answer a few questions on what you need from your kitchen and we'll put you in touch with a suitable partner.
How It Works
1. Enter your details below. Tell us a bit about your project and what you are looking for, and leave some contact details.
2. We search our database. We'll match your requirements with the products and services that our partners offer.
3. Partners will contact you. Don't worry about being bombarded - only the suppliers that match your requirements will contact you.
Homebuilding & Renovating Newsletter
Get the latest news, reviews and product advice straight to your inbox.
Thank you for signing up to Homebuilding. You will receive a verification email shortly.
There was a problem. Please refresh the page and try again.