Narrow Garden Ideas: 14 Ways to Maximise Space
By Rob Keal published
Narrow garden ideas are all about maximising available area while preserving style. Get the most out of your compact plot with our 14 design suggestions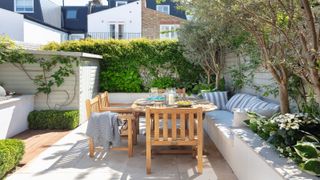 (Image credit: Future)
Narrow garden ideas reach only as far as your imagination can convey them, and even though the amount of room may be at a premium, the potential for a cosy plot to feel bigger and brighter is still great.
When it comes to garden design, it is all about getting creative with the space you've got. A narrow garden may accommodate a lot more than you think if you are willing to think outside the box.
We've put together 14 narrow garden ideas so you can be inspired to transform your smaller plot into an exciting area that everyone in the family can enjoy!
Narrow Garden Ideas: What to Consider
"A couple of things to consider if you are planning the layout of a narrow garden are, the colour scheme and tile choice," begins Amanda Telford, marketing manager at CTD Tiles.
"The right colour scheme can help you make the most of the space. Using light tones gives the feeling of more room and has uplifting qualities.
"When working with a restricted outdoor area, paving is a practical and low-maintenance option which allows you to benefit most from the garden. Using large tiles gives the illusion of more space and offers a sleeker finish with less grouting lines."
1. Plant Trees on Either Side of Your Garden
The moment you enter a narrow garden should feel like an experience. If the layout of your plot is clearly defined, you should plant trees on either side of it in order to reflect the character and ambience of the space.
Also, remember to select varieties of tree in keeping with any patio planting ideas you may have, or that complement your preferred garden surface, such as lawn, gravel, bark or shale.
2. Create a Floral Boundary
Flowers add brightness and liveliness to your outdoor space, but in a narrow garden, they are best planted as a group border. This will provide natural screening and also offer a more vibrant view when you look out over the area.
Raised planters can work particularly well, too, adding height and definition to borders.
Jack Sutcliffe, CEO and co-founder at Power Sheds, explains: "Flowerbeds can also make a big difference to a narrow garden, adding a vibrant colour scheme and disguising boundaries to make it feel less chaotic. Some top choices for your narrow garden are clematis, alliums, espalier trees, Japanese anemones, or ferns."
3. Install a Water Feature
Ambience is a big factor in narrow garden ideas, and the right water features lend plenty of it to your plot. Just the sound of water can help create a more soothing outdoor environment, which is great if you live near a busy road or even have noisy neighbours.
A water feature could become the focal point of your narrow garden, and Japanese garden ideas in particular look great with this type of outdoor add-on.
4. Build Your Own Garden Nook
Secluded garden nooks are making a comeback, and narrow gardens are great for housing these hidden getaways. Simply earmark a quiet corner of your outdoor space, then add a pergola and some comfortable seating for instant relaxation.
Ensure it is far enough away from the house for you not to be disturbed, and maintain the area around your nook carefully so that no neighbouring plants encroach on your garden retreat.
5. Pick Suitable Outdoor Paving
As far as garden paving ideas are concerned, for narrow plots, light coloured pavers with a smooth finish help create an illusion of space, and in this instance create a contemporary look.
Select paving slabs that blend in well with the garden landscape, too, ensuring that there are no raised edges or bumps that could affect passage from one end to the other.
6. Opt for a Narrow Potting Shed
Anyone who gardens for a living or as a hobby knows that a lot of tools are required to keep your plot looking spick and span. The issue is where do you store them?
If your garden is narrow, you can buy a tall, slim shed and put your tools safely out of the way when not in use.
Alternatively, if you've got a wider opening somewhere in the space, you could always invest in one of the best plastic sheds, which will allow you to store more things securely outside.
7. Incorporate Climbing Plants
Climbing plants add height and interest to any garden. In narrow gardens, they not only help create a more exotic-looking space, but also screen off unsightly views that detract from the overall beauty of your plot.
You should let climbing plants grow up a wall or over an arch, wherever they lend charm and character.
Another option could be to add living walls to your garden, as these lend texture and greenery to make a narrow plot feel more inviting.
8. Zone Your Narrow Garden Ideas
Knowing how to properly zone your narrow garden is key to getting the full potential of this space. A couple of core zones, such as a place to sit and entertain, as well as a lawn or planting area, are both good starting points.
"There are several clever techniques you can use to maximise the space in a narrow garden," says Sutcliffe. "First off, why not try adding different levels to your garden? One way to liven up a narrow plot is to add tiered garden ideas, position a seating spot on the higher level for the best view and add some garden screening to boost the sense of privacy."
9. Find the Right Outdoor Furniture
Despite your garden being narrow, you can still include furniture as part of the overall design.
Just remember to choose pieces that provide good comfort (an outdoor table and chairs, for instance) and balance the amount of available space with your other small garden ideas.
10. Grow Edible Crops Along Your Garden
Growing your own fruit and veg is a great way to transform your narrow garden into a fully functional, practical space.
If you have any uncultivated soil running down your plot, tend this area so that it becomes suitable for growing produce like tomatoes, peppers or even aubergines.
At the same time, a lengthy patio could play host to any number of pots and planting beds, which make a great home for herbs and bigger crops such as carrots.
Select containers that are deep enough to accommodate long roots, and consider embracing organic gardening so your yield remains free from chemicals.
11. Introduce a Garden Mirror
A garden mirror gives the illusion of depth and space, as well as helping reflect light around your plot. They are particularly useful in narrow gardens, where the area itself could do with feeling a bit more open.
Depending on the shape of your garden, you could have multiple mirrors positioned at different angles so each zone feels more spacious. Alternatively, if the design permits, hang one long mirror that stretches the whole width of the garden.
12. Get Creative With Your Pots
Pots are a fun way to add personality to your garden, but when the plot itself is narrow, thought needs to be given to their positioning.
A small potting shed could be the solution here, providing a stylish way for you to display your plants. Alternatively, for something a little more rustic, place a few pots on each rung of a ladder standing in the corner of your garden to create an innovative statement piece.
13. Think About Outdoor Lighting
Lighting is what makes your narrow garden both accessible and usable all year round. Also, the depth lighting can add to a narrow garden is great for making the plot itself appear more spacious.
If you have paving throughout your garden, consider incorporating patio lighting ideas that complement the space, such as string lights running from one end to the other, or perhaps a line of battery-powered/solar lanterns illuminating most, if not all, of the garden's key features.
14. Add a Summer House for Entertainment
A summer house could be exactly what your narrow garden needs to help make it more playful, exciting and welcoming; a stunning outdoor getaway and great social zone for when family or friends visit.
Though it may not be possible to include full-sized garden room ideas in a narrow garden, you can still use them as inspiration for putting the finishing touches on your outdoor entertaining area.
How Much Do Narrow Garden Ideas Cost?
"The cost of garden landscaping and maintenance is mostly influenced by the size of the space that requires work, so the cost of projects for narrow gardens is likely to be cheaper," explains Sutcliffe.
"Narrow gardens can need more care and attention to keep the space feeling stylish though, meaning more work and regular costs for the homeowner."
Depending on the extent of the landscaping required, it is prudent to budget between £2,500 to £3,500 for your narrow garden design.
Any significant hardscaping, such as laying a new patio or building a deck from scratch, may be at the more expensive end of this scale, or perhaps even a bit more, when factoring in labour fees.
However, lighter maintenance and revamping should be less pricey, and the straightforward inclusion of any small plants – including trees, shrubs, grasses, and flowers – is likely to be cheaper than the figures quoted above.
These costs can vary, though, and it may be a good idea to budget for smaller and more complex garden work separately, so that all aspects of the design are covered.
Can Narrow Garden Ideas Work for Families?
It is perfectly achievable to turn a narrow garden into a family-friendly space with a little work and inspiration.
"If you decide to go for a tiered garden, the higher level at the end of the garden can be a terrific spot for a fire pit or outdoor dining table," Sutcliffe explains. "The end of the garden is also a great place for a playhouse or reading corner, where kids, mum or dad can go for some peace and quiet.
"Your garden is a space to be creative, so add a family-friendly vibe with bright colours and playful shapes. Finally, centring your garden around a lawn will give kids a place to run, play sports and let their imaginations run free."
Rob Keal is the Content Editor at Homebuilding & Renovating. With a background in content marketing, he began his career back in 2016 as a freelancer, before honing his craft at various digital marketing agencies. Looking to specialise in DIY and homes, he joined the team in February 2022.
Renovation has been part of his life since he was nine years old, when his parents bought a medieval cottage and completely revived it, introducing him to kitchen remodels, loft conversions, landscape gardening, and much more besides along the way. A bedroom extension and patio refurbishment are among his next planned projects. He is also passionate about interior design and landscape gardening.
Homebuilding & Renovating Newsletter
Get the latest news, reviews and product advice straight to your inbox.
Thank you for signing up to Homebuilding. You will receive a verification email shortly.
There was a problem. Please refresh the page and try again.