Best Paint Brushes: 6 Top Quality Brushes to Help You Decorate Your Home
By Steve Jenkins published
These are the best paint brushes to help you tackle any paint project with ease, and get the best finish possible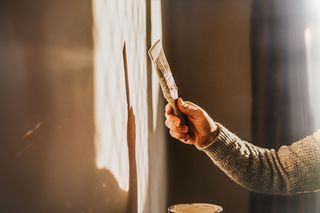 (Image credit: Getty Images)
Picking the best paint brushes depends on quite a few factors, and much of it depends on your paint project.
Your project of choice can guide you through which brushes will be most effective, and answer questions such as, what size do you need? Should you choose a plastic or wood handle? What type of bristles should you consider?
As a general rule, to emulsion walls and ceilings you need smaller 1-inch or 2-inch brushes for cutting in, and a larger 3 -inch or 4-inch brush for painting the wall. If you are working on woodwork, such as windows and doors, then a 2-inch brush is a good workhorse.
In reality, the average homeowner/DIYer will only need a set of five brushes to get most jobs done. These are six of the best paint brushes for the perfect finish on your project.
(MORE: How to Paint a Room)
What are the Best Paint Brushes?
1. Harris Essentials Walls & Ceilings and Woodwork 10-Pack
The best for emulsion and gloss work
Specifications
Sizes:
0.5, 1, 1.5, 2 inches
Best for:
Gloss, emulsion
Reasons to buy
+
Complete set
+
Good price
+
Gloss and emulsion brushes
Need a new set of brushes quickly? Then this budget grab-and-go 10-piece kit could be just what you are looking for. It brings together all the paintbrushes you'll need to paint walls, ceilings, and interior woodwork.
You get four different-sized brushes for gloss work. There are 0.5 and 1-inch brushes for more intricate paintwork, and 1.5 and 2-inch brushes for quicker coverage on larger easier to paint areas. For wall and ceilings, you get a 0.5-inch and 1-inch brush for difficult to paint areas and 2 x 1.5-inch and 2 x 2-inch paint brushes, which are ideal for cutting in around skirting boards, doors and windows.
The synthetic bristles are conveniently coloured black for gloss and grey for the emulsion brushes with both giving a decent smooth finish, and you rarely see a stray bristle.
Buy the Harris Essentials Walls & Ceilings and Woodwork 10-Pack now.
---
2. Purdy Monarch Elite Paint Brush Set
The professionals use these top-quality brushes
Reasons to buy
+
Used by professionals
+
High-quality
+
Wood body
If you want a set of paint brushes that will last then this set from Purdy is one you should definitely have on your shopping list.
Used by professionals, this set of five boasts 1, 1.5, and 2-inch (x2) and 3-inch Monarch Elite paint brushes, but they don't come cheap. However, you do get a quality set of paint brushes for your money.
The brushes are hand-made using wood, have a stainless steel ferrule and soft bristles that produce a smooth consistent finish. They are tailored for emulsion and water-based paints, pick up paint well, spread paint evenly and help to reduce brush marks. Look after these brushes properly and they will last for years.
Buy the Purdy Monarch Elite Paint Brush Set now.
---
3. Precision Defined Heavy-Duty Professional 6 Piece Paintbrush Set
The best for general painting projects
Specifications
Best for :
Emulsion, water-based paint
Reasons to buy
+
Comfortable wooden handle
+
Angled head brush
+
Stroke-free finish
This six-piece set brings quality and comfort at a price that won't break the bank. Included are a single 3-inch brush, two 2-inch brushes, and two 1.5-inch brushes - an ideal selection for all types of paint projects inside the home.
To add an extra dimension to the set, one of the 2-inch brushes comes with an angled head which is perfect for getting precise edges between walls and woodwork. The handle is made from high-quality birch wood that offers a sturdy and comfortable grip, ideal for lengthy painting sessions.
The synthetic bristles use what are known as SRT (Solid Round Tapered) style filaments. These have a larger diameter at the ferrule end and narrow to a smaller diameter at the brush end. This helps to produce an easy action and a smooth consistent, stroke-free finish.
Buy the Precision Defined Heavy-Duty Professional 6 Piece Paintbrush Set now.
---
4. Wickes Multi-Purpose Block Brush
The best brush for a fast finish
Specifications
Best for:
Emulsion, Masonry
Reasons to buy
+
Speedy coverage
+
Retains paint well
+
Ideal for indoors and outdoors
+
Great on masonry and Artex
Reasons to avoid
-
No good for small intricate areas
When you need to get a paint job done quickly then a block brush might be just the answer.
This model from Wickes measures 5.5-inches wide and 30mm in depth, offering a lot more bristles than your standard paintbrush. This makes it great at collecting a large volume of paint in a single dip meaning it saves a lot of time reloading the brush.
It is ideal for exterior and interior paint projects. You can paint decking quickly and easily, and it's ideal for rough masonry and brickwork. Indoors, it's speedy on ceiling and walls, especially Artex and similar surfaces, but expect a little splashback when painting above your head.
It's a multi-talented brush, but its size makes it a poor choice for smaller and more intricate areas.
Buy the Wickes Multi-Purpose Block Brush now
---
5. Harris Seriously Good Walls & Ceilings Paint Brush
Get a bristle-free finish on walls and ceilings
Specifications
Sizes:
0.5, 1, 1.5, 2 inches
Reasons to buy
+
Minimal bristle loss
+
Flexible handle
+
Great for cutting in
There is little more annoying than a stray bristle on any painting project. It spoils the finish and has to be removed, meaning paint on your hands and a rebrush to smooth out the finish.
This set from well-respected paint brush brand Harris prides itself on no bristle loss while painting thanks to its patented No-Loss technology. They are not perfect but very rarely will you see a loose bristle.
A specialised blend of synthetic filaments makes these brushes the ideal choice for working with emulsion rather than gloss or oil-based paints. With a flexible handle and sizes ranging from 0.5-inch to 2-inch, they are more suited to cutting in around light fightings, doors, and skirting boards to help give clean sharp edges.
Buy the Harris Seriously Good Walls & Ceilings Paint Brush now.
---
6. Diall Paint Brush Set
Get into all areas with this combination set
Specifications
Sizes:
15, 20, 21, 30, 40mm
Best for:
Emulsion, Gloss
Reasons to buy
+
Round and flat head brushes
+
Ideal for intricate paintwork
+
Soft-touch handles
+
Use with water and oil-based paints
Reasons to avoid
-
No larger brushes for walls or ceilings
Getting into intricate and narrow areas is not easy and if you don't have the right brush for the job the finish won't be up to scratch. This set combines a selection of flat head and round head brushes to help make sure that your hard-to-paint areas get the best finish.
The two rounds brushes - 15mm and 21mm - are great choices for getting into intricate cornices, small sash windows and tight corners. The remainder of the set comprises three small standard flat head brushes ideal for cutting in and painting doors and windows.
Soft-touch handles and soft-tipped medium-sized bristles help pick up paint and ease the brush into all areas, ensuring that you get a high-quality finish whether using water-based or oil-based paint.
Buy the Diall Paint Brush Set now.
Is There a Difference in Paint Brushes?
Choosing the right paint brush depends on a number of factors, so consider these points before you buy.
Type
Flat head brushes are a common choice, ideal for most jobs. The smaller end of the range - from 0.5 to 2-inch brushes - are ideal for woodwork and cutting in while bigger brushes are good for paint ceiling and walls. But you can also consider angled head brushes and round head brushes for more intricate and hard-to-paint areas.
Bristles
Bristles are often mentioned, but for the average paint job, synthetic bristles are perfectly adequate. Natural bristle brushes typically work well with oil-based paints and are great for smooth high-quality finishes such as high gloss front doors and windows.
Synthetic bristles are the best choice for water-based paints such as emulsion, but if you are looking to produce fine high-quality finishes with oil-based paints then natural bristles do a great job.
Longevity
A lot of DIYers take the throwaway approach to paint brushes. Once they have used them a few times they toss them in the bin and get a new set for the next paint project. But if you invest in a decent set of brushes and look after them properly they can last for years.
How to Properly Use Your Paint Brushes
If you are using water-based paint you simply need to wash your brush under a running tap until clean and shake out as much water as possible. A quick tip is to roll between both hands to spin. Do this inside an empty paint tin or bucket to stop the water spraying everywhere. Let the brush dry naturally. Do this every time you use the brush.
Oil-based paints need a brush cleaner - use a water-soluble solvent. First, remove as much paint as possible with a cloth or newspaper. Dip the brush into the cleaner and work the bristles with your fingers to remove as much as possible. Finally, rinse in warm water, dry with a cloth, and let it dry naturally.
More Best Buys for Regular Painting Jobs
Steve is an avid DIYer with over 20 years of experience in transforming and renovating homes. He specialises in painting and decorating, but has strong all-round building skills, having previously worked in the industry for 10 years.
Homebuilding & Renovating Newsletter
Get the latest news, reviews and product advice straight to your inbox.
Thank you for signing up to Homebuilding. You will receive a verification email shortly.
There was a problem. Please refresh the page and try again.