The Best Paint for Skirting Boards You Can Buy Now
By Steve Jenkins published
Our best skirting board paints guide has a mix of the best durable and quick-drying paints to keep your home looking good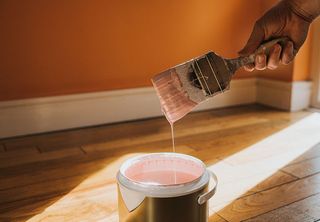 (Image credit: Getty Images)
The best skirting board paints need to be durable, and can therefore help to prevent the wear and tear that comes from your skirting boards being kicked and scuffed.
Skirting boards might not get the same admiring glances as doors, windows and walls, but they play a crucial role in keeping your walls protected and your home looking good, and therefore painting skirting boards is an important task.
Therefore, the paint you apply should be capable of taking the odd knock without chipping and needing a repaint. It also needs to be easy to wipe clean when it gets dirty, and should keep its colour — which is especially applicable if you're using a white skirting board paint.
We have put together a collection of the best skirting board paints available now, in different finishes, to help you choose the right one for your home.
(MORE: How to Paint a Room)
Best Skirting Board Paints
Dulux Trade Satinwood Metal & Wood Paint
Best no undercoat satin paint
Reasons to buy
+
No undercoat
+
Hard-wearing finish
+
Long lasting
Fancy a tough durable finish without the high sheen of a gloss? Then this satin offering from Dulux is a great all round choice.
As a solvent-based interior paint it doesn't need an undercoat or primer if you're painting over most existing paint work; just a couple of coats of paint will do.
There are a few caveats: you will need to prepare the skirting board to get a longer lasting finish, and if you're starting out on bare wood or covering a dark colour with a light paint then you'll need a primer/undercoat to get the best finish.
This Satinwood will take at least four hours to be touch dry, and it's best to wait around 16 hours before you should add a second coat.
Buy the Dulux Trade Satinwood Metal & Wood Paint now
---
Crown Quick Dry Gloss Paint
Best quick-drying gloss paint
Reasons to buy
+
Touch dry within 1 hour
+
Stays white longer
+
Thick consistency so less drips
Reasons to avoid
-
Over-brushing can leave brush marks
When you need to get a paint job done quickly then a quick-drying paint is an ideal choice, and that's exactly what you get from this water-based gloss.
It's touch dry in one hour which makes it well-suited for small surface areas like skirting boards. It is fully dry in six hours and ready for another coat — two are recommended.
The paint is thick, which means fewer drips, plus it's easy to apply and provides decent coverage. It dries to a tough wipeable finish that has a non-yellowing formula which helps it retain a bright white finish for longer. Just make sure to avoid overbrushing as it can leave brush marks.
Buy the Crown Quick Dry Gloss now
---
Ronseal Stays White Ultra Tough Paint
Best long-lasting scuff-resistant paint
Specifications
Finish:
Gloss, Satin, Matt
Reasons to buy
+
Stay white formula
+
Tough and scuff resistant
+
Paint onto bare wood
+
Touch dry in 30 minutes
Reasons to avoid
-
Need a knot blocker for bare wood
-
Only available in white
This ultra tough paint from Ronseal dries in double quick time, it's touch dry in 30 minutes, and provides a scuff and scratch-resistant finish in either matt, satin or high sheen gloss.
(MORE: Best Gloss Paint)
It's fully dry and ready to re-coat in four hours, so you will be able to finish a two-coat paint job in a single morning.
It can be applied directly to properly prepped bare wood or previously painted skirting boards easily thanks to its drip-resistant formula. And it stays white for years.
Buy the Ronseal Stays White Ultra Tough Paint now
---
Dulux Trade Eggshell Metal & Wood Paint
Best eggshell paint for skirting boards
Reasons to buy
+
Durable and wipeable
+
Good coverage
+
Not just white
Don't want a high sheen gloss or a dull matt finish? Fancy a good-looking finish that has slightly less shine than a satin finish? Then you need to try an eggshell paint.
This solvent-based paint gives a mid-sheen eggshell-like finish that is tough and durable, making it great for painting skirting boards.
It comes as standard in two whites, but thanks to Dulux's colour mixing you can get a wide variety of colours. Offering good coverage, this is another paint that is self-priming, meaning there's no need for a primer/undercoat; just a couple of coats of paint are required.
The drying time isn't the quickest though — it's touch dry in a minimum of four hours and you'll need 16 hours before you can add another coat.
Buy the Dulux Trade Eggshell Metal & Wood Paint now
---
Leyland Trade Satinwood
Best budget satin paint
Reasons to buy
+
Good price
+
Extensive coverage
+
Knock resistant
This solvent-based paint gives a hard wearing, knock-resisting, satin finish at a price that won't burn a big hole in your pocket.
Well suited for wood surfaces such as skirting boards, the paint doesn't need an undercoat or primer, but you will need to prep well and add a knot blocker if you're painting straight onto bare wood.
Like most self-priming paints, an undercoat is needed when you're using white to paint over a dark colour. And like most solvent-based paint drying time is not quick - you'll need to leave it up to 24 hours before you can re-coat. One downside is that it doesn't have a stay white formula and may yellow over time.
Buy the Leyland Trade Satinwood Paint now
---
Ronseal Ultra Tough Hardglaze Internal Clear Gloss Varnish
Best clear varnish to show off your wooden skirting boards
Specifications
Coverage per litre:
7.5m2
Finish:
Matt, Satin, Gloss
Reasons to buy
+
Tough and durable
+
Choice of finishes
+
Water and scratch-resistant
Not all skirting boards need to be covered up with a coat of colour. If you have good-looking high quality wood boards you might want to show them off, but they will still need protection.
This clear heat, water and scratch-resistant varnish from Ronseal gives a tough durable finish that can take the odd knock or two. You can choose from a rich high sheen gloss or go for a more subtle matt or satin.
It is dry within two hours and ready for another coat within six hours. You will need at least two coats but three is the recommended choice to get a really strong lustre that brings out the natural beauty of the wood.
Buy the Ronseal Ultra Tough Hardglaze Internal Clear Gloss Varnish now
How to Choose the Best Skirting Board Paint
Tough and durable are the standard for most skirting board paints, but you can choose from choice of finishes, commonly matt, satin, eggshell and gloss.
All are wipeable and easy to clean so it is often a matter of preference. But it is worth noting a high sheen gloss is more likely to show up any imperfections.
Whichever paint you choose it can be used elsewhere; it is not exclusive to skirting boards. So, use it on doors and windows to complement the skirting boards.
You will also need to consider drying time. Can you keep your room free from disturbances - which means dust - for 24 hours? If not, then you might need a paint that is quick-drying so you can get the job done quicker.
How to Get The Perfect Finish on Your Skirting Boards
Skirting boards do a lot of hard work that goes unnoticed and to keep them scuff and scratch-free you need the right combination of preparation and paint.
This is especially true if you have natural wood skirting boards — the better the prep, the better the finish. If you have MDF skirting boards these typically come with a primer/undercoat and are ready to paint.
A lot of paints suitable for skirting boards are self-priming, which means you simply apply a couple of coats of paint and the job is done. But it's not always that simple. If you're painting natural wood then you might need a knot blocker to stop any sap coming through and ruining your lovely painted finish.
Otherwise, if you're painting over a dark colour with a lighter colour (white, for example(, you will need an undercoat to mask the darker colour, and make sure you don't need too many top coats.
More Best Buys for Regular Paint Jobs
Steve is an avid DIYer with over 20 years of experience in transforming and renovating homes. He specialises in painting and decorating, but has strong all-round building skills, having previously worked in the industry for 10 years.
Homebuilding & Renovating Newsletter
Get the latest news, reviews and product advice straight to your inbox.
Thank you for signing up to Homebuilding. You will receive a verification email shortly.
There was a problem. Please refresh the page and try again.