Best Gloss Paint for a Smooth, High-Sheen Finish
By Steve Jenkins published
The best gloss paints add style, panache and a long-lasting toughness. Here are our top 6 picks for adding sheen to your scheme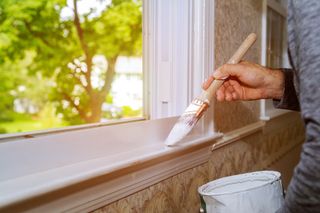 (Image credit: getty images)
The best gloss paint can give your doors windows, skirting boards, stairs, cabinets, radiators and even walls a classy high sheen finish. Specialist gloss paint can even give masonry, laminates, PVCu and ceramic a crisp, clean mirror like finish.
But gloss paints don't just add a touch of style and elegance to your interior and exterior paint projects. They provide a tough, durable, moisture resistant finish that is easier to clean than lower gloss paints. This makes them ideal for front doors, kitchen, bathrooms and high traffic areas that need a frequent wipe down.
(MORE: How to Paint a Room)
But be warned you will need to prep any surface well. Gloss has a high reflection and will show up any surface imperfections that may lurk under the paint.
What is the Best Gloss Paint?
Dulux Trade High Gloss paint
Best gloss paint for a tough durable finish
Reasons to buy
+
Easy to apply
+
Excellent coverage
+
Durable wipe clean finish
If you want an all-purpose gloss paint that gives a tough durable finish that is easy to wipe clean then this trade offering from Dulux is a good choice. It offers excellent coverage managing around 18m2 per litre and is formulated to work on interior and exterior wood and metal surfaces. It has an easy flow making it easy to apply, but you need to apply thin coats to get the best finish.
Typically one coat should do the job, but you will need a suitable undercoat to get the best finish. And you will need to wait at least six hours before you can apply the gloss. If two coats are needed there is a drying time of at least 16 hours before you can recoat. So if you want a job done quickly look elsewhere.
Buy Dulux Trade High Gloss paint
---
Rustins Quick Dry Small Job Gloss Paint
The best gloss paint for small paint projects
Reasons to buy
+
Quick drying
+
Good for metal and wood
+
Suitable for interior and exterior
Reasons to avoid
-
Only available in small tins
If you 've got a small paint job that needs doing then this small tin of gloss paint could just be what you need. An easy to apply water based paint - available in 11 colours - it is suitable for interior and exterior wood and metal paint projects. Its small size - only available in 250ml tins - make it ideal for painting doors, skirting boards and windows. A single tin will cover around 3.25 sq m — enough for a single coat and maybe two on a front door and will be touch dry within 30 minutes. So less chance of rain or dust spoiling the finish on projects and it will be ready for a recoat in three hours.
Buy Rustins Quick Dry Small Job Gloss Paint
---
Johnstone's Interior Non Drip Gloss
Best drip resistant gloss paint
Reasons to buy
+
Hard-wearing durable finish
+
High gloss sheen
+
Drip resistant formula
No-one wants to see runs in their finely applied gloss paint and this specially formulated drip resistant offering from Johnstone's can help make sure that this doesn't happen. A solvent-based paint, it is easy to apply and minimizes mess when painting.
Something of an all-purpose paint, it can be used for interior and exterior projects on metal and wood, just make sure that you prepare all surfaces properly with a primer or undercoat. This will give a strong durable finish with a high glossy sheen that makes it ideal for high traffic areas such as staircases and other areas that might see a bit of wear and tear such as skirting boards, radiators and doors.
However, like a lot of oil-based paints, it's not quick drying. It will be touch dry within 3-4 hours and fully dry within 24 hours, so you will need to prepare in advance.
Buy Johnstone's Interior Non Drip Gloss
---
Rust-Oleum Universal Gloss Paint
Best all-purpose gloss paint
Reasons to buy
+
Paint and primer in one
+
Good for indoors and outdoors
+
Ideal for multiple surfaces
+
Good colour range
Reasons to avoid
-
Needs primer for certain surfaces
If you want a gloss paint that tackles just about any paint project going then this all-surface, all-purpose universal paint holds the answer. A paint and primer in one you simply need to prepare your surface - indoors or outdoors - get out your brush and start painting.
As it says on the tin it is suitable for wood, metal, plastic, masonry, radiators, tiles and laminates. Its flexibility is part of its charm, but it's not quite as invincible as we have suggested. For non-ferrous and galvanised metals and stain blocking it needs a specialist primer to get an unspoiled finish. But as an added bonus it doesn't just come in white, you can get a decent high sheen finish in over 10 popular colours.
Buy Rust-Oleum Universal Gloss Paint
---
Sandtex 10 Year Exterior Gloss
Best exterior gloss paint
Reasons to buy
+
Good coverage
+
Mirror shine gloss finish
+
Long-lasting
+
Weatherproof
When choosing an exterior paint you want one that can tackle all weathers, look good and last for years. Say hello to Sandtex 10 Year Exterior Gloss paint. Specially formulated for outdoor wood and metal surfaces this solvent based paint gives a tough, durable weatherproof finish that can last up to a decade if surfaces are prepared properly.
A coat of primer will be needed as the base before a couple coats of the exterior paint will produce a mirror shine gloss finish. But be warned, drying time is six hours so you will need to pick a day where the weather is good to get the best finish.
Buy Sandtex 10 Year Exterior Gloss
---
Farrow & Ball All White Full Gloss
Best all white gloss paint
Reasons to buy
+
Just white
+
High gloss sheen
+
Eco-friendly
+
Low odour
White paint is white paint isn't it? No is the answer, there are very subtle shades of white but this interior water-based, eco-friendly, low odour gloss paint is simply white. This offering from Farrow & Ball contains no other pigments except white. It doesn't contain any small hints of blue you often find in brilliant whites.
Will you be able to tell the difference? Maybe not, but when you brush on to wood or metal it will produce a high gloss sheen that is hard to resist, especially when coupled with a suitable primer or undercoat. If All White isn't the white you want you can try other whites from their range, but you will have to pay handsomely for the pleasure
Buy Farrow & Ball All White Full Gloss
---
How to Apply Gloss Paint
The secret to getting a smooth (hopefully) flawless gloss finish is a two step process — preparation and application. The more time you spend getting the preparation right the easier the application will be. A well prepped surface will go a long way to helping achieve a great looking, long-lasting gloss finish.
Rub down and get the surface as smooth as possible. Clean with diluted white spirit or similar to remove any grease or dust, leave to dry and give one last rub down. If adding a primer or undercoat do a gentle rub down with a fine grade sandpaper when dry. Do the same between gloss coats. This makes sure you are painting onto a smooth surface.
Applying the gloss is very similar to most other paints, but you need to take a little more time to ensure a smooth finish. First pick an appropriate size brush and make sure its good quality — Harris and Purdy are among the best paint brushes. For doors, skirting boards and similar use a 2-inch brush. For finer details use a 1-inch brush.
Don' t overload the brush - apply thin coats - and use smooth strokes to spread the paint. As a general rule, start in the middle and work outwards. Once applied go back and use a light touch to help smooth out the same areas. Deal with any runs immediately. Leave to dry as instructed before applying a second coat. For large areas consider using a foam roller. If you have used masking tape, run a Stanley knife between the edge and tape to get a sharp finish to complement the crisp gloss finish.
Steve is an avid DIYer with over 20 years of experience in transforming and renovating homes. He specialises in painting and decorating, but has strong all-round building skills, having previously worked in the industry for 10 years.
Homebuilding & Renovating Newsletter
Get the latest news, reviews and product advice straight to your inbox.
Thank you for signing up to Homebuilding. You will receive a verification email shortly.
There was a problem. Please refresh the page and try again.