Mezzanine Bedrooms: How to Design a Split-Level Sleep Space
By Amy Reeves published
Find out how to create a stylish mezzanine bedroom, with expert design advice and lots of project inspiration, in our guide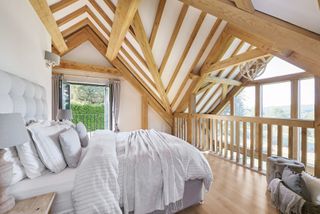 (Image credit: Richard Kiely c/o Oakwrights)
Mezzanine bedrooms can be a great way to add an extra bedroom in a house with a high ceiling or vaulted space.
Creating a mezzanine floor splits a room, providing multiple spaces, and this design feature is quickly becoming one of the most popular architectural elements in self builds, barn conversions and extension alike.
We've collected our favourite projects which have placed bedrooms inside mezzanine spaces. There's a lot to learn about privacy, access to light and the shape and size of spaces required for a well-planned mezzanine bedroom — find out more with advice from architects and design experts below.
What is a Mezzanine Bedroom?
A mezzanine bedroom is an intermediate level between two floors which has been designed for users to sleep in; allowing a flexible layout and a cosy spot to relax in.
In buildings like barn or chapel conversions, a mezzanine floor might not only be the best way to increase floor space in a room with high or vaulted ceilings, but also might be required by planning permission to create structurally independent levels.
"They can make a more compact space feel much more generous owing to the enclosed volume," says Craig Alexander, charactered architect at Oakwrights (opens in new tab). "A mezzanine bedroom provides relaxed and intimate living environment which allows for conversations and connections between spaces on different levels, ideal if, for example people are working from home in separate areas but still want some contact."
1. Think About Height of Mezzanine Bedrooms and the Areas Beneath
The first steps to creating a mezzanine bedroom begin at working out if the house can accommodate a split-level layout. If so, this is a great way to add an extra bedroom without extending.
Rooms with double-height voids or vaulted ceilings are the best candidates, but some radical remodelling projects have seen homeowners knock down into the floor below to create this effect.
"There is real flexibility on the height of a mezzanine," explains Craig Alexander, "generally the space will be a generous storey-and-a-half height, ensuring a generous double-height space for the living area downstairs, which will mean you do not have the scale and imposition of a full two-storey double height room, but this ultimately comes down to personal preference and what the overall ridge height works in the context and that the planners will accept."
2. Take Steps to Ensure Privacy in a Mezzanine Bedroom
Mezzanine bedrooms partially overlook the living space below, so take steps to ensure privacy while balancing access to good natural light. This will, in the majority, depend on the size of the mezzanine level itself and the void space between the floor below and the ceiling.
"If the mezzanine finishes reasonably close to the full width of the downstairs room (with a smaller double-height void) there will be fewer opportunities to look into the room from downstairs," advises Ana Fransisco Sutherland, founder of Fransisco Sutherland Architects (opens in new tab).
This oak-crafted mezzanine, designed by Ana, creates a master suite including shower room and dressing room above the living spaces. The beauty of the design lies in the shutters which follow the curve of the barrel vaulted ceiling; privacy and light are provided in this elegant yet simple solution.
3. Create a Guest Bedroom in a Vaulted Space
For lesser-used spaces like guest rooms, mezzanine bedrooms can be a fantastic solution if room cannot be found elsewhere in the house.
Allocating spaces like this to social mezzanine areas means they can be used for alternative functions when not in use, such as a home office, hobby room or a den for teenagers.
4. Build in a Visually Interesting Mezzanine
Mezzanines are inherently dynamic options for bedrooms, but choosing an equally interesting material with which to build the structure provides an opportunity to create character and an interior identity.
"The project is formed with oak frame creating the structure for the mezzanine and thus creates visual interest in the room," explains Julian Pilkington, oak frame designers at Oakwrights.
"With the space being quite large, features such as oak rafters create impact and add warmth to the room. The oak balustrade creates a little privacy for the upstairs area and the bed is placed to the back of the room, creating the 'balcony' space at the front.
"With the oak being such a tactile material, it is amazing to be so up close to the joints in the roof structure. Even on the dullest of days with no views, there is plenty to study in the oak frame."
5. Swap it Around — Add a Mezzanine Inside a Bedroom
A mezzanine level doesn't have to be used for sleeping — a mezzanine can provide a useful storage area or as a living area in a bedroom.
Ana Fransisco Sutherland suggests: "Step the upstairs living space and furniture back, providing an internal 'balcony' space as a buffer for the bedroom."
This bedroom inside a narrow water tower, converted by Tonkin Liu, houses a washroom and wardrobe beneath the mezzanine space.
6. Bring Light Into a Mezzanine Bedroom
Being naturally higher up, mezzanines can suffer from lack of light unless this is given some serious thought from the outset.
A careful consideration of glazing will remedy this, be it through clerestory windows, a glazed gable or simply rooflights positioned above the bed area.
Planning ceiling lighting ideas from the start of the project will also help to introduce light as night falls.
7. Create a Mezzanine Sleeping Pod
A 'sleeping pod' was positioned in this converted garage. The roof was raised so there was clear standing space and it was built using a steel structure, clad in birch faced plywood.
The self-supporting structure means that the layout can be removed and adapted once more if the homeowner's needs change.
8. Consider Introducing Internal Windows to a Mezzanine Bedroom
If you, or your guests, feel uncomfortable with the bedroom being open to the smells and sounds of the lower floor, consider taking the walls right up to the roof and installing an internal window.
"A glazed wall or internal windows can provide acoustic separation as well — particularly if incorporated with the idea of an internal balcony to the bedroom," says Craig Alexander.
In this schoolhouse conversion, Crittall-style glazing allows the light from the large windows in the living space to penetrate into the mezzanine bedroom, while users can maintain privacy using curtains.
Thinking about how you can use the concept of daylighting in each space will also enhance wellbeing.
9. Build a Flexible Mezzanine Children's Bedroom
Levitate Architects designed this self build to connect the internal space vertically as well as horizontally, so one of the children's bedrooms features a balcony onto the double-height void hallway. Sliding slatted walls can be adjusted as required for privacy.
How Much Space Do You Need For a Mezzanine Bedroom?
"The minimum space needed depends if it's for a single or double bed occupancy, plus circulation and access space, with a minimum of 750mm to 450mm around the bed space," advises Ana Fransisco Sutherland.
To be able to walk comfortably in the mezzanine space, aim for a head height of at least 2.1m.
How Do You Make a Mezzanine Bedroom Private?
"A mezzanine is usually open to the space below (either through the stair void or balustrade void), so complete acoustic separation is not usually possible," says Ana Fransisco-Sutherland. "Louvres and a door separation can be part of the design if adequate natural light and ventilation are provided to the mezzanine space.
"By their very nature mezzanines connect the lower and upper areas, so keeping a bedroom private while maintaining the view would only be achievable if you were to specify a glass wall," adds Oakwrights' Julian Pilkington.
Do Mezzanines Need Planning Permission?
"If the mezzanine addition requires only internal additions and does not impact on the external appearance of the property, planning permission is not usually requires," says Ana Fransisco-Sutherland.
"Care should be taken to comply with Building Regulations regarding fire safety, stair and balustrade rules and ventilation requirements."
Assistant Editor Amy began working for Homebuilding & Renovating in 2018. She has an interest in sustainable building methods and always has her eye on the latest design ideas. Amy has interviewed countless self builders, renovators and extenders about their experiences for Homebuilding & Renovating magazine. She is currently renovating a mid-century home, together with her partner, on a DIY basis, and has recently fitted her own kitchen.
Homebuilding & Renovating Newsletter
Get the latest news, reviews and product advice straight to your inbox.
Thank you for signing up to Homebuilding. You will receive a verification email shortly.
There was a problem. Please refresh the page and try again.