Hipped Roof Extensions: A Quick Guide to this Roof Style
By Amy Reeves published
Find out more about hipped roof extensions, including the pros and cons of this roof structure, together with design inspiration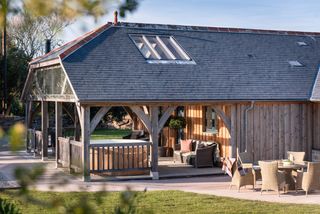 (Image credit: Simon Burt)
When adding space and value to your home, hipped roof extensions might not be the first thing that spring to mind, but the roof design is by no means less important than the new kitchen or living room design.
Much the opposite, deciding on a roof structure for your project might be dictated by planning permission, or a design that either suits or contrasts with the existing house's design.
Hips roofs are often seen in inter-war semis and bungalows, although some designers are experimenting with this pyramid-like shape while building an extension in a more contemporary style.
Take a look below to find out what you need to know about hipped roof extensions and see if this roof is right for your new space.
What is a Hipped Roof Extension?
A hipped roof extension is an addition to an existing house with a roof structure which slopes on all sides (with or without a ridge).
Traditionally the slopes are equal in length but more modern design have seen homes playing with asymmetrical hip roofs for a contemporary take on the design.
Alternatively, a hip roof extension can be built to butt up against and slope away from an existing exterior wall to prevent blocking a first floor window when creating a single-storey extension.
Advantages of a Hipped Design
Hipped roof extension offer many practical benefits, including:
The roof structure is self-bracing so is a good option for houses in exposed windy or snowy locations
The structure is easier to build from a construction point of view
As the sides all slope from the ridge, there is nowhere for rain to sit, reducing the likelihood of damp. Guttering can also be installed on all sides for good drainage.
Hipped lean-to styles are a good choice for single storey extension to prevent a window on the first floor from being blocked.
Disadvantages of Choosing a Hipped Extension
Extensions with hipped roof structures do have downsides, however:
More expensive to build than other roof constructions, thanks to the increase in materials required. (MORE: How Much Will my Roof Cost?)
More seams means a greater risk of leaks although this is fine if the roof is properly maintained.
Generally can't offer a vaulted ceiling extension.
Can You Extend a Hipped Roof?
When extending an existing hip roof, a hip to gable loft conversion will most likely be the most practical option.
"Hipped roofs have sloped on all sides," explains chartered surveyor Ian Rock. "This can make them harder to convert than gabled roofs because there's less headroom inside the loft. A common solution involves boosting headroom by extending the roof sideways, either with a large projecting side dormer, or converting the side hip to a new gable."
Hipped Roof Extension Ideas: Five Great Projects
1. Contrast Different Roof Styles
Rachel and Tim Buxton added a glazed oak-frame extension to their 17th-century farmhouse. Planning permission clearly dictated that any new additions must be clearly distinguishable from the original so they chose a pyramid-style hipped roof to contrast with the main house and later brick extension.
2. Use a Hipped Roof to Blend In
This zinc roof extension was built in timber frame to replace a flat-roofed garage. "In design terms the aim was to get the balance right so that it wouldn't feel like an add-on but would complement the traditional house, not compete with it," comments Glaswegian architect Daniel Bär. "It was important to make the extension understated and elegant."
3. Build a Small Hipped Lean-to Roof Extension
This small front extension gives the homeowners some extra storage space and a cloakroom. The hipped roof enables the first floor window to remain unobstructed.
4. Design a Hip to Gable Roof Extension
Mulroy Architects removed the entire hipped roof from this 1930s house and replaced it with a highly insulated alternative reusing the original roof tiles. The new roof features hip to gable loft extensions to fit a generous master suite with a walk-on balcony.
5. Mirror the Existing House's Roof Design
Ill-conceived additions to this Victorian house were removed and replaced with two contemporary extensions that delicately mirror the original Victorian building through scale, fenestration and, of course, a modern take on the traditional hipped roof.
Assistant Editor Amy began working for Homebuilding & Renovating in 2018. She has an interest in sustainable building methods and always has her eye on the latest design ideas. Amy has interviewed countless self builders, renovators and extenders about their experiences for Homebuilding & Renovating magazine. She is currently renovating a mid-century home, together with her partner, on a DIY basis, and has recently fitted her own kitchen.
Homebuilding & Renovating Newsletter
Get the latest news, reviews and product advice straight to your inbox.
Thank you for signing up to Homebuilding. You will receive a verification email shortly.
There was a problem. Please refresh the page and try again.