Zinc Roofs: All You Need to Know About Choosing Zinc
By Rebecca Foster published
Zinc roofs are versatile and durable with an impressive service life — we take a look at the advantages and key considerations to bear in mind when specifying zinc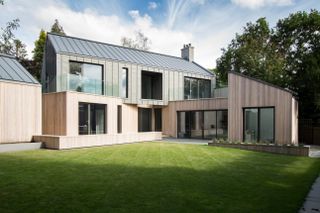 (Image credit: SIPS@Clays)
While you may think a zinc roof is a contemporary roofing material, it's actually been used to top buildings for the better part of 200 years. However, there's still a lot to consider before specifying a zinc roof, including the finish, maintenance, service life and cost.
(MORE: Roof coverings: What are the options?)
Zinc Roof Options
"Zinc comes from many sources all over the world," says David Boyton from Rheinzink. "The main mining areas are Canada, Russia, Australia, US and Peru." The raw material is processed into flat sheets and typically supplied to the UK market in coiled [rolled] form.
One of the beauties of zinc is the sheer array of colours and finishes it is available in. It's worth spending plenty of time discussing roof design ideas with your architectural designer and supplier during the design phase of your project.
Natural zinc, for instance, features a shiny, metallic surface that develops a patina over time.
However, pre-patinated products such as VMZinc's Azengar provide a smooth, matt surface. Roller-applied textures can also be incorporated at the fabrication stage, creating attractive textured finishes including grooves, ripples and even fish scales.
Pre-pigmented varieties mean you can specify a zinc roof in an array of shades, too, including warm red, rust orange or rich purple, to name a few.
In terms of fixing methods, the most common type of application for a zinc roof is a standing seam roof. Shingle systems (small individual metal sheets) are available too, for a different aesthetic.
Advantages of Zinc Roofs
Zinc roofs come with a raft of advantages:
Longevity: "Providing your roof is properly installed and detailed, zinc could offer a service life of between 60 and 100 years," says Trevor Corser from JTC Roofing Contractors
Corrosion-resistant: "Zinc roofs are extremely corrosion-resistant, too, and unlike other metal roofs they are self-healing. This means that any scratches on the surface will recover on their own over time," says Trevor.
A good match: From an aesthetic perspective, zinc roofs blend well with slate roof coverings and are also an excellent solution for agricultural-style buildings.
Malleable: As a relatively thin building material (usually just 0.7mm), zinc can be shaped to follow interesting curves and angles, while still retaining its durability.
Quick to install is another benefit of installing a zinc roof system.
Low maintenance is also among zinc's advantages. Aside from ensuring the roof is free from fallen debris such as leaves, little upkeep is required.
Zinc is 100% recyclable and environmentally friendly. Zinc takes less energy to produce than other metal roofing solutions because of its lower melting point. This means less energy is required to convert the raw material into a usable form.
Zinc is also weather-proof and is not degraded by UV light.
How Long Do Zinc Roofs Last?
To ensure your zinc roof offers maximum longevity, correct installation and detailing is vital. Careful specification of the entire exterior materials palette is key.
"Zinc doesn't react well to the water runoff from tannin-rich timbers such as cedar, larch and oak," explains Sean McHugh, sales director at The Metal Roof Company. To avoid corrosion or staining, careful detailing is required.
"Alternatively, if you're using any of these types of timber, other metals such as colour-coated galvanized steel may be a better option for your project," he adds.
Buildings Regulations
From a Building Regulations perspective, the roof pitch of a zinc roof is also an important factor. "Zinc roofs require a minimum fall of 3° as built," says Jonathan Lowy from VMZinc.
This gradient means a fall of just over 50mm in every metre to create the slope. The issue with a low-pitched standing seam roof is the risk of water ingress at the seams of each strip, especially during heavy rainfall, when water can build up where seams overlap.
To alleviate this risk on a zinc roof, a seam sealing tape can be used at the joins. However, this will not entirely remove the risk of water penetrating the structure.
"In flat areas, other techniques, such as a traditional batten roll finish, can be used," says Sean McHugh. "While there is the Code of Practice 143-5 and British Standard EN 501, manufacturers generally supply more detailed information when it comes to assessing the quality of the product," says Jonathan Lowy from VMZinc.
And in exposed areas...
Special care should be taken if you're taking on a self build close to the coast, too. Because the air in marine environments contains a significant amount of salt, staining and corrosion of some metal surfaces is a possibility. Generally, salt deposits will be washed away from the surface of your zinc roof by rainfall.
However, soffits and fascias will also attract salty deposits from the air, and the rain can't reach these areas of your house to clean them.
One potential solution is to use a paler shade of zinc on the roof so that any staining (which looks like white orange peel) is less visible.
Alternatively, pre-treated types of zinc are available for these parts of your roof structure. You may even choose to use a different metal for the soffits and fascia.
(MORE: Roof structures explained)
Finding a Zinc Roof Installer
Traditional metal roofing is a specialist skill, so be sure to employ a professional contractor who has plenty of experience installing zinc roofs. "They will be a registered member of the FTMRC (Federation of Traditional Metal Roofing Contractors) and ideally the NFRC (National Federation of Roofing Contractors)," says Trevor Corser.
How to Install a Zinc Roof
Zinc roofing systems are delivered to site in coil form. "Your installer will have the specialist equipment needed to uncoil the metal and form it into roofing panels," says Sean McHugh. "The metal will be uncoiled and passed through a machine that makes a small upturn (undercloak) on the edge of the sheet. On the opposite side of the sheet will be a similar upturn (overcloak)."
At this point, the zinc strips are then cut to length and laid next to one another on the roof, usually from left to right across the surface of the structure.
"They are seamed together, usually by hand, using crimping irons," says Sean. "This technique of creating a small raised seam gives the process its name — standing seam metal roofing." The newly formed sheets are known in the industry as 'trays'.
The clip fixings are hidden from view and are normally screwed or nailed into the substrate below the metal layer. Trays larger than 1.5m require a combination of fixed and sliding clips to allow for thermal movement.
Keep the roof structure dry: Prior to delivery, it's vital that the roof structure is kept dry. If moisture builds up in the roof and is not allowed to dry out, this can lead to corrosion on the underside of your zinc roof after the metal is laid. The risk of this happening is increased if you've chosen to use a warm roof construction.
For heritage or flat roof projects a batten roll method, where (generally) wooden battens are fixed to the plywood or timber roof substrate to form ridges, is a good alternative. Sheets of zinc are placed over the flat surface and strips of zinc are placed over the battens to replicate the effect of upfolds and crimping in standard seam zinc roofing.
(MORE: Insulating a Roof)
How Much Do Zinc Roofs Cost - Are They Expensive?
Prices tend to increase for more complex installations where areas of the zinc roof structure are curved, tapered or have apertures for roof windows. Zinc roofs may also cost more for homes where access is challenging.
As a minimum, expect to pay £100/m2 for your zinc roof. The complexity of the roof, the location of the house and the size of the roof will all influence the cost.
"For the installation of an average-sized home with a 100m2 roof, this would give a figure of approximately £13,000," Jonathan Lowy from VMZin.
Typically, this sum excludes elements such as the plywood substrate of insulation.
Zinc Roof Alternatives
Sean McHugh from The Metal Roof Company shares his top tips on a selection of alternative metal roofing solutions:
Copper can be purchased in a wide variety of finishes, including aged Verdigris green copper and bright raw copper. Once installed, the metal will immediately start to oxidise and lose its bright natural patina.
Coated aluminium is lightweight and comes in a range of colours. It uses similar installation techniques to zinc. However, aluminium cannot be soldered, which means certain installations may need to be approached in a different way.
GreenCoat PLX is a coated steel that's popular across Scandinavian countries. It's made using eco-friendly coatings such as rapeseed oil. It's ideal as a zinc alternative because of its lower cost and similar installation technique. It looks very similar to zinc but can be supplied in RAL colours to match windows and doors.
(MORE: Ultimate Guide to Roofs)
Rebecca is an experienced homes and interiors writer with a passion for Victorian architecture. Her dream is to extend an 1800s house
Homebuilding & Renovating Newsletter
Get the latest news, reviews and product advice straight to your inbox.
Thank you for signing up to Homebuilding. You will receive a verification email shortly.
There was a problem. Please refresh the page and try again.