Local Carpenter: How to Hire the Right Person for the Job
By David Snell published
Finding the right local carpenter for your project can take time. Seasoned self-builder David Snell explains how to find the right person to join your team and avoid lumbering yourself with any dead wood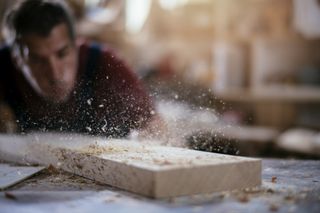 (Image credit: getty images)
Finding a local carpenter up to the challenge of your project can take a bit of time, but follow this guide and you'll be off to the best start.
Although it is usual for just one carpenter to carry out all of the tasks on a self build, that is not always the case. This means that it is possible to consider one person for the 'rough' timber work and another for the finishing and visible sections of the trade.
As usual, the best recommendation is always going to be that from another self-builder, preferably one who has experienced their work through all of the sections of the trade.
The next best recommendation is going to be the other tradespeople because this, as with many of the other trades, is one where a good worker won't want to be lumbered with a bad one who causes delays, either through their own ineptitude with bad timing or by carrying out substandard work.
As with all trades, however you find them, never employ them until you have made your own enquiries, talked to their previous clients and seen their previous work.
What's the Difference Between a Carpenter and a Joiner?
The two terms 'carpenter' and 'joiner' are largely interchangeable throughout the UK except that, in the North, the trade is more often referred to as a joiner. In the South there tends to be a distinction in that a carpenter is someone who deals with construction, using rough timber, and a joiner is somebody who specialises in the making of furniture, windows and the like.
Commonly, however, people will refer to this trade by the nickname 'chippy'.
How Involved Will the Carpenter Need to be?
A carpenter's level of involvement will vary with the construction system chosen. If you're building in timber frame, then carpenters will be on site early on to either erect the prefabricated panels, or to build the timber frame panels from scratch (commonly referred to as 'stick build').
The former is typically used for new build homes, the latter being more common where site access is tricky, when renovating a house or building an extension where this method is more suitable when working on an existing structure.
On a masonry build, however, the first time a carpenter comes to site may be when the superstructure reaches the point where ground or first floor timber joists have to be laid. These days, the almost universal use of joist hangers does mean that the bricklayers can carry on without waiting for the carpenter. But it's not the ideal scenario and having the joists available so that they can be used to support scaffolding and facilitate the loading out of bricks and blocks allows the job to continue smoothly.
When it comes to the wallplates (timber installed on the wall to support rafters, etc.) however, the presence of the carpenter is crucial as the bricklayers will want to bed these without delay so that they can carry on with the superstructure and gable ends.
Therefore you'll need a carpenter who turns up on time and gets the job done without delaying any other trades.
Assessing Your Local Carpenters
Laying joists is not just a matter of resting the correct lengths of timber across walls or slotting them into the joist hangers. Look to see that they have been levelled up properly with packing if necessary, and that they are firmly held in place with battening. Observe, as well, the necessary mid-span strutting (support/bracing).
If you've got a prefabricated trussed roof, make sure that the carpenters are prepared to strictly follow the manufacturer's instructions and watch out for any cutting of trusses, which should never happen unless authorised by the manufacturers or a structural engineer.
If you're having a cut and pitch roof, which will be constructed on site, an inordinate amount of sawn timber will be delivered and the mark of a good carpenter will be the one who sorts this into piles of different sizes and lengths before they start to cut.
(MORE: Ultimate Guide to Roofs)
Much may be hidden when you go to see their work on a finished home so your best clues as to their efficacy will be the visible things like doors, skirting boards and architraves. Look for tight joints. Look for skirtings that have been scribed (shaped) at the corners rather than simply mitred (cut at an angle). Observe whether doors stay where you put them rather than swinging open or shut. Look for even spacing around the doors and between pairs of doors.
And, as a final point, it's no exaggeration to say that a good carpenter or joiner exhibits a love of wood — so make sure the one you hire demonstrates this.
Can Your Local Carpenter Work Well With Other Trades?
The carpenters need to work with the bricklayers for much of the superstructure, including the roof. But it doesn't stop there, as the carpenters also need to work with and fit in with the roofers/roofing contractors who will be laying the slates or tiles, and then with the plumbers, plasterers and electricians, and right through to the decorators.
Small wonder, therefore, that this trade, which runs through the new home from almost the beginning to the end, needs to be competent and needs to be able to get on well with all of the other trades working on the project.
What Should You Provide on Site?
Top Tip
Carpenters often require a 110v transformer to run their tools — hire one from plant companies or builders' merchants before work starts to ensure there are no delays on site.
This is, in the main, a labour-only trade and the carpenter will provide all of their own tools.
You do, typically have to ensure that all of the right timber is on site and you, or the builder, will have to ensure that all of the correct fixings are available. They may require bolts and dog washers. They will require truss clips and joist hangers and they will require nails and screws. Nails are usually provided in large boxes and there is considerable waste, although it is still cheaper to buy them in this way. Screws can be purchased in smaller boxes. Glues may also be required.
It is sometimes better to accompany the carpenter to the merchants and let them choose the fixings and adhesive they want or need.
How Much Should a Local Carpenter Cost?
A carpenter will work on the basis of £160-£200 per day per person in most areas, rising in the inner city areas. If they have a labourer or apprentice then, depending on their skill level, they may want the same or slightly less, say £100-£150 per day.
But hiring on a daywork basis gives them no incentive to get the job done quickly and it gives them no incentive to get it done properly.
So, once again, the mark of a good tradesperson is one who is able to work out how long it is going to take them to do the job and to have the courage of their own abilities to be able to amortise the totals into a lump sum price for each section of the trade i.e. first fix, roof and second fix work.
Typical Tasks for a Carpenter
First Fix
Scarfing (joining) of wallplate for bedding by bricklayers
Cutting, laying and levelling of timber floor joists
Making up timber templates for external openings, where appropriate
Laying of timber floor decking
Fixing joist, anchor and plate straps
Making up and fixing of timber studwork walling
Assembly and fixing of door linings
Fixing window boards
Fixing staircase flights
Assembly and fixing of timber garage door frames
Hanging temporary external doors
Nogging out for plasterboard and decking
Boxing out internal pipework
Loft trap and any stands required in loft
Roof Construction
Erecting prefabricated roof trusses, or
Cutting and pitching roof using sawn lumber
Laying any sarking boarding
Fixing fascias, soffits and bargeboards
Second Fix
Laying insulation and decking to floating floors
Assembling newels, balustrading, aprons and handrails
Hanging internal and external timber doors
Fixing skirtings, architrave and timber mouldings
Fitting garage doors
Fitting loft trap and ladder
Boarding of loft, if required
Where applicable, building wardrobes and cupboards
In Addition
Though not strictly within the trade, the carpenter may agree to install insulation materials within the studwork, between flooring joists and in the ceiling/roof zone
May be called upon to lay any decorative timber flooring
The fitting of kitchen units, utility room units, worktops and fitted bathroom furniture may also be brought into their remit.
Although demarcated as above, there is no strict division in terms of follow through and the various tasks can overlap each other in timing.
The author of Building Your Own Home, David is a serial self builder and has been building homes for 50 years. He has just finished his fourteenth self build project.
Homebuilding & Renovating Newsletter
Get the latest news, reviews and product advice straight to your inbox.
Thank you for signing up to Homebuilding. You will receive a verification email shortly.
There was a problem. Please refresh the page and try again.