A 1960s Property Totally Transformed into Modern Home
By Jason Orme published
Jason and Sarah Orme looked beyond the unpromising origins of a 1960s self build to create their stunning family home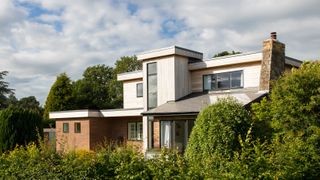 (Image credit: Jeremy Phillips)
Our project takes the rather tired property mantra 'You can't change the location but you can change everything else' to heart. We bought this house for its site, with lovely views front and back, large garden, its position, the village, local schools, nearby pub and all the rest of it. And we changed everything else.
Having identified a particular part of Staffordshire/Derbyshire, we kept an eye out for building plots and houses of potential in three or four villages. The one we ended up buying was one we'd scanned past on Rightmove lists many times before. The images were poor and the 'what on earth is it?' question remained unanswered.
Project notes
Homeowners Jason and Sarah Orme
Location Staffordshire
House bought 2014
Size 380m2
Build time 2016-2018
House cost £415,000
Build cost circa £200,000
Value Unknown
It was only when, with a deadline of our impending house sale, school admissions and Sarah's job move bringing an exciting bit of added focus to our search, that we looked more closely. It was ugly, for sure – a late 1960s self-build, natch? – but we both rather liked the long and low horizontal shape of the house and could see something there that we could build on.
Next up we decided to settle in and see what the house felt like. For a good 18 months we lived there quite miserably, agreeing on its weaknesses and eyeing up the potential changes we could make. We put up with ant infestations and the slightly embarrassing decoration choices of previous owners; and our hero son put up with a baking hot/chillingly cold bedroom, too.
Getting to Know the House
But slowly we learned about the house. Fools rush in and all that. We identified several key problem areas: a pokey upstairs which, despite having three bedrooms, didn't really do the 330m2 house justice; generally poor energy efficiency and build quality; and the classic problem of lots of rooms coupled with an odd layout by today's standards.
What was needed was a remodel, both inside and out, rather than building an extension for extension's sake. The house was big enough. It just didn't work very well. In addition, of course, everything needed refurbishing and, to be frank, why would anyone want to live in a house designed for someone else?
A Fresh Face to the Dated Home
In overall design terms, we wanted something that spoke to the origins of the house but gave us a bit of what we liked. Luckily, that all married together — we both love mid-century house design particularly with a dose of American energy.
We'd also identified a few other things we wanted to inject: internal horizontal views to make the most of the long/low shape; much-needed kerb appeal, particularly to cover up the rather dubious cladding mix; loads of light and a lovely flow; and, importantly, flexibility as our family grew here. We needed expert design help.
Pete Tonks, longtime contributor to the magazine, chum and the designer of some of my favourite homes, came up with a scheme that got us to where we could get excited, thanks in large to the addition of a crazy-but-genius glass and timber tower to the front.
We used a couple of other designers to shape the scheme (Pete didn't do building drawings at the time and, anyway, we needed to bring the whole thing in a bit for budget reasons) — Aaron Chetwynd and Jon Grew, who helped immensely in bringing the project to life.
Assembling the Build Team
Planning permission was straightforward. We are in a conservation area but Pete's scheme, using organic, natural materials and quite clearly an improvement on what was there before, went through in eight weeks. That aside, the project only really came to life for us on meeting (through recommendation) our builder, Ben Schuck. Ben is about my age and while I've been writing about building for the last 20 years he's actually been building houses and specialising in timber (which would form the basis for the extended elements of the home).
He contributed massively, in two main ways. Firstly, he does what you want your builder to do: sucks up stress and solves problems. Things went awry, money was tight, we had a few head-scratching moments. Ben took all that on himself and when you're left with half a house with no roof and a feeling that you may well have taken on too much, having someone to say "it will be fine and here's why" is vital. Secondly, he really took time to understand where we were coming from in design terms, and as a result the house is better because of his interest.
Living Off-site During a Project
Instead of living on site in a caravan, we moved out for the duration of the build to our wonderfully accommodating and patient in-laws, who even cooked us meals and put up with our children. We're very lucky with our parents, who were more than happy to help decorate, hang doors and the like.
We've been a mix of many things: lucky, determined, ambitious, brave and foolhardy occasionally, too. We've made some mistakes. We haven't made a fortune by renovating this house in the way we might have done if we had built from scratch. But every time I see it, I feel happier.
Those little views through the internal glazing from room to room are uplifting. Every time the family gathers in that nice open plan kitchen I love it more. Every time I look up in the tower and see the sky through the huge rooflight I feel a little bit more alive. And that is why we do it, isn't it?
The former Editor of Homebuilding & Renovating magazine, Jason is an experienced self builder and has recently finished renovating his 1960s home. Jason is now Managing Director of Future PLC's Homes' portfolio, which includes UK-leading titles such as Ideal Homes, Livingetc and Homes & Gardens. He is also the author of The Self Build Dream. You can catch Jason in the seminar theatres and Advice Centre at many of the Homebuilding & Renovating Shows across the UK.
Homebuilding & Renovating Newsletter
Get the latest news, reviews and product advice straight to your inbox.
Thank you for signing up to Homebuilding. You will receive a verification email shortly.
There was a problem. Please refresh the page and try again.