Living On Site in a Caravan
Where to live during a major renovation or self build is a key decision to make before starting a building project. Here we explore one of the most cost-effective options — living on site in a caravan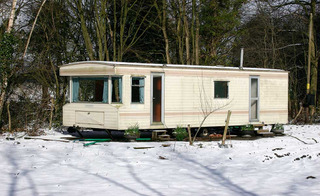 (Image credit: iStock)
So, you've found your plot or renovation project, you've sold your existing property to free up funds, and your builder is ready to start. Unless you're planning to test family bonds by moving in with the in-laws, or have the money available to rent locally, one accommodation solution is to purchase a caravan (typically a static caravan) and live on site.
But, given that this is yet another expense, what do you get for your money, and what is it really like living on a building site?
Benefits of Living On Site
Primarily:
you can take deliveries at all hours
monitor progress more closely
can keep an eye on your tools and materials in evenings and on weekends
Living On Site Checklist
Inform the planning department of your intention to live in a static caravan on site while you build
Organise your council tax
Plan your services connections – electric, water, waste water, telephone and internet access – well in advance
Ensure you can get insurance cover for your caravan and contents
A self build insurance package will usually have options for site caravans
Don't buy the first caravan you see — shop around for the best deals
Keep a copy of your detailed schedule of works to hand so you can keep track of which trades will be on site and when, and check you're on schedule
What to Consider from the Outset
One of your first tasks, if not already present, will be arranging for services to be brought to site so that you can live in the caravan with electricity, water and drainage. (Heating, hot water and cooking appliances can often be electric, but may also be run off LPG cylinders.)
The good thing here is that you will need to bring services to site in any event, and so these will be already present when the time comes to connect up the house. Provision for internet and a telephone line will likely be an essential requirement too at an early stage.
Another factor that many people don't realise is that you will also be expected to pay council tax while living in a caravan on site; even though you're not living in your finished house, you are residing on your land and the caravan is acting as your primary residence, not for holiday or recreational purposes.
Do I Need Planning Permission for a Caravan?
You may need the consent of your planning authority too for a static caravan. In the majority of cases, a caravan can be temporarily located on a site and lived in if used in connection with development taking place on the land, such as building a new home. The position of councils does vary, however, so where you plan to live on site during the build, it is best to include a caravan as part of the planning application for the property.
Access Requirements
Finally, you will need to consider access. If you purchase a 13ft-wide caravan you'll need to have a minimum 13ft-wide lane/drive to transport it down, otherwise you might find you need to crane it over the house.
Go and view different models and have a look at the size, specification, and speak to experts on-hand who can answer any questions — you don't want to part with the money without making sure it will fit on site and meets your requirements.
Finding the Right Caravan
There are plenty of options to choose from to suit your circumstances. Narrow down your search based on:
the number of people who'll be living there
the number of bedrooms and bathrooms
the size
any 'luxury' items, such as double glazing and central heating
All of this will also depend on your budget and whether you intend to sell on after the house is finished, or whether you plan to hold onto your caravan.
Browsing websites for new and used touring and static models will throw up a whole heap of results. Alternatively, you might find a local caravan park selling off old models.
What Do You Get For Your Money?
As with most things in life, the amount you are willing to spend will determine what you get in terms of size, decor, condition and contents.
New caravans can range from between £25,000 to £50,000+(the 'all bells and whistles' models), but unless you intend to purchase for future holiday usage (in the case of touring caravans), or use it on your own land for holiday rental or move it to a dedicated holiday site (in the case of static caravans), there is little point in spending this amount if you intend to sell on once the build is complete. Like cars, caravans depreciate in value once used.
If you're going to be in the caravan for several months up to a year, and require a suitable amount of comfort, a static caravan is the route to go down. Static caravans often come with the benefit of dedicated bedrooms, allowing you space to eat, relax and sleep in privacy — something you're certain to appreciate after a long day on site. And you can pick a second-hand one up for a reasonable sum.
Sites such as Gumtree, ebayand AutoTraderoffer second-hand models ranging from £500 up to £22,000. (Although, do bear in mind that the lists often include models sited on caravan sites.) At the lower end, single glazing and a lack of central heating are common. The decor can also be incredibly dated. At the higher end you'll benefit from space and furnishings which are more fitting of the 21st century.
There are a number of dedicated companies that also supply to self builders. For instance, The UK Caravan Centreoffers pre-owned static caravans ranging from £3,000 to £12,000— the higher end of which comes with the benefit of double glazing, two or three bedrooms, fridge freezer, gas oven and hob, and even a gas fire to keep you warm on those cold nights.
Don't Forget Transportation
Another potentially big cost to bear in mind is transportation. On more expensive models, some companies offer free delivery. More often than not, particularly if buying from a private seller, you'll need to arrange delivery. This can cost between £500 (even if they're going round the corner) and £3,000 if they are going further afield — it depends on the size and location.
Selling Your Caravan On
Much like with cars, you make more money selling privately. There's generally always a need for caravans and most people sell them on quickly to other self builders, building companies (who use them as site huts), or farm owners looking for on-site accommodation.
Get the Homebuilding & Renovating Newsletter
Bring your dream home to life with expert advice, how-to guides and design inspiration, direct to your inbox.
Daisy was Features Editor on Homebuilding & Renovating magazine for more than five years and had a passion for all things design. She has since moved on to pastures new.