Replacing Kitchen Doors: A DIY Guide
Kitchen looking a bit tired? Replacing kitchen doors and drawer fronts is a quick, easy and cost-effective way to update the space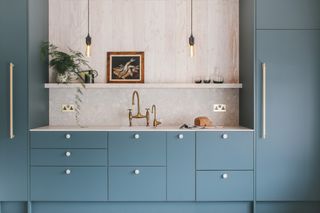 (Image credit: Husk)
Replacing kitchen doors can be a great way to give your kitchen a fresh new look with relatively little hassle and cost.
Whether your kitchen is one you inherited when you bought your house or a design that you chose many moons ago when hot pink high gloss was all the rage (was it ever?), it is worth checking which elements can be re-used. 
Often, the cabinet carcasses (that is the units themselves, minus the door and drawer fronts and their fixings) will have remained in good condition, having been spared the sheer extent of wear and tear suffered by the fronts of the units.
For this reason, it is often quite possible to replace just the fronts of your units, even if you decide to add to them in order to increase your kitchen storage space. Plus, renewing door and drawers provides an opportunity to add new handles.
Whatever your reasons, here we take you through everything you need to know about the ins and outs of replacing old unit fronts for new, from where to buy them to how to fit them on a DIY basis in order to save a few pennies. 
(MORE: How to Renovate a Kitchen)
How to Buy Replacement Kitchen Unit Doors
If your unit doors are of a standard size it will not be hard to find a supplier. However, if the kitchen you are working with was a bespoke design, you might find it trickier (and more costly) to source off-the-shelf replacement doors. In this case you will need to have them custom made.
Some doors are supplied with pre-drilled fixing and hinge holes. You will need to consider how these will work with any fixing holes already in your carcasses. Others come supplied with no holes, in which case you or your kitchen fitter will be in charge of drilling them. Some suppliers offer the option of drilling holes in their standard doors to your particular specification, typically for a small additional cost. They can usually offer advice on how to measure where the holes will be required.  
More often than not, doors will not come supplied with handles – or be drilled to take handles – meaning you will need to order and fit handles and knobs yourself.
In the case of new drawer fronts, you will most likely need to order these in conjunction with whole new drawer boxes, unless these remain in good condition. Certainly this is the simplest option as it ensures the drawer box and front will use compatible fixings.
Measuring for Your Replacement Kitchen Doors
When ordering new doors, be sure to measure the doors themselves, not the cabinets — they may very well be different in size and even if this is only by a few millimetres, getting it wrong will result in doors that won't close properly. Measure the backs of the doors, as the fronts may have rounded or bevelled edges, and always work in millimetres. If the doors happen to be missing, you can measure the overall width and deduct 4mm.
In the case of corner units or those that slope, there will usually be several options, such as having two doors hinged together or two separate doors that operate in opposite directions, coming together over a corner post central to the unit.
Step-by-step Guide to Adding New Doors
The experts at Wickes show you how the pros do it:
1. Remove your old doors by undoing the existing hinges. Begin by taking off the bottom hinge, as removing the top hinge first could
place undue leverage on the bottom hinge.
2. Fit the backplate (also called a hinge plate) to the inside of the cabinet. Many new hinges come complete with the correct screws.
3. Fit the other part of the hinges to the new doors themselves. The hinge will fit into the recessed hinge hole in the door — ensure the arm of the hinge remains at a right angle to the edge of the door.
4. Fit door to cabinet, fixing the hinge onto the hinge plate and screwing into position. First attach the top hinge, then fix the bottom hinges together. Backplates are usually adjustable, so can be moved a couple of mm up and down by loosening the screws. 
5. Fit the handles or knobs to your doors. Replacing doors and drawer fronts provides the ideal opportunity to update your kitchen; even something as simple as new handles can transform a dated look.
6. Once all the doors have been attached, go around adjusting the hinges until all of them operate smoothly. Tighten screws, but not so much that you risk damaging them.
Homebuilding & Renovating Newsletter
Get the latest news, reviews and product advice straight to your inbox.
Thank you for signing up to Homebuilding. You will receive a verification email shortly.
There was a problem. Please refresh the page and try again.