House Survey Costs: What Should You Expect to Pay?
By Natasha Brinsmead published
House survey costs are an inevitable part of buying a home — our 2022 price guide will ensure your budget doesn't get thrown off track by any nasty surprises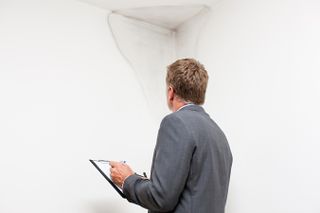 (Image credit: Getty)
Wondering what your house survey costs will come in at? If you're buying a new home, then it's a cost you'll more than likely going to need to factor in. We are here to help.
There are many different types of building survey to consider when buying a house and the one you choose should be based on the type of property you are purchasing. Some are more detailed or require specialist knowledge and these inevitably cost more than the more standard surveys.
There are several factors which will affect what your house survey costs, including:
The type of survey you opt for
The value and size of the house
The area your home is in
Our quick guide to house survey costs will help you understand which survey you will need and how much of your budget will needed to be set aside to pay for it.
Who Should Carry Out My Home Survey?
You need to begin by finding a surveyor. You should look for one with the right qualifications. Ideally you want a surveyor who is a qualified member of the Royal Institute of Chartered Surveyors (RICS).
What Types of House Survey are Available?
There are three main types of house survey on offer when you buy a house — these are different from a mortgage valuation survey.
Each type offers various levels of detail and is suitable for different types of property. It is also important to bear in mind that each – rather confusingly – is often commonly referred to by another name.
The three house survey types are:
Condition Report: Also known as a Homescore Survey or a Level 1
HomeBuyer Report: Also known as a Level 2
Building Survey: Previously known as a Full Structural Survey and now also called a Level 3
What Does a Condition Report Cost?
Condition reports are the most basic type of house survey — so it makes sense that they are also the cheapest. Prices for a condition report start from £350 - £450, although this is at the lower end of the price scale.
They are only really recommended for new homes built using conventional construction methods.
The level of detail your surveyor will present you with after inspecting the property will be fairly basic and structured around a traffic light system to indicate the state of various areas of the property — with green meaning all is well, orange showing more investigation may be needed, and red meaning serious repairs are on the cards.
No further advice or indication of value will be included although you do get a brief outline of the defects and risks.
How Much Does a HomeBuyer Report Cost?
When it comes to HomeBuyer report costs you can expect to pay a little more — but you will also get a more in-depth idea of the condition of the house you are purchasing. They are the most popular type of house survey and are most suitable for houses built using conventional construction methods.
There are two types of HomeBuyer report — one is survey only, while the other includes a valuation.
A surveyor carrying out this type of survey will investigate the entire house, including the loft, pointing out obvious problems, such as damp, structural movement and rot. Don't expect them to look under floors or start drilling investigation holes though.
For a HomeBuyers Report without a valuation expect to pay from approx. £350- £450, depending on the value of your home.
If you want a valuation, which often includes an insurance reinstatement value, you are looking at starting prices closer to £450-£500.
How Much Does a Building Survey Cost?
Finally, if you want a really in-depth house survey and are buying a large, period property or one that is listed or in need of renovation, you really should consider a building survey.
Building survey costs range from approximately £550 - £700 at the lower end, right up to £2,000 for high value homes.
A building survey will highlight any potentially costly risks, such a failure of the past owners to comply with with Building Regulations or planning permission, subsidence, or potentially toxic building materials.
In addition, they will bring up any issues that might affect insurance or mortgages. They will inspect the loft and advise you on what any issues should cost to put right and how long the work is likely to take.
Finally, your surveyor should be able to advise you on any further surveys that will need carrying out — such as a bat surveys, asbestos survey or drainage survey.
Natasha is Homebuilding & Renovating's Associate Editor and has been a member of the team for over two decades. An experienced journalist and renovation expert, she has written for a number of homes titles. She has renovated a terrace and is at the end of the DIY renovation and extension of her Edwardian cottage. She is now looking for her next project.
Homebuilding & Renovating Newsletter
Get the latest news, reviews and product advice straight to your inbox.
Thank you for signing up to Homebuilding. You will receive a verification email shortly.
There was a problem. Please refresh the page and try again.