How Much Does it Cost to Move a Radiator?
By Natasha Brinsmead published
Whether you are decorating or remodelling, you're likely need to factor in the cost to move a radiator. We give you the average prices involved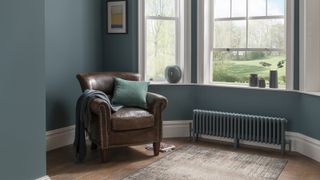 (Image credit: The Radiator Company)
The cost to move a radiator is something that is likely to be on the mind of anyone about to embark on a home improvement project. Tasks such as decorating, knocking down an internal wall or remodelling a space can all mean you need to move a radiator, sometimes simply to a different position on the same wall, or in other instances, to an entirely different room.
Unlike more common tasks such as bleeding a radiator (important at this time of year), which can be undertaken on a DIY basis, moving a radiator is likely to require the services of a qualified plumber.
In our guide to the cost of moving a radiator we take you through what kind of average prices you'll be facing when tackling this task and the factors that can impact on the cost.
What Affects The Cost to Move a Radiator?
The cost to move a radiator will vary depending several factors, including:
The type of radiator you are moving
The new position
Existing pipework
The radiator size
The nature and complexity of the job, including the construction of the walls and floors
"It may seem like a simple task but moving a radiator can have some hidden complications," explains heating expert and Director of Heat and Energy Ltd David Hilton.
"The first thing that is required is to 'map' the existing pipework to be sure that it can be easily rerouted to the new position and also a health check to be sure there is no corrosion or bacterial growth due to a lack of servicing and chemical inhibitors.
"Radiators are usually plumbed in parallel and as such the plumbing must maintain this configuration. A simple move could cost around £80 to £200 for materials but if there is a lot of wall chasing and rerouting of pipework, plus a potential power flush to clean the whole system, and then a rebalance, then the cost could easily reach the thousands."
"Get a few quotes and plan the work for summer when the engineers are less busy and you also do not need the central heating," concludes David.
The Cost of Moving a Radiator to Another Wall
There are a few reasons why you might want to move a radiator from one wall to another. Perhaps you are remodelling the layout of your home and the existing radiator is in a location that will prevent you from creating the layout you want.
In some cases, people need to move a radiator because they are knocking down internal walls to create a more open plan layout or a better sense of flow.
Whatever your reasons, you will need to begin by checking that your pipework runs next to the wall you want to move the radiator to. If it doesn't then you will need to call in a qualified plumber to add new pipes to run to the area your new radiator will be positioned. This will obviously add to costs.
If, on the other hand, the existing pipework will work with the new radiator position, you might be able to carry out the job on a DIY basis — you can head on over to our guide on how to replace a radiator to find out how.
Moving a radiator is a job that, on average, takes around two hours. A plumber will usually charge on average between £100-£400 to move a radiator to a new location, including materials — the lower price is based on a pipework being in place and the relocation being straightforward.
The Cost of Adding a Radiator
If you decide to buy a new radiator, as opposed to simply moving an existing radiator from one spot to another, you will also need to factor in the cost of buying this new model.
A small single panel radiator can cost as little as £20, with prices rising to around between £80 and £130 for larger radiators with higher heat outputs. Designer radiators and cast iron models will cost considerably more.
Alternatively, you might decide to add a new radiator to an existing heating system. This is a common job undertaken when renovating a house. The average cost of adding a new radiator ranges from £150-£250, not including materials.
When adding a new radiator, do check that your existing boiler will be up to the job.
How Much Does it Cost to Move an Electric Radiator?
Moving an electric radiator is usually a far simpler job than moving a central heating radiator.
Most electric radiators are just plugged into a power socket, meaning that they can be taken off the wall and fixed to the new wall before being plugged into another socket.
However, things get a little more complicated if the radiator is hardwired into the wall — in this case you should call in a qualified electrician, who is likely to charge you around £40 per hour to carry out this job.
How Much Does it Cost to Remove a Radiator?
To simply remove a radiator, you can expect a plumber to charge you between £75-£85. They will usually close the valves at both ends, drain the water from the radiator (rather than the entire system) and then remove it from the wall.

To save money, many people who are confident in their DIY skills choose to do this job themselves.
Dropping a Radiator: What Does it Cost?
You may have heard the term 'dropping' a radiator. All this refers to is temporarily moving a radiator off the wall before putting it back in the same position — something that is commonly done when painting behind a radiator.
There is usually no need to call in the professionals for this job, although, depending on the weight of the radiator, you might need someone to help you lower it to the floor.
You will first need to isolate the radiator in question from the rest of the central heating system before draining the water from it. (Ensure you protect floor finishes below, such as carpet and wood flooring, whilst completing this task.) Once you are sure all the water is out, you can lift the radiator off its brackets and place it out of the way while you paint.
Once the paint is dry, the radiator can be reattached to its brackets and reconnected to the valves and pipework before refilling the system.
A plumber is likely to charge you around £100 - £125 for the job of dropping and replacing a radiator.
Extra Costs to Consider When Moving a Radiator
Labour and material costs aside, there are several other factors that can come in to play when calculating how much to move a radiator.
You may need to fill holes and make good any damage to the wall the radiator is being moved from
If the wall you are moving the radiator to is an existing stud wall, extra timber battens may be required as reinforcement before attaching the radiator. Again this wall will need to be 'made good' following this task
Holes in the floor where the radiator was located previously will need to be filled
Don't forget to factor in the cost of a new radiator if you plan on buying a one rather than reusing the old one
In order to finish the job off nicely, consider covering radiator pipes and factor this into your overall costs.
Natasha is Homebuilding & Renovating's Associate Editor and has been a member of the team for over two decades. An experienced journalist and renovation expert, she has written for a number of homes titles. She has renovated a terrace and is at the end of the DIY renovation and extension of her Edwardian cottage. She is now looking for her next project.
Homebuilding & Renovating Newsletter
Get the latest news, reviews and product advice straight to your inbox.
Thank you for signing up to Homebuilding. You will receive a verification email shortly.
There was a problem. Please refresh the page and try again.