Renovating Sash Windows
If your charming old sash windows look ready for the scrap yard, think again. Natasha Brinsmead explains the process of repair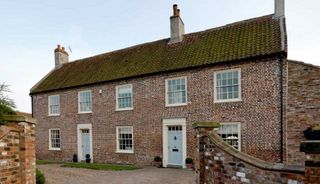 (Image credit: Jeremy Phillips)
The replacement of sash windows is, in many cases, completely unnecessary. There are very few instances where damage and decay cannot be repaired using the right knowledge and tools.
In cases where it is possible to carry out the repairs on a DIY basis, make sure you feel confident in your skills and have the right equipment for the job. If not, get in touch with a sash window specialist, or find a skilled carpenter who has examples of previous window work they can show you.
Repair work will depend on the damage. Decaying timber, broken sash cords, damaged pulleys and broken glass, will all need replacing.
Then, the windows will need to be sanded back, primed and repainted — these are simple jobs for any DIYer. Old paint can be removed with acid such as Nitromors, or a heat gun.
Costs of repairing sash windows
Prices will vary based on the extent of the damage:
For a recondition and new draught seals (this may not include stripping, priming and painting) = £250 per sash
Box sash window replacement = £1,200
Double-glazed sash replacements only, to fit into existing frames = £500 per sash
Repairing sash windows step-by-step
Although the process will vary depending on the damage to your window, in general repairs follow this pattern:
The sashes are removed from the frame
The glass is removed and the old putty can be scraped away
The joints are cleaned and any rotten wood is routed out
Epoxy resin is used to fill any gaps and then new timber is spliced in
The sash is sanded and often primes
The glass is put back into places
The window is finished and painted
Old weatherstrips are replaced, new hardware is attached, new chain or cords are fitted, the pulleys are rebalanced or lubricated, and then the sashes are reinstated in the frames.
Our estimate: 1–2 days; £250 per sash
Glazing Requirements
Many want to know if they can have new double-glazed units fitted into their existing timber sashes. The advice is to be careful — these windows were never designed to take two panes of glass, each thicker than the original.
The glazing bars in old sash windows are often not deep enough to take sealed double-glazed units, which ultimately leads to premature misting.
Another option is to have new sashes made to fit your existing frames and to match the originals. Ventrolla use new slim glazing units and traditional methods of carpentry for an authentic look.
Homebuilding & Renovating Newsletter
Get the latest news, reviews and product advice straight to your inbox.
Thank you for signing up to Homebuilding. You will receive a verification email shortly.
There was a problem. Please refresh the page and try again.