Repairing Sash Windows: Cost Versus Benefits
By Natasha Brinsmead , Hugh Metcalf published
Repairing sash windows is not always a simple job, but with full replacements not always cost effective, it may be the best bet to retain your home's original features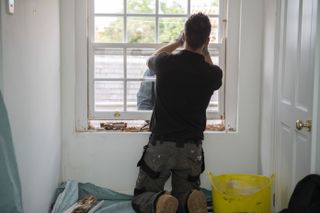 (Image credit: Ventrolla)
Repairing sash windows is an intricate task. With the mechanism built into the frame itself, remedying the likes of snapped sash cords, broken panes and decaying frames means dismantling the frame — a task that many people prefer to leave to the professionals than to take on on a DIY basis.
If you have original sash windows, this is unlikely to be your only concern. Traditionally single-glazed, restoration of sash windows to meet modern standards will require reconditioning of the frames and potentially secondary glazing to increase their U-values and avoid your home leaking heat from the windows.
(MORE: Window Repair Guide)
With this in mind, is it worth the time and expense of repairing sash windows? Probably yes. Modern sash window replacements are premium products that fetch a high price, and you may negatively affect your home's value by removing period features for cheaper contemporary styles.
With that in mind, we look at the repair process in more detail, and look at the costs versus the benefits.
How Much Does Repairing Sash Windows Cost?
Prices will vary based on the extent of the damage. You can expect to have a survey of the existing sash windows before you get prices for repair. As each window is likely to be degraded to a different level, depending on age, maintenance and exposure, you may find that prices vary for sash windows of the same age.
Here's a rough guide to costs:
Reconditioning, draught proofing, new window furniture, primed: £800 - £1,000 per window
Double-glazed sash replacements only, to fit into existing frames: £600 - £800
Broken sash cord replacement: £200 - 300 per cord
Full sash and frame replacement: £1,800 - £3,000
Some repair companies will restore your sash windows and prime only, leaving the final decoration for you to do — others will include full decoration as part of the service.
How do you go About Repairing Sash Windows?
Repair work will depend on the damage. Decaying timber, broken sash cords, damaged pulleys and broken glass, will all need replacing.
The process for repairing sash windows will look something like this:
The sashes are removed from the frame
The glass is removed and the old putty can be scraped away
The joints are cleaned and any rotten wood is routed out
Epoxy resin is used to fill any gaps and then new timber is spliced in
The sash is sanded and often primed. Old paint can be removed with acid such as Nitromors, or a heat gun.
The glass is put back into places
The window is finished and painted
Old weatherstrips are replaced, new hardware is attached, new chain or cords are fitted, the pulleys are rebalanced or lubricated, and then the sashes are reinstated in the frames.
Draught Proofing When Repairing Sash Windows
The nature of sash windows means that a 3mm gap is required for the individual sashes to move past each other. However, this can mean that sash windows are draughty through these gaps, not to mention causing the windows to rattle and be less sound-proof.
Draught proofing sash windows will see a small weather-seal added to the existing window, allowing the sashes to still move easily past one another, while limiting the amount of air coming in from outside.
(MORE: How to Insulate Old Homes)
Adding Double Glazing into Sash Windows
Many want to know if they can have new double-glazed units fitted into their existing timber sashes. The advice is to be careful — these windows were never designed to take two panes of glass, each thicker than the original.
The glazing bars in old sash windows are often not deep enough to take sealed double-glazed units, which ultimately leads to premature misting.
Another option is to have new sashes made to fit your existing frames and to match the originals. Ventrolla (opens in new tab) use new slim glazing units and traditional methods of carpentry for an authentic look.
Adding Secondary Glazing to Sash Windows
Another consideration when restoring sash windows is whether to add secondary glazing or not. Single glazed sash windows will lose heat from your home, as they don't have the insulative qualities of double or triple glazed panes. However, installing double glazing in existing sashes is not always possible, as these sashes weren't designed to hold glazing of this thickness.
The cost of completely replacing sashes or whole sash windows is often prohibitive, so another option for upgrading your window's thermal efficiency is secondary glazing.
There are a range of secondary glazing products available, designed for different requirements such as how often the window needs to be used for ventilation, space available and the aesthetic value. Secondary glazing will affect the latter to some degree from the inside, but from the exterior, your sash windows should look the same.
Adding secondary glazing will improve your windows U-value, but it won't come near to replicating the same levels as double or triple glazing:
Single pane: 5.7 / 5.8 W/m2K
Secondary glazing with 150mm air gap: 2.9 W/m2K
Double glazing: 1 / 1.5 W/m2K
Triple glazing: 0.5 / 0.8 W/m2K
Secondary glazing which uses a double glazed unit is possible and can achieve U-values of 0.9 W/m2K, however, these are not often used as the overall price is similar to replacement double glazing.
Is it Worth Repairing Sash Windows?
Yes, in general the most cost-effective option for restoring sash windows is to use some level of the existing window rather than replacing it entirely. It's possible to retrofit double glazing into sashes in some cases, or in others remaking sashes with double glazing fit into the existing frame. These will all be considerably less expensive than replacing the entire window, which will likely cost between £1,500 and £3,000 per window.
If you're in a Conservation Area or own a listed building, you may require planning permission to replace windows, but not to repair or restore them when done on a like-for-like basis.
Hugh is Digital Editor of homebuilding.co.uk and has worked on a range of home, design and property magazines, including Grand Designs, Essential Kitchens, Bathrooms, Bedrooms and Good Homes. Hugh has developed a passion for modern architecture and green homes, and moonlights as an interior designer, having designed and managed projects ranging from single rooms to whole house renovations and large extensions. He's currently renovating a Victorian terrace in Essex, DIYing as much of the work as possible. His current project is a kitchen renovation which involves knocking through walls and landscaping a courtyard garden.
Homebuilding & Renovating Newsletter
Get the latest news, reviews and product advice straight to your inbox.
Thank you for signing up to Homebuilding. You will receive a verification email shortly.
There was a problem. Please refresh the page and try again.