Fence vs Wall: Which is the Best Boundary For Your Garden?
By Natasha Brinsmead published
It's time for the big debate: fence vs wall. We look at the pros and cons of both, comparing everything from costs to installation and maintenance requirements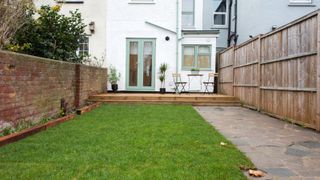 (Image credit: Getty)
Fence vs wall — if you can't decide which of these boundary options will best suit your garden, we're here to help.
Boundary requirements take many different forms. It might be that you are looking for a way to separate your land from that of your neighbours. In some cases, fences or walls are used to create privacy or to block an unattractive view. Sometimes, they are used to separate a garden from the road, pavement or a footpath.
However, fences and walls aren't just used to create boundary lines or privacy — they can also be used to separate gardens into zones. It is also possible to use your boundary as a feature in its own right — by painting a fence a bold colour, for example.
With so many fencing and walling options on offer, it can be a really tough task to make a decision on which will suit you needs and the look of your landscaping scheme.
Here, we talk about the pros and cons of each, as well as covering the all-important question of costs to ensure that you feel confident and happy with your final choice.
Fence vs Wall: How to Choose
There are advantages and disadvantages when it comes to both fences and walls so it is important to think through exactly what you want from the type of boundary you choose before making a decision. You will need to consider the style of your garden and house, as well as your surroundings and your budget.
You will also need to think about where the fence or wall will be used — around the perimeter of your garden, within it to create separation between zones or at the front of your house, for instance.
The other point to bear in mind is that there is a wide range of wall and fence types, so within each category there is something to suit everyone. Finally, if you still can't decide between the two, there is always the option of using both — very often a mix-and-match approach to boundary styles can add interest while also working well on a more practical level.
To help with your decision, our fence vs wall guide lays out the pros and cons of both, as well as explaining the cost differences.
Pros and Cons of Fences
Before getting into the benefits and disadvantages of fencing, it is important to note that there are many different garden fence ideas to choose from and within the range on offer, each type will have its own highs and lows.
Timber fences are the most popular option, with styles ranging from the affordable and familiar featherboard and lap panel fences to the more contemporary and minimalist Venetian design. Each of these has its own nuances, with some offering more privacy than others or being better suited to a certain garden styles.
For this reason, here we are talking about the pros and cons of timber fencing when compared to walls, as opposed to some of the alternatives, such as composite or metal.
Fencing Pros:
Affordable: Although the many different fence types out there mean costs vary, cheap fence ideas are not hard to come by.
Simple to install: Many DIYers choose to to take on the job of installing a fence themselves.
Huge range of designs and styles: There is something for everyone when it comes to timber fences, whether you are after a traditional landscaping scheme or something super contemporary.
Can be a sustainable option: Providing you use timber that is FCS certified (meaning it will have come from a sustainable source) this is an option with good eco credentials.
Offers good privacy levels: Again, how much your fence shields your garden from prying eyes will depend on its design but if you are after privacy fence ideas, featherboard, lap panel and double slatted are all good choices.
Good for zoning spaces: Fences such as picket and post and rail, as well as some other small fence ideas, are ideal for anyone wanting to section up their garden — for example to create a veg patch, a pond area or dining patio. Walls can be a little too solid and dominant for this purpose.
Take up less space: Fences take up less of the footprint of a garden than walls, being slimmer in their design — perfect for those with small gardens.
Disadvantages of fencing:
Prone to damage: High winds and excessive rain can damage wooden fences. To a degree this depends on how well the fence was installed, but the style you choose will also have an effect. For example, fence types that allow wind to pass through, such as single slatted, are less likely to blow down than very solid panels.
Can succumb to rot: If not properly treated with a wood preservative, moisture can cause the timber to rot over time.
Less durable than stone or brick: Although, when well maintained, wooden fences can be very durable, they tend not to enjoy the same longevity as more robust materials such as brick, block and stone.
Maintenance required: Unlike brick and stone walls, timber fencing does require a degree of maintenance — staining, painting or treating every couple of years is advised, as is swift repair of any damage.
Depend on quality components: For your fence to stand the test of time you must invest in high quality and sturdy fence posts and rails and, if using wooden fence posts, ensure they are treated with a preservative to avoid rot.
Pros and Cons of Walls
Just as with fences, there are several different types of garden wall — the main three being brick, block and render, and stone.
Brick and stone walls make beautiful boundaries for traditional gardens and period homes, while block and render can looking striking in contemporary settings, being crisp and sleek in appearance. With so many great garden wall ideas available, it can be easy to create something bespoke in your garden.
Pros of garden walls:
Great longevity: Providing your wall is built with good foundations and has been well constructed, it can be expected to last many many years — centuries in some cases.
High privacy levels: Walls are solid, unlike many fence types, and so are perfect if privacy is important to you. Rather than being sold in standard heights, they can be constructed however high you require them to protect your garden from view.
More robust: A well-built wall should be able to withstand battering from strong winds. They are also happy to have climbing plants grown up them and won't be so affected by damp conditions.
Good sound barrier: Solid walls offer a surprising level of soundproofing — perfect for shutting out the noise of a road or neighbours.
Low maintenance: Unlike fences, solid brick and stone walls require little in the way of regular maintenance. However, it is important to keep an eye on the mortar joints as they may, from time to time, require repointing. Render walls may require repainting, however.
Great design possibilities: Garden walls are very much a bespoke option that can be built in whatever design you fancy — they can be curved, topped with decorative bricks, built with windows or openings or painted.
A good option for sloping sites: Brick, rendered block, stone and gabion baskets are all great retaining wall ideas.
Cons of walls:
More expensive: There is no denying the fact that garden walls are more expensive than fences — even more if you get a professional bricklayer or stonemason into carry out the construction. However, their longevity and low-maintenance requirements in the long term go some way to offsetting the initial outlay — plus they can even add value to your home.
Require foundations: All garden walls should be built on solid foundations – or footings – usually made up of a concrete-filled trench.
Professional construction recommended: Although many DIYers do take on the job of building a wall themselves, not everyone has the skills or equipment required. Stone walls really benefit from a professional touch and if you plan on having a block wall, a tradesperson skilled in render can be invaluable.
Can block light: Fences are ideal where a lighter touch is required. Solid walls can feel a little oppressive in smaller gardens and can block views or light in certain circumstances. Fences topped with trellis are a good alternative.
Fence vs Wall: What is The Cost Difference?
When it comes to the cost of fences and walls, there can be quite a big difference. Walls tend to be a much more expensive option, although opting for standard engineered bricks, or reusing materials you have hanging around on site, and constructing the wall on a DIY basis will most certainly cut costs.
It is also important to bear in mind that the cost of installing a fence will vary depending on the type you opt for. The cheapest type of fencing is traditional lap panels, starting at just £27 for a 4ft panel, while at the higher end of the price scale lie Venetian panels which can cost as much as £100 per 5ft panel.
You will also need to factor in fence posts, gravel boards, if using, and fence rails.
In the case of walls, the cost will very much depend on the materials you choose and who you get to construct the wall, as well as its size.
If you are after cheap bricks, wire-cut facing bricks come in at between £250 and £400 per 1,000 bricks. However, if you opt for handmade bricks you would be looking at £600+ per 1,000.
Materials dealt with, you need to also consider the cost of labour — a day rate of between £150 and £200 is common for experienced bricklayers.
If your bricklayer is not supplying them, you will also need to factor in the cost of sand, cement and plasticiser.
In the case of a block and render wall, the blocks themselves are often fairly inexpensive but you will also need to factor in rendering — typically around £35-60/m2 for a sand and cement method with a fine topcoat.
Dry stone walls are beautiful but don't come cheap, with materials coming in at between £45 - £84 per ton – rising to well into the £100s – and labour between £50-£100/m2.
Combining a Fence With a Wall
If you still can't decide between a fence and wall for your garden then take heart — the good news is that you don't have to choose one over the other.
Many people successfully combine both, with a common solution being to top a beautiful brick or rendered wall with a stylish fence. Not only does this add visual interest, but is also cuts the cost of having a wall.
Natasha is Homebuilding & Renovating's Associate Editor and has been a member of the team for over two decades. An experienced journalist and renovation expert, she has written for a number of homes titles. She has renovated a terrace and is at the end of the DIY renovation and extension of her Edwardian cottage. She is now looking for her next project.
Homebuilding & Renovating Newsletter
Get the latest news, reviews and product advice straight to your inbox.
Thank you for signing up to Homebuilding. You will receive a verification email shortly.
There was a problem. Please refresh the page and try again.