Small Fence Ideas to Zone, Divide and Define Your Garden
By Natasha Brinsmead published
We've been busy gathering small fence ideas for your garden so that, no matter what your landscaping vision, there's bound to be something to take your fancy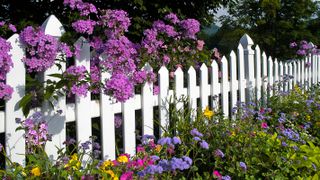 (Image credit: Getty)
There are many reasons why you might be after small fence ideas for your garden. Perhaps you have a large space that needs dividing up into various zones, or maybe you fancy trying your hand at growing your own produce and want to section off part of your garden with a low fence to stop pets trampling your well-tended veg.
Small fences are also a useful way of defining driveways and boundaries or even for cordoning off practical spaces, such as bin storage spots. They are ideal where you don't want to block natural light or still want to be able to enjoy views, but need some definition.
Small fences can also help create the illusion of space on smaller plots — painting a fence a light colour could help draw the eye away from the compact dimensions of your garden, for instance.
Our inspirational collection of small fence ideas is here to help, whether you are looking for methods to create kerb appeal or are simply searching for ways to introduce interest into a new garden.
Choosing The Best Small Fence Ideas For Your Garden
When it comes to garden fence idea it is important to look at your landscaping scheme as a whole — what looks good in one garden won't necessarily work in your own space.
In order to choose the right material for your fence, look at those used in the design of your house — a nice cohesion can be achieved by picking up on details and mirroring them in your outside spaces.
You should also look at texture and colour — could the right colour help it to enhance a planting scheme or draw the eye away from the compact dimensions of your garden, for instance?
If it is privacy you are after, then a more solid fence type, such as a panel or hit and miss design, will help, whereas those after a visually unobtrusive way of sectioning up their garden might find a picket or post and rail style fence is a better fit for their needs.
1. Section Off a Wild Garden With a Low Fence
Some of the most successful landscaping schemes combine different styles of planting in one space — such as more formal, clipped areas alongside rambling, uncut sections designed to attract wildlife.
In order to work together it is usually best to provide some visual separation between the different garden spaces and small open fence types, such as picket and post and rail designs, are a brilliant method of doing this in a way that doesn't intrude visually.
Here, a low level fence surrounds the beautiful wild flower area that has been allowed to flourish behind the pretty summer house.
2. Use a Small Fence to Create a Bench
Small fences can be used in many different ways — not just as garden divides. In this stylish contemporary space, a low fence runs round the built-in wraparound bench forming the back of the seating.
A thick, lush hedge flanks the bench creating an eye-catching layered look that adds depth and interest to the otherwise minimalist garden design scheme.
3. Give Plants Somewhere to Thrive With a Lattice Fence
Using pretty criss-cross lattice to form a low fence not only looks fantastic as a standalone feature, but it can, in time, provide somewhere for plants and flowers to weave in and out of.
These Jaktop Criss Cross fence panels from Jacksons Fencing are a great way to define boundaries without feeling overwhelming or blocking light — they also come with matching gates if required.
4. Separate a Driveway From The Rear Garden
A driveway should be kept separate if you want your rear garden to feel private and tucked away from prying eyes — the driveway tends to be the more public space of a garden and so particular thought should go into your driveway fence ideas.
Here, the sweeping drive is defined with an elegant wooden post and rail fence, while low, curved panel fences either side of this barn-style new home separate and shelter the rear spaces from view.
5. Create Division Without Blocking Light
If your house is close to a road, pavement or any other walkway, you will undoubtedly want to create separation between these public spaces and your garden. However, high, solid fences are not always the best option as they can block natural light and obscure any views you might otherwise be able to enjoy.
In this case, opting for a simple yet solid picket fence or post and rail design is a great idea, marking out your territory without closing it off completely — the Pointed Palisade Pales Fence Panels shown here, from Jacksons Fencing, are ideal for this.
6. Mark Your Boundary Without Blocking Out Nature
Even in cases where gardens are not overlooked or are already surrounded by trees and hedges, a fence can still be a requirement, whether this is to keep pets from straying or to simply mark out the boundaries between properties.
If you are lucky to have a garden flanked by trees and greenery, opt for a simple low panel fence such as this Traditional Lap Fence from B&Q — at just 0.91m high, it will still allow you to enjoy a sense of nature.
7. Consider Elegant Railings as an Alternative
Low level metal railings can make a brilliant alternative to timber fences — particularly as a front garden idea where they really boost kerb appeal, creating a classic, elegant look.
Railings can also be used around ponds and vegetable patches and to keep pets and small children from treading where they shouldn't.
8. Create Definition While Enjoying Far Reaching Vistas
If you are lucky enough to find yourself surrounded by fields or with views out over nature, you won't want to be erecting swathes of high solid fencing around your home. Not only can large expanses of tall fencing look overwhelming and oppressive but they will also block light and views.
However, neither will you want your property to feel too exposed or open — which is where solid, mid-height post and rail fencing can come in handy. Making it clear where the public and private spaces meet, the fencing used around this beautiful conversion do a fantastic job of breaking up the spaces and helping the house feel protected.
9. Top a Low Wall With a Small Fence
There is no rule to say that you have to pick a wall or a fence — you can most certainly choose to have both. In fact, topping a smart wall with a small fence is a brilliant way to inject character and interest into both traditional and contemporary gardens.
Here, the modern paved area is marked out by a low rendered wall, forming a raised bed, fitted with a handy floating bench. The entire thing is surrounded by a contemporary double slatted fence. This is a great small garden idea for smaller plots.
10. Pair a Wild Garden With a Rustic Fence
Imperfect timber post and rail fences suit rural properties and their gardens particularly well. They have the ability to blend in with wildflower areas and wildlife gardens at the same time as enhancing their natural beauty.
Here, a lush patch of gloriously untamed plants is separated from the other spaces by a pleasingly wonky wooden fence.
11. Swap Solid Fences For Subtle Post and Rail
Where privacy is not the end goal, look for a lower, more open style of fence. Picket and post and rail fences are the most obvious choice, but don't overlook single slatted, trellis and decorative fence panels either — all are available in lower than standard heights.
12. Use a Curved Picket Fence For a Soft Look
Picket fences are one of the prettiest types of small fence, adding a cottage feel to both front and rear gardens without blocking views or natural light. Just as with higher fences, picket fences are available in a range of styles and opting for one with a wavy top is a brilliant way to introduce curves into the garden.
Curved fences look brilliant in gardens with paths that snake through the grass, with round flower beds and when placed alongside borders planted with a range of domed and full greenery, such as can be seen here.
Natasha is Homebuilding & Renovating's Associate Editor and has been a member of the team for over two decades. An experienced journalist and renovation expert, she has written for a number of homes titles. She has renovated a terrace and is at the end of the DIY renovation and extension of her Edwardian cottage. She is now looking for her next project.
Homebuilding & Renovating Newsletter
Get the latest news, reviews and product advice straight to your inbox.
Thank you for signing up to Homebuilding. You will receive a verification email shortly.
There was a problem. Please refresh the page and try again.