Cost of Fitting a Bathroom: A Guide to Keeping Costs Down
By Natasha Brinsmead published
Getting to grips with the cost of fitting a bathroom before starting a project will ensure you avoid any nasty surprises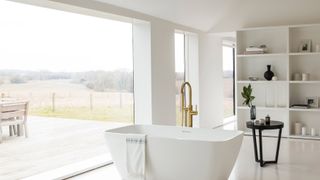 (Image credit: Clearwater)
The cost of fitting a bathroom is likely to be at the forefront of your mind if you are about to embark on a bathroom project in 2022.
Perhaps you are self building and are starting from scratch, or maybe you are updating an existing bathroom as part of a whole house modernisation. Whichever it is, before you get too carried away with your bathroom ideas, it really does pay to understand bathroom fitting costs if you are going to be able to budget properly.
Whilst a quick search online will give you an indication as to how much key items of sanitaryware will cost, without a clear idea of the cost of fitting a bathroom, you run the risk of not only spending more than you want, but also on missing out on being able to splash out on a few luxury items.
In this bathroom fitting cost guide we cover everything from how much you should pay to have a bathroom installed, to the hidden costs to be aware of. We also have some great money-saving tips.
Who Will Fit Your Bathroom?
Before you begin, consider who will install your bathroom. This will influence how much you might pay to have a bathroom fitted.
There are a range of tradespeople who will be able to take on the project. There are firms that specialise in bathroom fitting too, working with you on every element, including the bathroom design, or general builders who have the skills to remove and fit a bathroom, but may outsource other jobs, such as electrics.
The most common routes are:
How Much Does it Cost to Fit a Bathroom?
A straightforward bathroom retrofit carried out by a plumber could cost as little as £1,000, while an entirely new space complete with new heating and tiling will cost far more. According to Victoria Plum, the average cost of installing a new bathroom in the UK is £6,500.
There are so many factors affecting the cost of fitting a bathroom that it is almost impossible to give an exact figure. Your bathroom fitting costs will depend on where in the country your live, whether you are renovating a bathroom and replacing a suite like-for-like or starting from scratch, the size of the space, and whether or not you will need new pipework or a brand new boiler.
When calculating your bathroom fitting costs, you will need to take the following factors into account:
What is the Cheapest Route to Fitting a Bathroom?
Taking on as much of the work as possible on a DIY basis is most certainly the cheapest way to get a bathroom fitted — but don't take on more than you are capable of or costs could soon spiral as you scrabble to put mistakes right.
Bear in mind that if you are going down the DIY route, it is usually necessary to bring in an electrician when fitting a new bathroom — and this will be vital if you are adding a new circuit or installing a a power shower. Be sure to use a qualified electrician, who can self-certify their work.
Using a plumber or builder and shopping around for your own sanitaryware and fittings, doing small jobs on a DIY basis (such as the painting) is another cost-effective option and therefore a popular route.
At the top end of the price scale lie the specialist bathroom fitters who offer a one-stop shop, supplying sanitaryware, designing the room and, finally, fitting it.
There are plenty of other ways to save money when fitting a new bathroom. Here are our top money-saving tips:
Shop around for sanitaryware and brassware deals
Strip out the old bathroom suite before your chosen fitter starts on site
Carry out as much work as you can on a DIY basis
Opt for standard sized bathroom fittings
If retrofitting, aim to keep large items of sanitaryware in the same place to avoid pipework or the soil pipe having to be moved around
Who Will Supply Your Bathroom Sanitaryware?
Where you decide to source your sanitaryware will play a big role in your final bathroom costs.
The cheapest route tends to be to shop around as opposed to leaving it to your builder or heading straight for a bathroom specialist. Cheap bathroom suites from online bathroom suppliers and DIY warehouses can be picked up for under £250, although be aware that these usually don't include the bath.
Many people wanting to keep their bathroom costs down opt for fairly basic, white ceramic toilets and basins and splash out a little more on their bath tub, a walk-in shower or one of the other latest bathroom design trends out there.
Choosing standard sanitaryware over more unusual items, such as stone freestanding baths or countertop basins, for example, usually results in quicker and therefore cheaper bathroom fitting costs.
MORE: Check out our bathroom cost guide for a full breakdown of bathroom sanitaryware.
What Additional Costs Should I Consider When Fitting a Bathroom?
It is useful, when budgeting for a new bathroom, to know exactly what to include. Costs to factor in include:
Aside from the all the more obvious costs listed above, don't forget to include some of the smaller, often forgotten bathroom fitting costs:
Natasha is Homebuilding & Renovating's Associate Editor and has been a member of the team for over two decades. An experienced journalist and renovation expert, she has written for a number of homes titles. She has renovated a terrace and is at the end of the DIY renovation and extension of her Edwardian cottage. She is now looking for her next project.
Homebuilding & Renovating Newsletter
Get the latest news, reviews and product advice straight to your inbox.
Thank you for signing up to Homebuilding. You will receive a verification email shortly.
There was a problem. Please refresh the page and try again.