10 Things we Learned From The Spending Review and Budget 2021
By Jack Woodfield published
The key policies, and reaction, from Wednesday's Spending Review and Budget 2021 and what it means for homeowners and homebuilding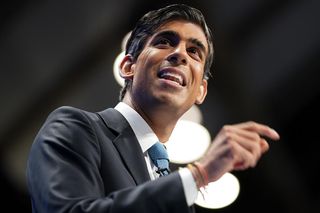 (Image credit: Getty Images)
Chancellor Rishi Sunak has unveiled the Autumn Budget 2021 and Spending Review, and while there are some standout pledges to encourage homebuilding in the UK, the government's plans have received criticism for not going far enough towards greening up our homes.
Mr Sunak's Budget Wednesday statement, delivered just days before the COP26 climate summit, comprised key announcements from the Autumn Budget (Budgets are normally carried out once or twice a year) and the Spending Review (carried out roughly once every three years).
One key policy industry groups had lobbied the chancellor for was a national retrofit strategy to improve the energy efficiency of the UK's housing stock — which was excluded within the Heat and Buildings Strategy last week. There had also been reports that the Green Homes Grant could be renewed. Ultimately though, campaigners were left disappointed.
Here's our rundown of the key things we learned from the Autumn Budget and Spending Review, and how homebuilding and homeowners could be affected.
1. There's Still no National Retrofit Strategy
Retrofitting our homes will be pivotal to help the UK achieve its net zero ambitions, and industry groups have rallied the government for years to introduce a National Retrofit Strategy to provide a roadmap for this to happen.
Earlier this month LETI, a network of more than 100 leading architects, engineers and building professionals, published its Climate Emergency Retrofit Guide, a handbook for upgrading the UK's housing stock to meet the government's net-zero ambitions.
But, again, no such policy was delivered by the government.
Brian Berry, chief executive of the Federation of Master Builders (FMB) said: "The chancellor has missed the opportunity to give householders peace of mind about how they can tackle the net zero challenge. With nothing on retrofit for owner occupiers in last week's Heat and Buildings Strategy, I'm struggling to see how the country will reach its legally binding net zero targets by 2050 if it doesn't fix the UK's 29 million leaky homes."
Julie Hirigoyen, chief executive of the UK Green Building Council (UKGBC), added: "By supporting the industry's plan for a national programme to retrofit our homes, the government could have delivered substantial progress towards net zero and unlocked a new wave of green jobs to help level up the country."
The FMB has also campaigned for a VAT cut on retrofit down from 20%, and the Construction Industry Council penned a letter to the Treasury this month requesting a VAT cut for retrofitting and refurbishment work which it says could "contribute to our legally binding carbon targets but also create new jobs and take many people out of fuel poverty." No such cut was announced, however.
2. There's no New Green Homes Grant Reboot Either
The controversial Green Homes Grant officially ended on 31 March, but reports suggest it might have been rebooted in the Spending Review.
It was described by business minister Lord Callanan in September as not being one of the government's "finest success stories", which flopped because it was "rushed", but it is widely acknowledged that the UK needs to adopt a strategy to help homeowners improve their energy efficiency, on top of the Boiler Upgrade Scheme announced last week.
This reported reboot did not materialise, however. The only 'green' funding confirmed by the chancellor was new investment incentives in England totalling almost £750 million, including tax relief for eligible green investments, such as making improvements to a businesses' premises to support net zero targets.
3. And There Won't be Another Stamp Duty Extension
In the days prior to the Budget, industry groups were reportedly advocating a reintroduction of the stamp duty holiday, which officially closed in September. The tax break helped homebuyers save up to £15,000 between July 2020 and July 2021, and pushed house prices up dramatically.
Guy Gittens, chief executive of Chesterton, said before the Budget: "We have seen the dramatic impact that a change in the punitive stamp duty had on the volume of sales transactions, which enabled tens of thousands of people to move home, when they may not have been able to afford more previously. This really should make the government re-consider the current stamp duty charges."
However, there was no mention of stamp duty at all in the chancellor's speech.
4. The Planning System will be Digitised
£65m has been promised to help digitalise the English planning system, which the government has previously said will help to speed up the efficiency of planning decisions.
This transformation of the planning system had been pledged within the government's planning white paper last summer. And it's now been confirmed that the funding will go towards the delivery of new software to help with the digitisation of the town planning system.
Peter Hawthorne, chief executive of LCR Property, said that one key benefit of the funding is that it will help to "make it easier for planners and local authorities to identify and bring forward the opportunities that the brownfield fund is committed to supporting."
(MORE: Government Will 'Look Again' at Planning Reforms)
5. There's £1.8bn New Funding for Brownfield Land
A total of £1.8bn will be spent on developing brownfield sites, which Mr Sunak says will be enough to bring 1,500 hectares of brownfield land into use, and confirmed that the government aims to use brownfield sites to build 160,000 homes.
The funding will include £300m to combined and local authorities to "unlock" smaller sites, alongside £1.5bn to provide funding "to regenerate underused land and deliver transport links and community facilities".
Philip Woolner, managing partner at Cheffins said of the announcement: "[This] is a savvy move from the government and is welcomed in its mission to help build out neglected potential sites across the country."
6. There's (Unsurprisingly) Nothing New for Self Build
Self and custom build doesn't feature at all within the plans, but Andrew Baddeley-Chappell, CEO of the National Custom & Self Build Association (NaCSBA) said last week that due to the positive plans for the sector already underway, this wouldn't be a surprise.
"In practice [self build] may not make it through the noise created by issues such as recovering government finances, climate change, levelling up, and the challenges of a recovering world economy and shortages of people and resources," he said.
"So positive news would be great, but no news should not mean that positive changes aren't happening below the surface."
Significantly, the government confirmed this month that £5m had been allocated to councils from the Self and Custom Build Fund to bring forward plots on sites on both brownfield and greenfield. Councils can now apply for the second round of funding.
7. Energy Price Rises Will Continue
Energy price rises will take "months" to ease, the chancellor confirmed in his statement, due to "pressure caused by supply chain issues".
Inflation in Sept was 3.1% - likely to avg 4% over next year blamed on world economic demand rising and the energy price #Budget21#BudgetTranslations expect cost of living to continue to get more expensive, even more than now as inflation means ever increasing price risesOctober 27, 2021
8. There's New Funding for Skills (a Boost for Construction)
The government will raise spending on skills and training by £3.8bn over the parliament, an increase of 42%. This move was welcomed by Steve Radley, policy director of the Construction Industry Training Board, considering the record number of construction vacancies amid the construction materials shortage.
"Today's announcement on infrastructure spending, on top of government plans to meet its net zero commitments, shows it's critical to invest in construction skills.
"Building better pathways into work through traineeships and bootcamps and helping colleges to modernise are key investments. We look forward to building on our work so far to shape these programmes to deliver the skills the industry needs."
9. Funding for Unsafe Cladding Removal is Reannounced
Mr Sunak reannounced £5 billion of funding for cladding fire safety, which will be used to remove dangerous cladding from high-rise buildings. However he added that this will be partially funded by a levy on property developers with profits over £25m, confirmed at a rate of 4%.
10. There's (Reannounced) Money For Affordable Homes
Note that when the Chancellor 'announces' £11.5 billion in Budget 2021 for 180,000 affordable homes, that is just the reannouncement of the Affordable Housing Programme (AHP).https://t.co/yC1tOSgI9b#AutumnBudget #AutumnBudget2021 #Budget2021 pic.twitter.com/jzHFQyOmCcOctober 27, 2021
To address concerns from industry groups including the charity Shelter that not enough affordable homes are being built in the UK, the chancellor confirmed that £11.5bn will be allocated to deliver 180,000 new affordable homes.
However, as Noble Francis from the Construction Products Association pointed out, this funding had already been pledged in the Affordable Housing Programme which began this year, having first been announced in 2020.
Jack has worked in journalism for 11 years and is the News Editor for Homebuilding & Renovating, a role he has had since 2019. He strives to break the most relevant and beneficial stories for self builders, extenders and renovators, including the latest news on the construction materials shortage and hydrogen heating. In 2021 he appeared on BBC's The World at One to discuss the government's planning reforms.
He enjoys testing new tools and gadgets, and having bought his first home in 2013, he has renovated every room and recently finished a garden renovation.
Homebuilding & Renovating Newsletter
Get the latest news, reviews and product advice straight to your inbox.
Thank you for signing up to Homebuilding. You will receive a verification email shortly.
There was a problem. Please refresh the page and try again.