Cladding Fire Safety Regulator Announced in New Building Safety Bill
By Jack Woodfield published
New cladding fire safety commitments have been made as the government finally publishes the Building Safety Bill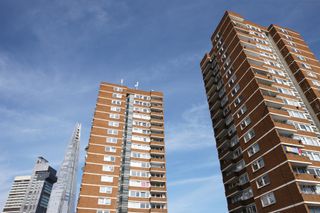 (Image credit: Getty Images)
New government commitments to improve cladding fire safety have been announced to ensure stricter regulation of high-rise buildings in England.
The Building Safety Bill was published by the government this week, two years after it was initially included in the 2019 Queen's Speech.
Most of the changes were announced in the Queen's Speech earlier this year, including the appointment of a new Building Safety Regulator for building safety will be appointed, but we now know how this role will work.
The new Building Safety Regulator will aim to introduce a better safety system and impose sanctions and regulations to ensure the 2017 Grenfell tragedy, in which 72 residents died, never happens again.
There will also be significant reforms for regulating the safety of high-rise buildings, and inspecting construction sites.
(MORE: Cladding a House: Everything You Should Know)
New Pledges for Cladding Fire Safety
These are the key points from the Building Safety Bill (opens in new tab) which will set the pathway for how residential buildings are constructed and maintained.
The Building Safety Regulator
The Building Safety Regulator will have three main functions:
Overseeing the safety and performance system for all buildings
Encouraging the improvement of competence in the built environment sector
Leading the implementation of the new regulatory regime for higher-risk buildings
The regulator will also have a variety of enforcement powers to ensure the maintenance of high-rise buildings. And if developers fail to meet these requirement, they could be prosecuted, while manufacturers could have their construction products taken off the market.
The role will be operational within 12 to 18 months, but until then Peter Baker, the director of building safety and construction at the Health and Safety Executive, will lead the work to set up the role.
Extended time to pursue claims
Residents will now have 15 years to pursue a claim against a developer or builder for sub-standard or unsafe work.
New regulatory measures
The Bill will ensure clear identification of people responsible for safety during the design, build and occupation of a high-rise residential building.
But Many Residents Still Have Huge Cladding Bills
Unfortunately for many leaseholders, there was nothing included in the Building Safety Bill to help with the bills they must pay for the removal of unsafe cladding and other fire safety work.
The new Bill requires building owners to demonstrate they have explored alternative ways to meet remediation costs before passing them on to leaseholders, but does not ensure leaseholders will be protected from charges for remedial safety work.
It is feared that as many as 700,000 people are living in high-rise blocks with flammable cladding, and face huge costs to remove it. A committee of MPs estimated in February that the total cost of the so-called cladding scandal could run to £15bn.
Earlier this year, the government announced an additional £3.5bn to repair hundreds of thousands of potentially unsafe buildings, adding to the £1.6bn previously pledged in the Building Safety Fund in 2020.
This £5bn funding will be used to pay for removal of unsafe cladding for all leaseholders in high-rise residential buildings which are 18 meters and higher, or above six storeys.
In buildings below 18m, housing secretary Robert Jenrick said that the risks from unsafe cladding are "significantly lower", but where cladding needed to be removed, a long-term scheme will protect leaseholders to ensure they pay no more than £50 a month for the removal of unsafe cladding.
He also confirmed that the government would develop a levy targeted at developers seeking to build certain high-rise buildings in England. And there will be a new tax for the UK residential property sector from 2022, which will raise money to help pay for the removal of cladding.
"I Wish More Developers Had Paid Up"
Fury remains among campaigners who claim the government has not protected leaseholders enough amid spiralling costs for fire safety measures.
Discussing the new 15-year timeframe to sue developers, The UK Cladding Action Group said this offers little help because leaseholders cannot afford to pay solicitors up front.
Mr Jenrick said earlier this week on BBC One's The Andrew Marr Show: "I wish we hadn't reached this point. I wish more developers had paid up."
The government has also been criticised for rejecting an amendment to the Fire Safety Act 2021 (opens in new tab) passed into law in May, which would have protected leaseholders from fire safety bills.
Housing minister Christopher Pincher said the proposed protection for leaseholders was too widely drawn and "lacked clarity". But is now feared that the legislation could see hundreds of thousands of leaseholders face fire safety bills of up to £100,000.
Homeowners trapped in unsellable flats have since threatened protests and campaigning throughout the summer.
A spokesman for End Our Cladding Scandal, a coalition of homeowners from across the country, said in May: "We are feeling deflated but we have been here before. We have got a band of Conservative MP supporters now and there will be no end to campaigning. We are taking some time to regroup and then plan a rally and protest in the summer."
What is the So-Called Cladding Scandal?
Following the Grenfell Tower fire in 2017, round-the-clock fire patrols were established in hundreds of buildings. Fixing safety faults has seen costs surge for leaseholders, while residents have experienced rocketing insurance costs on buildings with fire safety problems.
The Daily Mail reported earlier this year that insurance claims have soared by £1.6bn a year for those living in unsafe homes, and the Sunday Mirror revealed that a residents group of leaseholders in Greenwich experienced an insurance quote increase of £535,000.
Government data released in July 2020 revealed that cladding removal and repair work has been completed on just 58% of social housing blocks and 30% of private sector buildings.
To speed up the pace of removing unsafe cladding from high rise residential buildings, Labour has called for a National Cladding Taskforce to be established, a move which has been backed by the British Safety Council (opens in new tab).
Earlier this year the government launched a consultation on a new code of practice (opens in new tab) (which closed in June) for assessing buildings' external walls and cladding system.
Jack has worked in journalism for 11 years and is the News Editor for Homebuilding & Renovating, a role he has had since 2019. He strives to break the most relevant and beneficial stories for self builders, extenders and renovators, including the latest news on the construction materials shortage and hydrogen heating. In 2021 he appeared on BBC's The World at One to discuss the government's planning reforms.
He enjoys testing new tools and gadgets, and having bought his first home in 2013, he has renovated every room and recently finished a garden renovation.
Homebuilding & Renovating Newsletter
Get the latest news, reviews and product advice straight to your inbox.
Thank you for signing up to Homebuilding. You will receive a verification email shortly.
There was a problem. Please refresh the page and try again.