Cladding Fire Safety Funding Announced to Repair Unsafe Buildings
An additional £3.5bn in cladding fire safety funding will pay for the removal of unsafe cladding in blocks 18m or higher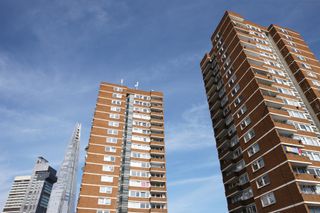 (Image credit: Getty Images)
Cladding fire safety funding of up to £5bn has been announced to repair hundreds of thousands of potentially unsafe buildings.
Housing secretary Robert Jenrick announced the additional £3.5bn of funding on Wednesday, adding to the £1.6bn previously pledged in the Building Safety Fund in 2020. 
He confirmed the government will pay for removal of unsafe cladding for all leaseholders in high-rise residential buildings which are 18 meters and higher, or above six storeys.
And for freeholders living in unsafe buildings between 4-6 stories, a loan scheme will be developed with repayments for repairs capped at £50 a month.
There will also be a 'gateway to a developer levy', targeted at developers seeking permission to develop high-rise buildings, which the government will consult on in due course. 
Mr Robert Jenrick said this "unprecedented intervention" provides "a clear plan to remove unsafe cladding, to provide certainty to leaseholds" and to "make the industry pay for its faults of the past".
(MORE: Cladding a House: Everything You Should Know)
Cladding Fire Safety - Why This Announcement Was Made
The announcement follows a debate within Westminster and the construction industry about who should foot the bill for stripping cladding from unsafe residential buildings.
It is feared that as many as 700,000 people are living in high-rise blocks with flammable cladding, and face huge costs to remove it. 
Following the Grenfell Tower fire in 2017, which killed 72 people, round-the-clock fire patrols were established in hundreds of buildings. Fixing safety faults has seen costs surge for leaseholders, while residents have experienced rocketing insurance costs on buildings with fire safety problems.
The Daily Mail reports that insurance claims have soared by £1.6bn a year for those living in unsafe homes, and the Sunday Mirror revealed last week that a residents group of leaseholders in Greenwich have experienced an insurance quote increase of £535,000. 
Mr Jenrick added in his statement that many leaseholders had, through "no fault of their own", found themselves "caught in an absolutely invidious situation".
How the Funding Will be Used
The announcement means that leaseholders living in high-rise buildings above 18m will face no costs for cladding works.
In buildings below 18m, Mr Jenrick said that the risks from unsafe cladding are "significantly lower", but where cladding needed to be removed, a long-term scheme will protect leaseholders to ensure they pay no more than £50 a month for the removal of unsafe cladding.
He added that it "cannot be right the costs fall solely on tax payers", and confirmed that the government would develop a levy targeted at developers seeking to build certain high-rise buildings in England.
There will also be a new tax for the UK residential property sector from 2022, which will raise money to help pay for the removal of cladding.
Political Pressure Forced Government's Hand
People are trapped in properties they are unable to sell, and pressure has been growing on ministers to increase the amount of money available for these residents. 
Prior to Wednesday's announcement, a committee of MPs estimated that the total cost of the so-called cladding scandal could run to £15bn.
Government data released in July revealed that cladding removal and repair work has been completed on just 58% of social housing blocks and 30% of private sector buildings.
To speed up the pace of removing unsafe cladding from high rise residential buildings, Labour has called for a National Cladding Taskforce to be established, a move which has been backed by the British Safety Council.
Mike Robinson, Chief Executive of the British Safety Council, added: "We support the call for a National Cladding Taskforce and for legislation to protect leaseholders from costs. Some four years after the Grenfell tragedy, the pace of removal of unsafe cladding has been disappointing, particularly given the risk to life that it presents."
An inquiry is underway this week to establish where responsibility lies for the fire that killed 72 people in the Grenfell Tower tragedy. 
Reaction to the Announcement
How on earth can the Government justify this unfair and divisive move?The Cube in Bolton was below 18m but it burnt as quickly as Grenfell.1000s of people in Greater Manchester will now face a choice of unaffordable loans or living with unsafe cladding.The campaign goes on. https://t.co/sfLTau7PVVFebruary 10, 2021
Criticism immediately met the government, with the Grenfell United group, of bereaved families and survivors, saying the funding was "too little, too late".
"Funds need to be available and residents shouldn't be forced into loans and new debt just because of the height of their building," they said.
The government was also criticised for only offering loans for the removal of cladding on smaller buildings. Conservative MP Stephen McPartland said: "Leaseholders are the innocent parties in this. Many people were in primary school when these buildings were constructed and they're now being hit with bills that will be bankrupting them."
And some feel the government missed an opportunity to address non-cladding fire safety defects. Mr McPartland told BBC Radio 4's World at One, "The support [Mr Jenrick] has offered does not help most people because people who've got excessive insurance premiums, fire safety defects - that's where the real costs are."
Labour's shadow housing secretary, Thangam Debbonaire, called the proposals "an injustice" that would "pile financial misery" on homeowners. She added that the "arbitrary 18m height limit" could "mean the difference between a safe home and financial ruin".
Homebuilding & Renovating Newsletter
Get the latest news, expert advice and product inspiration straight to your inbox.
Thank you for signing up to Homebuilding. You will receive a verification email shortly.
There was a problem. Please refresh the page and try again.