Stamp Duty Holiday: How Much Tax Do You Now Need to Pay?
The stamp duty holiday ended on 30 June, but a tapering effect will now commence until September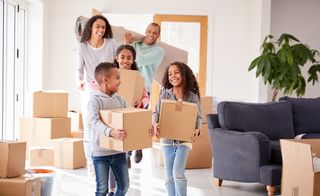 (Image credit: Getty Images)
The stamp duty holiday ended on 30 June, bringing a close to a frenetic spring for homebuyers and conveyancers as thousands tried to get their deals over the line in time. 
The stamp duty holiday extension announced in March afforded homebuyers with an extra three months to complete their deals. What followed was months of intense buyer demand which led to solicitors working late nights and weekends to help buyers complete deals. 
Zoopla estimated in June that around 50,000 sales would have failed to complete in time, and the question for many this morning will be 'what now?'
Stamp duty rates in England and Northern Ireland change today, and this is what you need to know if you weren't able to finalise your purchase on time. 
Stamp Duty Holiday Tapering Effect Announced
Chancellor Rishi Sunak confirmed in the March Budget that following 30 June, stamp duty holiday exemption will be kept at double its standard level (£250,000) until the end of September. 
This means that deals which were not completed by 30 June will result in homeowners paying stamp duty on properties costing £250,000 or more. 
Stamp duty will then return to its level prior to the extension (£125,000) from 1 October. 
How Much is Stamp Duty?
The amount of stamp duty you pay depends on several factors, including:
Purchase price
Whether the property will be your main residence 
When the purchase is made
Whether you're a first-time buyer
From 1 July, first-time buyers in England and Northern Ireland will pay no stamp duty on properties worth up to £300,000, and no stamp duty on the first £300,000 of properties costing up to £500,000 - a 5% rate will be paid on the remaining amount, up to £200,000. 
In Wales, first-time buyers will pay no land transaction tax on the first £180,000 of a property. And in Scotland, first-time buyers will pay no land and buildings transaction tax on the first £175,000 of a property.
You can use the Stamp Duty Land Tax (SDLT) calculator to see how much stamp duty will be for a particular purchase.
What Was the Stamp Duty Holiday?
The stamp duty holiday, introduced in July 2020, was a tax break which exempted the first £500,000 of all property sales from stamp duty.  
It delivered a shot in the arm to the housing market in 2020, following months of lockdown which essentially led to a housing market freeze. It was also a major factor in house prices reaching record highs this year.
The holiday was also praised for its impact on those considering renovating a house, and those in the midst of buying or considering a move in the coming months, who can reinvest the savings into their project. 
Homebuyers were able save a maximum of £15,000 through the tax break, and Rightmove estimated that 1.3 million buyers will have benefitted from tax savings since the holiday was announced. 
But the clamour put the housing sector under pressure. The extension announced in the March Budget was credited with buyer demand hitting twice the normal levels in March, according to reallymoving, which revealed that homebuyer demand for conveyancing quotes was 101% higher at the end of March, compared with the same time last year. 
Jack is News Editor of Homebuilding & Renovating and strives to break the most relevant and beneficial stories for self builders and renovators. Having bought his first home in 2013, he and his wife have renovated almost every room and recently finished a garden renovation. Jack reports on all of the latest news that could affect your project.
Homebuilding & Renovating Newsletter
Get the latest news, reviews and product advice straight to your inbox.
Thank you for signing up to Homebuilding. You will receive a verification email shortly.
There was a problem. Please refresh the page and try again.