Stamp Duty Holiday: Delays Mean Homebuyers Could Still Miss Out
The stamp duty holiday is available until 30 June, but fresh concerns have arisen over conveyancing delays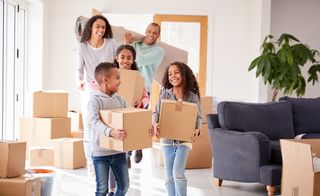 (Image credit: Getty Images)
There are new concerns over the stamp duty holiday amid a rise in conveyance delays which risk deals falling through. 
The stamp duty holiday extension in March afforded homebuyers with an extra three months to complete their deals. But growing buyer demand means the average time to complete sales is up 6% compared to this time in 2020, according to data company TwentyCI.
The delays are due to increased time taken to move a home from Sold Subject to Contract to completion, which could cause thousands to miss out on the tax break, which ends on 30 June. 
Iain McKenzie, CEO of The Guild of Property Professionals, said: "Last year it was taking around 78 days for a new instruction to move to SSTC, while this year that number has come down to 76 days with homes selling slightly faster. However, the time taken for the sale to then complete has increased from 106 days to 121 days, which equates to a 12% year-on year increase.
"This increase in demand has resulted in agents finding buyers for listings in less time, but as the number of transactions increase, the timescale to completion is also likely to continue to increase, at least for the near future. Agents should be preparing buyers for the fact that they are may likely miss the stamp duty deadline at the end of June."
What is the Stamp Duty Holiday?
The stamp duty holiday, introduced in July 2020, is a tax break which exempts the first £500,000 of all property sales from stamp duty.  
It delivered a shot in the arm to the housing market in 2020, following months of lockdown which essentially led to a housing market freeze. 
The holiday was also praised for its impact on those considering renovating a house, and those in the midst of buying or considering a move in the coming months, who can reinvest the savings into their project. 
But the clamour put the housing sector under pressure. Nearly a third of prospective home buyers were refused a mortgage following the stamp duty holiday announcement, Market Financial Solutions (MFS) revealed in September, with mortgage lenders opting for caution following a turbulent 2020. 
(MORE: Experts' advice on getting a mortgage)
The extension of the stamp duty holiday in the March Budget was credited with buyer demand hitting twice the normal levels in March, according to reallymoving, which revealed that homebuyer demand for conveyancing quotes was 101% higher at the end of March, compared with the same time last year.
Following the extension, the Royal Institution of Chartered Surveyors (RICS) said that demand continued to outstrip supply in March, and predicted that sales activity would continue to increase in the coming months. This could lead to a rise in house prices.
Why Was Extending the Stamp Duty Holiday so Vital?
Aspiring homebuyers had been left fearful the initial impending deadline of 31 March to ensure completions would lead to them missing out on tax savings of up to £15,000.
The extension until 30 June affords homebuyers with more time to complete their transactions, and was warmly welcomed by campaigners and homeowners alike.
Rightmove's property expert Tim Bannister said: "This three-month extension will come as a huge relief for those people who have been going through the sales process since last year and were always expecting to make use of the stamp duty savings."
However, the new findings from TwentyCI indicate that some deals could still struggle to get over the line despite the extension. 
Stamp Duty Holiday Tapering Effect Announced
Chancellor Rishi Sunak also confirmed in the March Budget that following 30 June, stamp duty holiday exemption will be kept at double its standard level (£250,000) until the end of September, and then return to its current level (£125,000) from 1 October. 
David Hannah from Cornerstone Tax said of the announcement: "We are also interested to note the 'tapering' effect which we and other commentators had called for, with the raising of the Nil Rate band to £250,000 from the end of June until the end of September. 
"While there is still a danger of a mini cliff edge at the end of September, the impact will be far smaller than it could have been."
How to Avoid Stamp Duty Holiday Scams
Homebuyers looking to benefit from the stamp duty holiday have been warned about fraudsters targeting the tax break.
UK Finance, which represents financial firms, says that fraudsters have targeted large sums of money, including deposits, with homeowners at risk of being manipulated into paying money into the wrong account by fraudsters.
It has observed instances of criminals pretending to be estate agents and asking for personal details, claiming that the person moving home is due a "refund". 
UK Finance also warns that home buyers are at risk from identity theft, in which letters sent to old addresses are used by criminals to apply for credit or benefits in their name.
Homebuyers should be alert to emails purporting to contain new payment details from firms they are already dealing with, or duplicate invoices for services. Moreover, it is important to check payment details with agents or solicitors by phone before transferring money.
To avoid identity theft, UK Finance says householders should ensure they notify banks, building societies and other organisations of a change of address, and set up a redirection service for any other post.   
Homebuilding & Renovating Newsletter
Get the latest news, reviews and product advice straight to your inbox.
Thank you for signing up to Homebuilding. You will receive a verification email shortly.
There was a problem. Please refresh the page and try again.