Energy Price Rises: Ofgem Warns of "Very Challenging Winter Ahead"
By Jack Woodfield published
Energy price rises are expected to be announced this month as Ofgem confirms the energy price cap will be updated quarterly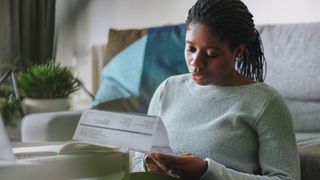 (Image credit: Getty Images)
Ofgem has warned that further energy price rises could lead to a "very challenging winter ahead" for households, as the energy regulator confirmed that the energy price cap will be reviewed quarterly rather than every six months.
Ofgem said that being able to update the price cap more often will bring much-needed stability to the energy market and reduce price shocks for consumers.
The next update to the price cap will be published at the end of the August, and homeowners were warned this week that it will rise above £3,500 a year for the first time when it comes into effect in October.
This analysis from energy consultancy Cornwall Insight predicts that the significant increase - up from a hike of 50% in April to £1,971 - could lead to millions of homeowners paying £3,358 a year for their energy from October, then £3,615 from January.
This is a big increase on Ofgem's prediction in May that the typical household should expect to pay £2,800 per year from October. But the energy regulator says being able to more frequently update the price cap will help suppliers better predict how much customers might be required to pay.
"Today's changes ensure the price cap does its job, making sure customers are only paying the real cost of their energy, but also, that it can adapt to the current volatile market," said Ofgem chief executive Jonathan Brearley.
"We will keep working closely with the government, consumer groups and with energy companies on what further support can be provided to help with these higher prices."
How Much Will Energy Price Rises Affect Me?
Live in Northern Ireland?
There are just two energy suppliers in Northern Ireland (SSE and Firmus Energy), which has its own regulatory system.
The energy crisis won't affect all homeowners as sharply, but reducing your bills where possible could be very important for heating your home in the months to come.
The energy bills of around 23 million households in England, Wales and Scotland are governed by the price cap, and from October energy companies will be allowed to charge more for those on variable rates.
Around 18 million people are already paying £693 more a year since April, with an extra 4.5 million prepayment meters paying an even bigger increase of £708 a year.
If you're on a fixed tariff then you shouldn't have been affected by April's increase, nor October's forthcoming rise. However if you're approaching the end of your contract, then your energy supplier may not be able to offer you a cheaper deal due to the current crisis.
Why Are Energy Price Rises Happening?
Wholesale energy prices have been surging for several months, but Mr Brearley on Thursday blamed Russia's invasion of Ukraine for causing the instability which is affecting the energy market.
"I know this situation is deeply worrying for many people. As a result of Russia's actions, the volatility in the energy markets we experienced last winter has lasted much longer, with much higher prices than ever before," he said.
"And that means the cost of supplying electricity and gas to homes has increased considerably."
Europe receives roughly 40% of its natural gas from Russia, and while the UK only imports less than 5% of its gas from Russia, economic fears over Russia suddenly cutting its supply to Europe means the UK would be affected by global market price increases.
Mr Brearley confirmed in May that the price cap could yet rise beyond Ofgem's prediction of £2,800 in October.
Prior to Russia's invasion of Ukraine, the rise in wholesale gas prices had been attributable to a cold winter in 2020 which put pressure on supplies, and increased competition for liquefied natural gas from Asia.
Moreover, low winds in the UK in the summer of 2021 meant reduced generation from renewables, although this only accounts for a relatively small contribution (9%) to the UK's energy needs.
Government Takes Action Over Rising Bills
From October households will begin to receive a £400 energy grant, beginning with a £66 discount on their energy bills, the first of six monthly payments.
This measure was announced by former chancellor Rishi Sunak and was one of a package of measures designed to help tackle the cost of living crisis, worth £15bn in total, which included a one-off payment of £650 to the poorest households in the UK.
The former chancellor also announced that the government would impose a 25% windfall tax on the profits of oil and gas companies. The package of measures will be partly funded through this tax.
Meanwhile, eight million households on means-tested benefits have begun to receive a £650 payment paid directly into their bank accounts in two lump sums - the first arriving in July, the other this autumn.
The government has also offer more targeted help to pensioners and the disabled. Pensioners will receive a one-off £300 payment, while there will also be a one-off disability cost of living payment of £150.
Prime Minister Boris Johnson announced the Energy Security Strategy in April in a bid to transform the way the UK supplies energy to homes in the future.
How You Can Lower Your Energy Bills
Improvement Grants
There are initiatives in place to provide homeowners with financial assistance in making energy efficiency improvements, including insulation grants
We've put together a comprehensive list of energy saving tips to help you navigate the energy crisis and lower your heating bills.
Included are some quick fixes you can do in the short-term, such as swapping to LED light bulbs, and greater-value improvements which come from making long-term investments in your energy efficiency, such as making sure your home has efficient insulation. A study earlier this year revealed that households saved £200 per year over 10 years having had new insulation installed.
You can also ring your supplier to enquire about switching to a new energy deal to lower your bills, or move to another provider instead.
The Energy Efficiency Infrastructure Group has called on the government to prioritise energy saving through home improvements, such as better insulation, which it says could save UK households more than £500 a year on energy bills.
What is the Energy Price Cap?
The Energy Price Cap was introduced in 2019 to limit how much firms can charge consumers and ensure that customers on default tariffs pay fair gas and electricity prices in the UK. Ofgem had previously reviewed it every six months before Thursday's announcement, with the next review scheduled for October 2022.
Ofgem has previously admitted that while the cap protects consumer from price spikes, it "exposes suppliers to risks that are harder to manage at times of high energy price volatility", and that "if not tackled, this could lead to higher costs for consumers."
The Institute of Economic Affairs wants the energy price cap to be scrapped altogether, claiming it puts an "artificial" cap on prices, but the government has said keeping the cap in place is "non negotiable".
What Happens if My Supplier Goes Bust?
Around two million households have seen their supplier cease trading since last summer, with around 40 energy suppliers ceasing trading since the beginning of 2021.
Bulb Energy, with 1.7 million customers, is one of the most high-profile firms to be affected, which was placed in Special Administration in December.
If your supplier fails, Ofgem will make sure affected households continue to be supplied, and will not lose money owed to them. Your new energy supplier would then be responsible for taking on any credit balances you may have.
Learn more about what to do if your supplier stops trading here (opens in new tab) from Citizens Advice.
What Happens if I Can't Afford my Bills?
Low-income households may be able to get discounts on their energy bills, with major suppliers including E.ON, EDF and British Has offering warm home discount schemes.
Citizens Advice can also help if you are struggling to afford your fuel, and will take you through the steps you can take to sort this with your supplier.
Planning on Self Building?
For those planning to self build, adopting a fabric first approach is a great way to integrate multiple green measures into your home. This can help to lower your long-term energy costs.
You could build with Structural Insulated Panels (SIPs), opt for triple glazed windows and/or install an MVHR system, for example.
Jack has worked in journalism for 11 years and is the News Editor for Homebuilding & Renovating, a role he has had since 2019. He strives to break the most relevant and beneficial stories for self builders, extenders and renovators, including the latest news on the construction materials shortage and hydrogen heating. In 2021 he appeared on BBC's The World at One to discuss the government's planning reforms.
He enjoys testing new tools and gadgets, and having bought his first home in 2013, he has renovated every room and recently finished a garden renovation.
Homebuilding & Renovating Newsletter
Get the latest news, reviews and product advice straight to your inbox.
Thank you for signing up to Homebuilding. You will receive a verification email shortly.
There was a problem. Please refresh the page and try again.