Energy Price Rises to Soar: Here's How to Lower Your Bills
Surging energy price rises are looming and improving your energy efficiency could help to reduce your bills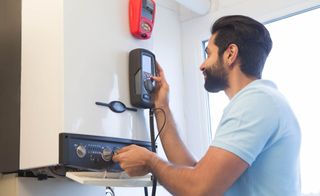 (Image credit: Getty Images)
Energy price rises will hit millions of homeowners in their pockets over the winter amid an energy crisis driven by a surge in wholesale prices.
Energy suppliers across Europe are struggling to meet the costs of rocketing wholesale gas prices, leaving several smaller UK suppliers on the brink of collapse, with others already forced to cease trading.
Millions of homeowners were warned by the energy regulator Ofgem in August that it was raising the energy price cap, and energy bills could rise by up to £139 per year for some households from October.
A survey of 2,000 homeowners this month by the Energy and Utilities Alliance revealed that 66% of people are now worried about their energy bills.
The energy crisis won't affect all homeowners as sharply, but read on to learn why reducing our bills where possible could be so important for home heating in the months to come, and find out how you could be affected by energy price rises.
Energy Price Rises Now a National Crisis
Several factors have been blamed for the rise in wholesale gas prices, which have soared by 250% since January, according to industry group Oil & Gas UK. From August alone they have jumped by 70%.
These factors include a cold winter in 2020 which put pressure on supplies, and increased competition for liquefied natural gas from Asia. Low winds in the UK also means less renewable energy, although this only accounts for a relatively small contribution (9%) to the UK's energy needs.
Britain now has the most expensive energy in Europe, according to LCP Energy, and six of the 70 energy suppliers in the UK (People's Energy, Utility Point, PfP Energy, MoneyPlus, Avro Energy and Green) have shut down in recent weeks, with others likely to fold.
Energy price crisis: Britain an outlier, with the most expensive energy in Europe, according to electricity day ahead prices from yesterday. But power's also expensive Italy, Slovenia, Croatia. Greece and Serbia. Source @LCP_Actuaries pic.twitter.com/92EXF4PmMfSeptember 20, 2021
Larger firms have warned the government of the high cost of providing these affected homeowners with energy, and business secretary Kwasi Kwarteng has spent the past two weeks meeting energy providers to explore solutions to the crisis.
Thousands of homeowners impacted by their energy providers ceasing trading are now waiting for announcements by Ofgem about which company will take on their supply, and how much they'll need to pay.
Will my Energy Bills Increase?
Ofgem says that from 1 October those on standard tariffs could see an increase of £139 per year, from £1,138 to £1,277, after it raised the price cap this sumer. Prepayment customers could see an increase of £153, from £1,156 to £1,309.
Live in Northern Ireland?
There are just two energy suppliers in Northern Ireland (SSE and firmus), which has its own regulatory system. From October in certain NI towns, SSE prices will increase by 21.8% and firmus will increase by 35%.
If you're on a fixed tariff then you shouldn't be affected by October's increase. However if you're approaching the end of your contract, then your energy supplier may not be able to offer you a cheaper deal due to the current crisis.
Lisa Barber, home products and services editor at Which?, says that the recent price spike has "led to the number of cheap energy deals on the market dwindling", and Henry Edwardes-Evans, an energy analyst at S&P Global Platts, says he would be "surprised if all other households tariffs do not go up by a similar amount", although this may be delayed into next year.
What is the Energy Price Cap?
The Energy Price Cap was introduced in 2019 to ensure that customers on default tariffs pay fair gas and electricity prices in the UK. Ofgem reviews it every six months, with the next review scheduled for February.
COP26 president and cabinet minister Alok Sharma said last week that the price cap will remain in place this winter, but added the government would not rule out removing it in the future.
Craig Lowrey, a senior consultant at the energy advisory Cornwall Insight, predicts that an increase to the energy price cap for next summer will drive bills up by a further 14% to £1,455 a year for a typical dual-fuel customer.
However, the Energy and Utilities Alliance survey this month also revealed that three out of four people asked (74.4%) believe the government should keep the price cap for energy bills in place, placing a limit on bill increases, rather than allowing the market to determine the price for energy.
How You Can Lower Your Energy Bills
There are quick fixes you can do in the short-term to reduce your bills, while the greater-value improvements generally come from making long-term investments in your energy efficiency.
Short-term measures
Some simple, inexpensive ways to make your home more energy-efficient include:
You can also ring your supplier to enquire about switching to a new energy deal to lower your bills, or move to another provider instead.
Long-term measures
Improvement Grants
There are initiatives in place to provide homeowners with financial assistance in making energy efficiency improvements, such as adding heat pumps to your home. These include the Renewable Heat Incentive and the forthcoming Clean Heat Grant.
If you are looking for something more substantial, then there are plenty of ways to make long-term improvements.
"Long-term measures will help to reduce your reliance on any kind of fuel, which will help you get onto the path of a long-term retrofit, even if it's just small steps at a time," says Paul Testa, founder of Paul Testa Architecture and contributor to Homebuilding & Renovating,
Making sure your home has efficient insulation is a good starting point. Insulating floors, insulating your loft and insulating your roof can all improve your home's energy efficiency.
Replacing your heating system with a low-carbon heating system, such as heat pumps or a biomass boiler can make a big difference too over time.
You can also make the following improvements to your home:
(MORE: 11 ways to prepare your home for winter)
Planning on Self Building?
For those planning to self build, adopting a fabric first approach is a great way to integrate multiple green measures into your home. This can help to lower your long-term energy costs.
You could build with Structural Insulated Panels (SIPs), opt for triple glazed windows and/or install an MVHR system, for example.
(MORE: How This All-Electric Eco Home Reduced its Owners' Energy Bills by 75%)
What Happens if My Supplier Goes Bust?
If your supplier fails, Ofgem will make sure affected households continue to be supplied, and will not lose money owed to them. Your new energy supplier would then be responsible for taking on any credit balances you may have.
Learn more about what to do if your supplier stops trading here from Citizens Advice.
What Happens if I Can't Afford my Bills?
Low-income households may be able to get discounts on their energy bills, with major suppliers including E.ON, EDF and British Has offering warm home discount schemes.
Citizens Advice can also help if you are struggling to afford your fuel, and will take you through the steps you can take to sort this with your supplier.
Jack is News Editor for Homebuilding & Renovating, and strives to break the most relevant and beneficial stories for self builders, extenders and renovators, including the latest news on the construction materials shortage and planning reforms. Having bought his first home in 2013, he and his wife have renovated almost every room and recently finished a garden renovation.
Homebuilding & Renovating Newsletter
Get the latest news, reviews and product advice straight to your inbox.
Thank you for signing up to Homebuilding. You will receive a verification email shortly.
There was a problem. Please refresh the page and try again.