Could Your Project Win Home of the Year?
By Amy Reeves
We want to hear all about your completed building projects, as we launch The Daily Telegraph Homebuilding & Renovating Awards 2020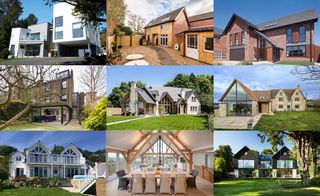 (Image credit: Future)
Calling all self-builders, renovators, home improvers, converters and extenders — this is your chance to showcase your completed project in The Daily Telegraph Homebuilding & Renovating Awards 2020. 
Our awards scheme has been celebrating Britain's most inspiring home projects for well over two decades, and continues to encourage others on their own build journeys.
The Awards not only highlight the best home designs, but also the spirit and ambition of the self-builders and renovators behind them. We want to hear all about your experiences, and also about the wonderful teams behind every successful project.
From self builds that evoke the best of vernacular architecture and modest, well-designed extensions, to the latest remodels and radical conversions, the Awards scheme celebrates projects of all shapes, sizes and budgets — with 10 categories to enter. Plus, one of the shortlisted projects will be crowned by the judging panel as 'Home of the Year', with the homeowner receiving £1,000 of John Lewis vouchers.
The Awards entry form takes just a couple of minutes to complete and it's free to enter. 
We can't wait to see the photos of your home and hear all about your projects. Good luck with your entry!
Essential Entry Information
Submitting a project into the Awards is free and easy to do! The project must be finished (or at least very close to finishing) in order to qualify for the competition. 
Entries will need to include:
Floorplans ('before' and 'after' for renovation and extension projects where possible)
At least three 'before' photographs where relevant
Five to 10 interior images (living room, kitchen, bedrooms, etc)
At least one photograph of the exterior of the house.
Shortlisted projects may be visited in person by our Awards panel and will be featured both in the magazine and online, so you must be prepared for you and your home to be photographed.
Some winners will also gain coverage in The Daily Telegraph.
If you have any queries about entering the Awards, email homebuilding@futurenet.com.
Entry deadline is 23 July 2020
Enter Now
2019 Winner
Home of the Year & Best Contemporary Self Build: Bunch Lane House
Location: Surrey
Project: Contemporary self-build
Build Cost: £452,000
Architect: Vint & Smith Architecture + Design
Homeowner: Tavia Vint
A contemporary self build with great attention to detail. The entire house is completely flexible for day-to-day life, thanks to the full height sliding panels that hide away into pockets.
Categories and Sponsors
Best Contemporary-Style Self Build — sponsored by Potton
Best Traditional-Style Self Build
Best Extension — sponsored by IDSystems
Best Renovation
Best Conversion
Best Sustainable Home — sponsored by Icynene
Best Interior
Best Value Home
Home of the Future — sponsored by ecoHaus
Spirit of Self Build — sponsored by Sips Eco
Home of the Year — Chosen from one of the shortlisted houses, the UK's Home of the Year celebrates the most outstanding project entered into the The Daily Telegraph Homebuilding & Renovating Awards 2020. The winner will also receive £1,000 of John Lewis vouchers.
Homebuilding & Renovating Newsletter
Get the latest news, expert advice and product inspiration straight to your inbox.
Thank you for signing up to Homebuilding. You will receive a verification email shortly.
There was a problem. Please refresh the page and try again.