Best Vacuum Cleaners for Builder's Dust: Top Picks for Renovators
By Hugh Metcalf published
One of the best vacuum cleaners for builder's dust is a worthwhile investment for your building project. Find the best models (and best deals) with our renovator's buying guide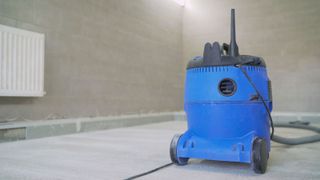 (Image credit: getty images)
If you're considering investing in one of the best vacuum cleaners for builders' dust, you may have already had your fair share of experience at just how messy renovations can be.
Whether you've got the builders in or are on a DIY mission, you might find your standard vacuum cleaner isn't up to the task of tackling that fine dust that gets in every nook and cranny, as well as larger debris such as rubble and offcuts.
The very best vacuum cleaners for builders' dust may also have wet functions, meaning they can be used to get you out of any sticky situation involved spills and drainage issues you encounter while renovating a house, while also offering carpet and upholstery cleaning functions.
It's worth pointing out that most of these hoovers are perfectly suited to domestic life after the renovation has ended, so this worthwhile investment is not just for helping to survive building work chaos, but for your future home too.
What are the Best Vacuum Cleaners for Builders' Dust?
Henry HVR160 Vacuum Cleaner
This household classic is more than up to the job of tackling building work mess
Container capacity: 6 litres | Weight : 7.5kg | Size: H345 x W320 x D340mm | Power: 640W
Compact
Long 10m cord
Powerful suction
Heavy
Henry is an instantly recognisable vacuum brand, but not only is he a design icon, he's also a robust and easy to use vacuum cleaner for a renovation site. With strong suction and a number of different fittings, you'll find it no problem to vacuum even larger bit of debris.
The HVR160 is a slightly more compact model, which makes it slightly lighter than other versions of Henry, but with the same suction power and same 10 metre cord. This means it has a slightly smaller dust bag than its larger contemporaries, such as the Henry HVR200-11 vacuum cleaner available from Amazon, but its 6 litre capacity is more than generous enough. Just remember to pick up extra dust bags to make sure you're not caught short.
Black Friday Deal | WAS £1239 NOW £99 Save £40 at Currys
You can get £40 off this brilliant and compact Henry vacuum in Currys' early Black Friday sale, making this powerful cleaner even better value for money. Don't forget to pick up some dustbags while you're there!
---
Karcher WD4 Wet & Dry Vacuum Cleaner
Karcher's wet and dry vacuum works for fine dust and larger rubble
Container capacity: 20 litre | Weight: 7.1kg | Size: D384 x H526 x W365 mm | Power : 1000W
Huge capacity
Can handle rubble and spills
Short cable
If you're searching for the best vacuum cleaner for builder's dust, you'll likely come across wet and dry vacuums in your travels. These vacuums are super powerful, and are designed with suction that makes them great for dust and rubble, but also liquid, whether that be water that's pooled in your weather-exposed extension or spills like paint.
Karcher's WD4 vacuum is a perfect example, designed to handle the sorts of mess that a standard home vacuum couldn't, whether that's dust, heavy rubble or spills. It comes with plenty of accessories for all kinds of jobs, and these can all be stored on the vacuum itself, making it a handy cleaner to have around your building site.
The Karcher WD4 also has a large 20 litre capacity, and an innovative filter system that makes it easy to switch between its wet and dry functions without changing bags like many vacuums.
The cord is quite short on this model however at just 5 metres, and with its large capacity comes an increased size which can make storage more difficult, but it's perfect for keeping in a garage or similar.
Black Friday Deal | WAS £129 NOW £99 Save £30 at Very.co.uk
We've found this great deal for £30 off Karcher's best wet and dry vacuum exclusively for Black Friday. While it's listed as awaiting stock, you can order now for early December delivery, plus it's free to click and collect.
---
Makita VC2512L Wet and Dry Dust Extractor
A professional quality vacuum that's suitable for plaster and clay
Container capacity : 25 litres | Weight: 8 kg | Size: L395 x W375 x H530 mm | Power: 1000W
Largest capacity
Super powerful
Expensive
Requires bag changes for wet/dry
Makita, the popular power tool brand, may not be your first thought for a vacuum cleaner, but it's VC2512L model is a great choice for a busy site. This wet and dry vacuum is powerful enough to pick up heavy materials as well as dust, including gypsum used in plaster, soft wood, plasterboard, and even chippings from worktops such as Corian.
Of course, with this extra power comes a higher price tag, and even when you find a deal on a Makita VC2512L, you'll find it's some 4 or 5 times the price of the cheapest heavy duty vacuums you'll find on Amazon on in a DIY shop, for example, and it's not as adaptable for general house cleaning. You may also find some more industrial vacuum cleaners have a power take off, which is a super useful function when using power tools.
---
Vacmaster Wet and Dry Vacuum Cleaner 20L
A vacuum cleaner for builder's dust with some clever features
Container capacity: 20 litres | Weight: 6kg | Size: H510 x W310 x L310 mm | Power: 1250W
Power take off and blowing functions
Can be used bagged or bagless
Lightweight
Feels a bit flimsy
In our opinion, this Vacmaster wet and dry vacuum cleaner is one of the best buys for beating builders' dust. Not only is it a powerful and robust vacuum that holds its own against Henry and all the other vacuums on this list, but it has some interesting extra functions that you can take advantage of.
The blower function can be used as a leaf blower and also to pump up air mattresses — a nice feature to have, but not necessarily a key concern for your building project. However, the power take off is something we think all vacuums should have for the DIY inclined.
A power take off socket is basically where you can plug your power tool (think your best mitre saw or corded drill) and when you power on your tool, it will cause the vacuum cleaner to turn on too. You can connect it up to reduce the amount of dust, sawdust and debris and avoid a major clean-up later on.
---
Charles CVC370-2 Wet and Dry Vacuum Cleaner
A powerful wet and dry vacuum cleaner that can handle all kinds of mess
Container capacity: 9 litres (wet)-15 litres (dry) | Weight: 7.1kg | Size: D355 x W355 x H510mm | Power: 1060W
High power
Wet and dry functions
Good for water-based emergencies
Hard to store
Charles is another member of the Numatic vacuum cleaner family; however, unlike Henry, this cleaner is both a wet and dry vacuum. Though the Charles CVC370-2 is a lot larger with a capacity of up to 15 litres of dry matter, it's actually lighter (when empty) than the smaller Henry vacuums, while packing in a powerful 1060W motor that ensures it packs a punch that can be used for everything from light cleaning of your home to unblocking drains.
The best vacuum cleaners for builders' dust all tend to be this type of hosed products, yet the size and where the hose protrudes from cleaner can make storage tricky, especially when space is in short supply.
---
What to Look for in a Vacuum Cleaner for Builders' Dust
Not sure what you're looking for in a vacuum cleaner that's up to the job of tackling tough mess creating from a building project. Here's what you should consider:
Bagged vs bagless: A bagged vacuum cleaner means you'll need to buy dust bags separately, but this is easier to empty when full without having to interact with the dust and mess itself
Power: The stronger the vacuum's motor, the more suction it will have. This will make all the difference when vacuuming up debris from a renovation project.
Weight: Consider how heavy the vacuum is and how easy it is to transport from room to room. If it's too heavy, you'll be unable to use it in some areas, such as the stairs.
Cord length: A short cord means limited movement and more unplugging of the vacuum, something that can be particularly irksome when you've only got a few sockets live during a renovation.
Wet and dry vacuums: Many powerful vacuums suited to building mess are wet and dry. In most systems, you'll need to change bags in order to use the wet function, but it's a useful tool to have at your disposal for water-based issues.
Storage: Many vacuum cleaners with good suction are large and can be difficult to store. You might even consider this as part of your renovation, ensuring there's a dedicated space in the utility room for vacuum cleaner storage.
Hugh is Digital Editor of homebuilding.co.uk and has worked on a range of home, design and property magazines, including Grand Designs, Essential Kitchens, Bathrooms, Bedrooms and Good Homes. Hugh has developed a passion for modern architecture and green homes, and moonlights as an interior designer, having designed and managed projects ranging from single rooms to whole house renovations and large extensions. He's currently renovating a Victorian terrace in Essex, DIYing as much of the work as possible. His current project is a kitchen renovation which involves knocking through walls and landscaping a courtyard garden.
Homebuilding & Renovating Newsletter
Get the latest news, reviews and product advice straight to your inbox.
Thank you for signing up to Homebuilding. You will receive a verification email shortly.
There was a problem. Please refresh the page and try again.