Take a Tour of This Modern Home, Built for Just £191K
By Alison Wall published
Patsy Parr took just 22 weeks to complete her first self build — a modern oak framed home built on a budget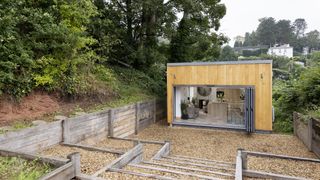 (Image credit: Jeremy Phillips)
Tucked away in a village in Staffordshire is an award-winning timber-clad that anyone would be proud to call home.
What you can't tell from the contemporary exterior is the determination, passion and drive that led local 28-year-old Patsy Parr to take on this self build project and see it through many months of planning. That's not to mention that this home was built during a pandemic lockdown, in less than six months, and for just £191,000.
Patsy, then renting in a desirable village with little chance of getting on the property ladder, bought a sloping parcel of land with 50-plus trees. Luckily, the plot (nearly two acres in total) had an old timber and block workshop and cabin on it, with water and electricity, from the time it housed tourist tea rooms.
Watch the Video Story Behind this Incredible Build
Project Management of a First-time Self-build
Image 1 of 3
Image 2 of 3
Image 3 of 3
Helped by family members, Patsy then spent two gruelling years getting her proposals through the planning permission process, dealing with restrictions on everything from height to footprint size and choice of building materials. She even reworked the designs to change the position of the house from the top of the site to the bottom.
In just 22 weeks, she successfully took on the tole of project manager, despite the pandemic.
Working with local oak frame company Enville Oak and contractor Chris Longmore, she's built a single-storey oak framed home at the front, sitting on a concrete slab foundation.
At the rear is a two-storey blockwork section cut into the hillside with a Stepoc retaining wall system. This rear section houses the ground-floor open plan kitchen, and basement snug, reached via two staircases from the ground floor. The contractors waterproofed the below-ground space using Everbuild Black Jack damp-proof membrane.
Cleverly, Patsy designed the whole exterior with timber cladding, thus suggesting a whole-house oak frame construction without needing a large budget.
"We also chose a modern standing seam zinc roof, which is sustainable and beautiful. I knew that I didn't want a very traditional look that you can sometimes get with oak frame," she says.
"I went extra large on all of the windows, and spent a lot of my budget here, so the windows are huge and none are standard size. As this area is special, we wanted to be able to see outside from as many places as possible."
Keeping to a Tight Budget
Image 1 of 4
Image 2 of 4
Image 3 of 4
Image 4 of 4
The construction may have gone smoothly, but working to a tight budget, even for a two-bedroomed house, was no picnic. "The budget was so extreme that we had to stick to £190,000 — in the end we did it for £191,000. Every penny mattered," Patsy says.
Remarkably, given these constraints, she's managed to install an air source heat pump and a fire suppression misting system for the open-plan kitchen and escape routes; eventually the flat roof on the blockwork section will become a green roof.
A tricky moment was finding the money for the kitchen. "I didn't actually realise how expensive kitchens are," she admits. But she found her dream kitchen on Facebook Marketplace for just £5,000. "The sellers just showed us a photograph of it and I thought — it looks great in the picture, let's have it. It was a brand-new German kitchen on its way to an exhibition that was cancelled due to Covid. The appliances alone were worth more than the price I paid for the kitchen."
Now that Patsy is settled into her new home, which she describes as having a 'boutique hotel' feel, she's busy with plans for the garden: "We've done loads of additional planting, and added hedgehog houses," she says. "We're hoping to have a beehive next year in the summer."
Still, with external works and decorating complete, she can afford to relax and enjoy her first home. "I literally wake up every morning and pinch myself. I can't get over that I live here. It's like a dream come true."
Image 1 of 3
Image 2 of 3
Image 3 of 3
Homebuilding & Renovating Newsletter
Get the latest news, reviews and product advice straight to your inbox.
Thank you for signing up to Homebuilding. You will receive a verification email shortly.
There was a problem. Please refresh the page and try again.