Beautiful Stone Flooring Ideas: From Classic to Contemporary
By Natasha Brinsmead published
Our collection of stylish stone flooring ideas encompasses all styles, from traditional to modern and everything in between, including budget options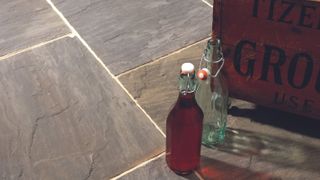 (Image credit: Mandarin Stone)
It isn't hard to see why so many people hunt down stone flooring ideas to form part of their interior scheme — the sheer breadth of choice means there really is something for everyone.
Although there are many types of flooring out there, stone is hard to beat. Not only is it practical and incredibly durable, but it also carries with it a beautiful organic and natural feel, whether it is smooth, polished and honed for a sleek contemporary look, or rustic and full of obvious irregularities for a more earthy finish.
Although stone flooring is not always considered as one of the cheapest flooring options about, with a little research and shopping around, it is possible to find stones that won't cost the earth — so if you are on a tight budget, don't discount this material.
We've pulled together some of the most beautiful stone flooring ideas out there to provide you with plenty of inspiration when it comes to forming a plan for your new floor.
Why Opt For Stone Flooring Ideas?
Stone flooring has so many benefits — if you are still on the fence when it comes to whether or not this is the right option for you, perhaps our list of pros will help you decide.
Stone flooring pros include:
Highly durable
Little maintenance required
Available in a massive range of types, colours, patterns and styles
Brilliant over underfloor heating
Great longevity (hundreds of years in some cases)
Stays naturally cool in warm weather
Perfect for allergy sufferers as it has a hard, non-porous surface meaning allergens have nowhere to hide
Some of the negatives include:
Hard underfoot, as compared with some other flooring materials, and unforgiving if you drop china or glass
Stone can feel cold underfoot in winter (unless paired with underfloor heating)
In some cases, an expensive flooring choice
Some stones require regular sealing
Some riven surfaces can be difficult to clean
1. Opt For Tumbled Stone For Traditional Style
Stone tiles come in many different formats, plus there is also a great choice of textures available that can really change its appearance. For a characterful, lived-in look, opt for tiles that are riven, brushed or tumbled.
All these types of tiles have a lovely rustic look to them that is ideal for traditional and classic style interior design schemes. They are also more likely to be non-slip than their smooth, honed counterparts.
These tiles are from Original Style's (opens in new tab) Earthworks range, they are travertine and are unfilled and tumbled. The tiles cost £266.50 for a set that covers 3.348m².
2. Use Multi-tonal Slate For Instant Character
Being a natural material, stone comes in a huge range of colours. Slate, in particular, seems to be available in a never-ending myriad of shades and patterns.
Opt for a riven slate in rusty, autumnal browns, golds and greens for instant warmth and character. Although riven slate can be harder to mop than honed, these multi-tonal products will hide dirt pretty well so are still a good choice for those after kitchen flooring ideas.
3. Use Stone Tiles to Create a Herringbone Effect
The trend for flooring laid in a herringbone pattern is hugely popular right now and doesn't have to be reserved for timber floors. Narrow rectangular stone tiles are perfect for creating this look — plus this is a design that is well-suited to those after small bathroom ideas or for compact kitchens where it will visually stretch the space.
In this walk-in shower, Calacatta Tumbled and Bluestone Tumbled Marble Stone tiles, from Mandarin Stone (opens in new tab), have been used. They cost from £54.90/m².
4. Finish Off a Contemporary Scheme With Slate
If it is modern kitchen ideas you are after then you should seriously consider a honed slate floor in a deep charcoal shade. Honed tiles, as opposed to riven, are smoothed for a sleek finish — meaning they are easy to clean as well as visually striking.
These Graphite Black Slate tiles are from Original Style's (opens in new tab) Earthworks range and cost £59.95/m².
5. Go Geometric With Mosaic Tiles
Geometric tiles work well in in any space – and on walls as well as floors – but they can be particularly useful in small spaces, where their busy pattern can distract the eye from the true proportions of the room.
Mosaic tiles in geometric patterns look really striking and these Florence Marble Mosaic Tiles from Hyperion Tiles (opens in new tab) have a really sophisticated look thanks to the marble's natural tonal variations. The tiles cost £27.57 per 27cm x 31cm x 1cm sheet.
6. Consider a Porcelain Stone-Effect Floor
While stone floors are undoubtedly beautiful, some people are put off by either the relatively high price tag or by the maintenance required when it comes to sealing them — so stone-effect porcelain tiles are a great alternative.
"Man-made porcelain tiles now offer completely realistic stone-effect tiles, many with surface texture and worn edges creating the true character of a real stone floor," says Louisa Morgan, Creative Director at Mandarin Stone (opens in new tab).
"The beauty of the porcelain alternatives is there's no need for sealing, minimal maintenance and they are available in large flagstone formats in minimal thicknesses as well as exterior tile options for a seamless indoor-outdoor floor."
7. Make Sure Your Stone Floor is Non-slip
Mosaic tiles have been in existence for thousands of years in various forms and it really isn't hard to see why. Visually striking and making it possible to create a multitude of patterns and effects, mosaics are usually sold in sheets to make laying less time-consuming.
Original Style's (opens in new tab) black Mosaic Anti Slip Hexagon tiles give a distinctly contemporary vibe — plus they are a practical choice for bathroom flooring or shower rooms. They cost £99.32/m².
8. Get Coastal Cool With Pebbles
Conjure up a sense of the seaside by laying a stone pebble floor. Not only is this a fun idea that will really inject an individual feel in to your home, but it is also a practical one in that these types of floor are naturally non-slip.
The Quail Maui Pebble Mosaics here, from Original Style (opens in new tab), come in a choice of colours and have been designed to resemble stones that have been softy rounded by rivers or seas over hundreds of years. They cost £7.65 per sheet.
9. Mix Tile Sizes For Added Interest
There is no reason why you have to use the same style, size or colour of stone flooring throughout a room — in fact some of the most interesting and beautiful stone floor designs incorporate a combination of different tiles.
Here, Amazon Green Natural Slate tiles from Original Style (opens in new tab) have been combined with sections featuring smaller tumbled marble-effect tiles creating a floor with bags of character.
10. Create Hallway Grandeur With Limestone
Polished limestone floors are perfect for creating a sense of classical style and luxury — making them one of the best hallway flooring ideas given that a sophisticated and high quality first impression is often a priority in this space.
In this grand entrance hall, Ca' Pietra Fontaine Limestone Tumbled Finish Tiles from Hyperion Tiles (opens in new tab) have been used. Costing from £112.47/m², they are perfect for large, open spaces.
11. Copy The Terrazzo Trend
Although terrazzo floors are a huge trend right now, this is actually a flooring idea that has been around for hundreds of years. Terrazzo is made up of marble chippings set into cement and was originally invented in Italy in the 16th century as a way to reuse stone offcuts.
These days, epoxy resin or polyacrylate is often used rather than cement and tiles that replicate the look of terrazzo are more common.
These Terrazzo Dove Grey porcelain tiles from The Baked Tile Co. (opens in new tab) do a great job of mimicking real thing, without the expense or tricky installation that comes with a poured terrazzo floor. They cost £42.99/m².
12. Create Rustic Charm With a Riven Finish
Like tumbled and and brushed stone flooring, riven tiles are the perfect choice in period properties or where a characterful interior scheme is the order of the day. The term riven is derived from the word 'rive', meaning to split or tear apart. The riven finish of floor tiles comes from splitting the layers of sediment along the natural fault line.
These Burnt Sienna Calibrated slate floor tiles from Original Style (opens in new tab), cost £69.95/m² and have a natural face for a beautifully rustic finish.
Natasha is Homebuilding & Renovating's Associate Editor and has been a member of the team for over two decades. An experienced journalist and renovation expert, she has written for a number of homes titles. She has renovated a terrace and is at the end of the DIY renovation and extension of her Edwardian cottage. She is now looking for her next project.
Homebuilding & Renovating Newsletter
Get the latest news, reviews and product advice straight to your inbox.
Thank you for signing up to Homebuilding. You will receive a verification email shortly.
There was a problem. Please refresh the page and try again.