Lawn Edging Ideas: 8 Ways to Finish Your Lawn in Style
By Amy Reeves published
Keep your garden neat and tidy with our lawn edging ideas — from flower beds and wooden stakes, to metal runners and stones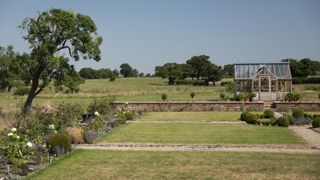 (Image credit: Jeremy Phillips)
Lawn edging ideas can help keep an outdoor area looking neat and tidy, while also influencing the look of the overall garden or drive.
An often overlooked aspect of garden design, lawn edging is often the necessary step for a refined finish. Without edging, lawn maintenance can also be harder work.
Materials and styles for lawn edging are hugely varied so depending on the shape and size of your space, some options may work better than others, and that's without even considering the budget you will allocate to the project.
Here, we pick some of our favourite lawn edging ideas for both modern and more traditional-style gardens.
Considerations for Lawn Edging Ideas
Maintaining neat line using a spade can be tiring and repetitive — that's where lawn edging comes in. It helps to keep grass where it is supposed to be with a clean line surrounding the lawn and dividing it from flower beds, pathways and drives.
When choosing a style for your edging, think about the garden as a whole. For cottage and traditional-style gardens, natural stone and a tumbled brick will suit, but for more modern landscapes metal, painted wood and even poured concrete products could work best.
"The first thing I consider when visiting a client's house is their kitchen," begins Laura Felstead of Soto Gardens. "This gives me clues as to their style — modern, traditional, colourful, elegant. The garden really is an extension of your home, and it is important your personal aesthetic is reflected in your outside space.
"Use architectural points of interest or unique viewpoints in your home to inspire your space. When putting inspiration into practice consider the aspect of your garden, soil type, what plants can be combined and the size of plants."
1. Create Neat Pathways with Brick Lawn Edging
Preventing grass from creeping into gravel or between slabs can be difficult. Establish a clear distinction between a path and the lawn using delicate, low-laying edging styles.
Be wary of causing a trip hazard or issues when mowing the lawn when brick edging is installed too high. A rounded brick edge has been installed here level with the turf with curved corners to complement the cottage garden style. The planted borders are also lined for symmetry.
2. Create a Curved Lawn Edge with Concrete
Sweeping front garden driveway ideas are a popular way to create an approach with impact — make sure to line with turf with appropriate edging to keep the kerb appeal maximised.
A mix of materials make this front garden interesting — a black steel gate, gravel driveway lined with red brick and, finally, a poured concrete lawn surround.
All of the elements are relatively budget options, but come together to produce a charming entryway.
3. Lawn Edging Works Well on Sloping Sites
The trick to sloping garden ideas – without breaking the bank – is to embrace the natural rise and fall of the garden, including a turfed area.
Create a terraced garden effect by following the line of the landscape with edging to achieve a level lawn using favourite retaining wall ideas.
This combined small garden and driveway uses timber sleepers to line the artificial turf, which continues to create a raised bed at the end. Obviously, unlike real grass, the priority was not the contain spreading, but non-the-less the result is neat, contemporary and stylish.
4. Choose a Contemporary Timber Finish
One of the most sustainable, stylish and cost-effective options for lawn edging has to be timber. And it can be particularly effective as a finishing between decking ideas and lawns.
Available at pretty much every DIY shop and garden centre, timber boundaries can come in all sorts of styles and designs. For straight, clean edges, opt for a horizontal product such as this Forest Timber Nova edging from B&Q. Sitting at 30cm high, this product is ideal for around decking or as a patio edging idea (and is only £5 for 0.8m).
5. Use Metal Edging for a Barely-There Finish
At first glance, there appears to be no edging to this large lawn — but on closer inspection fine metal edging reveals itself. The beauty of the front garden ideas implemented in this instance is in its simplicity and understated nature.
Metal edging is long-lasting and many products offer a contemporary styling that suits many self build houses perfectly. (Take a look at out top landscaping tips for new homes if you fall into this category.)
Although this one is fairly low-level, taller options are available and simply arrive with stakes along one side that are inserted into the ground.
"I find metal edging really useful because it is flexible it can be installed in different shapes and sizes," adds Laura Felstead.
6. Use Decorative Stones as Edging
If you don't mind blurring the lines between grass and gravel, forgo a full-length edge and decorate the boundary with a simple shovel cut and large stones. This is also a great driveway idea, helping to prevent guests and delivery drivers from inadvertently parking on areas laid to lawn.
The rustic looks definitely has appeal and can be encouraged to blend with creeping low plants such as thyme or creeping Jenny.
Furthermore, this is simplest and most cost-effective option for a lawn edging, but can be difficult to maintain and requires a good mower or strimmer to navigate large stones.
7. Opt for Streamline Stone to Edge a Lawn
Neat, tidy and precise — this quintessential lawn edging look fantastic and alludes to a time gone by while still using modern sharp edges and shapes.
This cast stone design (from Haddonstone) has been made to protect flower beds when the lawn is being mowed.
"Stone edged borders are great for mowing as you're able to get your lawnmower wheels on to them to get a sharp cut," says Laura Felstead.
8. Use Planted Beds to Border a Lawn
Edge a lawn naturally with well-placed bedding plants and shrubs. A mix of both will allow the border to change with the seasons while still dividing the lawn and adding some colour during the winter months.
This design bring a softer finish to a garden and brings together hardscaping and landscaping in a united plan.
Here, a classic cottage garden aesthetic has been enhanced by with continuous planted borders. Also note the simple brick 'bridge' from path to lawn.
What is the Best Material to Edge a Lawn?
"The best material for lawn edging really depends on the overall scheme," advises Laura Felstead of Soto Gardens. "I like to bring in materials I've used elsewhere, such as brick, stone or metal, to create a cohesive look. Doing this pulls a garden together and these details help the outside space look considered."
What is the Easiest Landscape Edging?
"The easiest way to start a border is to create lawn edging (if your border is on a lawn!)," says Laura Felstead. "All you have to do is dig into the lawn with a spade or specialist lawn edging tool. This method is great as you can create any shape you desire."
Assistant Editor Amy began working for Homebuilding & Renovating in 2018. She has an interest in sustainable building methods and always has her eye on the latest design ideas. Amy has interviewed countless self builders, renovators and extenders about their experiences for Homebuilding & Renovating magazine. She is currently renovating a mid-century home, together with her partner, on a DIY basis, and has recently fitted her own kitchen.
Homebuilding & Renovating Newsletter
Get the latest news, reviews and product advice straight to your inbox.
Thank you for signing up to Homebuilding. You will receive a verification email shortly.
There was a problem. Please refresh the page and try again.