Lawn Ideas: 7 Neat and Stylish Designs for a Turfed Garden
By Amy Reeves published
There's more to lawn ideas than meets the eye. Take a look at our suggestions for keeping a turfed garden looking fresh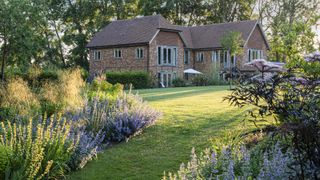 (Image credit: Mark Bolton c/o Oakwrights)
The basis of any garden design, well-executed lawn ideas can create charming and interesting outdoor spaces.
While manicured, neat lawns are a firm favourite of the past, wilder, more relaxed meadow gardens are increasing in popularity — it really comes down to a matter of taste and desired level of maintenance.
No matter if you're looking to turf a lawn from scratch, or to renovate an existing grassy area, the ideas below will give loads of inspiration for shapes, designs and how much space to allocate for a lawned area.
Lawn Ideas: Where to Start
"For larger gardens, the cost of lawns is one that keeps many up at night," begins landscape designer Paul Hervey-Brookes. "Lawns can be a gardener's worst enemy. Soil and preparation is key: if you simply buy some read-to-roll turn and throw it down, it will die an expensive death.
"Lawns, if you insist on having one, require a landscaper to prepare the soil and ensure drainage and pH levels are right before being laid with turf."
1. Make an Impression with a Manicured Front Lawn
Neat front garden ideas like lawns are great for improving the kerb appeal of a home and is often a more attractive alternative to a gravel patch next to a driveway.
While squares and rectangles are most commonly seen at the front of a house, curved and sweeping lawns look more natural and entice visitors to look closer at the property. Circular lawns at the front of a house are also and interesting option — possibly as a car turning circle in the driveway.
If you're updating a front garden with a new lawn, why not treat yourself to the best lawn mower suitable for your outdoor space to help you achieve a clean finish?
2. Protect Your Lawn with Edging
No garden is complete without lawn edging ideas. Ideal for creating a unique design to an otherwise simple patch of grass, the materials chosen for edging can make a huge impact.
Choose a colour and style that will complement the main house or other garden design and landscaping materials — such as timber, metal or stone.
Plus, if your lawn sits adjacent to a gravel or loose stone path/driveway having a border of two inches or so can protect a petrol lawn mower from damage when cutting the borders.
3. Create Zones in a Small Lawn
Even for small garden design ideas, zoning is important when it comes to designing a lawn. It must sit alongside the patio or deck naturally, as well as other plants and trees — too much of any of these elements and the garden loses it's balance. Create deliberate zones with your landscape design to ensure each of these spaces works for your lifestyle and how you will interact with the outside.
For compact space, the cost of turf and the maintenance it requires might also be prohibitive. "Grass can perhaps be replaced with artificial lawns which can be extremely convincing and easily maintained with a regular hoover," says Paul Hervey Brookes.
This small garden uses artificial grass alongside real trees as the homeowners have no space for a lawn mower (and the polygonal shape would be difficult to keep tidy with real grass). Interesting shapes make the most of the area, with dedicated zones for each material.
4. Renovate an Existing Lawn
If your current lawn is looking patchy or brown – possibly from lack of attention during a project or tradeworkers stepping on it – there is remedial work that can be door for lawn repair.
Spreading new seed or fertiliser are good places to start, ideally in Autumn or Spring, and a good weed will always help grass recover.
When renovating and extending this mid-century property, the homeowner used sloping garden ideas to give the garden a new look and purpose. Mature plants have been cared for in the centre bed and a new seating area at the very end gives the garden a sense of direction.
5. Divide a Flat Lawn Into Sections
Self builds can suffer from a level patch of lawn surrounding a beautiful new home — when the time comes to look towards the garden, be sure to put in as much effort as you did the inside.
Splitting large expanses of lawn into sections will encourage different uses, styles and planting types.
A typical English garden has been reimagined outside this self build, with pathways leading to purposeful areas — including a greenhouse, patio and field and around the front of the house.
6. Fence a Wrap-around Lawn for Pet Safety
Use garden fence ideas to keep your lawn safe, especially if it extends to the front of the house towards a road. While having a lawn surrounding a house brings greenery and charm wherever you look, it may mean children and pets can explore beyond the boundaries.
Installing a fence along the edge of a lawn is a smart addition, but if your home is blessed with views try not to choose a solid or tall fence where possible.
Here, a traditional timber fence has been paired with chicken wire along the bottom to create an almost invisible barrier.
7. Terrace a Lawn for Maximum Impact
We tend to think of lawns as fairly flat and, quite honestly dull, patches of grass. Create visual interest and a journey through your garden by creating terraces and different levels to explore.
Use retaining wall ideas to build up areas and consider modern sunken garden trends for a recess in height.
This home uses sleepers for the retaining walls and steps, while tall flower beds draw the eye up to the top terrace seating area.
8. Encourage Wildlife with Clever Lawn Planting
Flat, cut lawns are not famed for their biodiversity or encouragement of wildlife. However, there are steps that can be taken if you want a neat grassy area, but also an interesting garden full of birds, insects and other creatures.
"Even the smallest plot can house a small tree such as a crab apple — Malus Transitoria is particularly good with interesting foliage, blossom and tiny, pearly-like orange fruits in Autumn which small garden birds adore," says Paul Hervey Brookes.
An orchard has been created outside this self build, but other ideas could include embracing 'rewilding' a garden – leaving large areas of lawn unmowed and natural – and organic gardening by being selective about which products you use.
Assistant Editor Amy began working for Homebuilding & Renovating in 2018. She has an interest in sustainable building methods and always has her eye on the latest design ideas. Amy has interviewed countless self builders, renovators and extenders about their experiences for Homebuilding & Renovating magazine. She is currently renovating a mid-century home, together with her partner, on a DIY basis, and has recently fitted her own kitchen.
Homebuilding & Renovating Newsletter
Get the latest news, reviews and product advice straight to your inbox.
Thank you for signing up to Homebuilding. You will receive a verification email shortly.
There was a problem. Please refresh the page and try again.