How to Cover a Boring Fence: Give Your Fence a Facelift Fast
If you are wondering how to cover a boring fence we have some of the very best ways to transform a dull or worn out boundary into a thing of beauty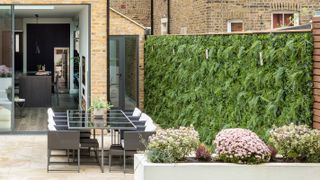 (Image credit: Chris Snook)
Has sitting out in your garden left you wondering how to cover a boring fence? Perhaps the recent warmer weather has tempted you back into your outdoor spaces, feeling excited to enjoy spending time relaxing or socialising, only to be left feeling that your fences are letting the whole experience down.
Fear not, our guide is choc-full of great ways to spice up even the most mundane of fences, turning them from zero to hero in no time at all. We cover everything from painting a fence in order to make it the star of your garden to clever tricks and tips for disguising boring old panels.
The best thing about our round-up of ideas is that there is something for everyone, no matter what your budget or DIY skills — so what are you waiting for? Give that fence some va-va-voom and ensure that the next time the sun peeps out your garden is guest ready.
Want to Know How To Cover a Boring Fence Fast?
Within our collection of garden fence ideas, we have included a selection of different ways to brighten up a less-than-exciting fence. The majority of these ideas give near-instant solutions, but if you have a little more time on your hands or are willing to wait to see results, there is something for you too.
Whichever idea takes your fancy, be sure to take a moment to consider the effect it will have on the rest of your garden landscaping ideas — painting your fence a neon green might seem like a great idea, but how might it look in the midst of a gentle country garden planting scheme?
It is also important to remember that some of these solutions will require more in the way of maintenance than others in order to retain their good looks, so do take time to consider how much work you are willing to put in to keep your fence looking fabulous.
1. Beautify Your Fence With Climbing Plants
Growing climbing plants up (or trailing plants down) your fence is an easy yet highly effective idea. This is a solution that works for all fence types too. All that is typically required of you is to fix trellis or wires to your fence to support your chosen plans — this will also allow you to tie, tuck and weave stems in as the plants grow.
Good choices for climbing plants include rambling roses, clematis, jasmine and honeysuckle. If you are feeling rather impatient, you could also plant a few annual climbers such as sweet peas, to do the job of hiding the fence while you wait for your perennials to bush out.
Some climbing plants, such as ivy and climbing hydrangea, will cleverly cling to the fence without the need for support which is ideal if you don't want to fix anything to it.
2. Paint Your Fence For a Quick Fix
This is a great one for anyone after quick and cheap fence ideas. A coat or two of the best fence paint or stain will instantly transform any style of fence and is a job well within the capabilities of even the most reluctant DIYers.
When it comes to choosing paint colours for fences, classic forest greens, mushrooms tones and darker neutrals will all help you fence blend in and become almost invisible. Pale shades are ideal in small gardens as they can make the space feel bigger. If, on the other hand, you want your fence to become a garden focal point, pick a bright colour.
The fence here has been painted in Farrow & Ball's Exterior Eggshell in Railings No. 31.
3. Use Your Fence as an Art Gallery
If it is a quick, easy yet eye-catching way to cover your fence you are after then this one is for you.
The trend for garden art is on the rise, with more and more people waking up to the fact that, just as you can 'bring the outside in' you can also 'take the inside out.'
If you like the idea of brightening up your outdoor spaces with artwork, then a boring fence makes the perfect neutral backdrop. Take a look at the waterproof artwork from Yard Art UK, available from Charlton Island, which comes with architectural bolts to match the frame of your choice.
4. Transform a Fence With Artificial Screening
Quick to install and perfect for those who want an instant way to create a lush, green feel within their garden. Artificial screening will cover your fence in the blink of an eye and is also perfect if it is low maintenance garden ideas that float your boat.
Using screening like this should also be popular with those after privacy fence ideas as it quickly covers gaps in fences, blocking out prying eyes.
The Apollo Maple Leaf Contemporary Overlap Trellis panel shown here, from B&Q, costs £34.
5. Distract the Eye With a Garden Mirror
The use of mirrors is a favourite of interior designers thanks to the ability they have to make spaces feel bigger, reflect light in gloomy rooms and cover expanses of wall — so why restrict their use to indoors?
Garden mirrors are not only the perfect solution for anyone after small garden design ideas, but they will also help make shaded courtyard gardens seem brighter. Choose a supersized mirror to cover a boring fence, placing it opposite a selection of pots, a hedge or some other garden foliage and and the eye will instantly be distracted from the fence it hangs on.
The Venice Distressed Sand Outdoor Window Mirror from Dunelm, shown here, costs £239.
6. Plant a Border In Front Of Your Fence
If you want to add colour, depth and interest to your outdoor spaces at the same time as covering your fence, a nicely planted garden border is the way to go.
Dig it out at the base of your fence, pull on those gardening gloves and get planting. Use a combination of shrubs, compact trees, climbers, evergreen perennials and some taller plants to ensure year-round interest.
Aim to select plants of various heights, placing the taller ones near the back of the border where they will, over time, spread over your fence — no-one will ever need to know it even exists...
7. Turn a Fence Into a Living Wall
Not only are living walls spot on in the style stakes right now, they are also the perfect way to mask a fence. Taking up little in the way of space (perfect in small courtyard gardens) they are relatively simple to build yet provide a real greenery boost and can become a focal point too.
They are usually sold in kit form and can be planted with everything from annuals and perennials to vegetables — they also make ideal herb gardens.
Living wall kits are generally comprised of modular systems that can be built up to any size you wish and can often be completed, ready to enjoy, in just one weekend.
8. Fit a Wall-Hung Water Feature
Turn your garden into a treat for the senses by incorporating not only sweet smelling and brightly coloured plants but water too. The gentle sound of trickling, running or bubbling water can bring a really harmonious feel to any style of garden and need not be hard to introduce either.
A fence makes the ideal spot for a ready-to-fit wall-mounted water feature — and often no water supply is required as they feature recirculating pumps. All you need is a power source. Fix to a fence post for added support.
The Lion Wall Mounted Water Feature here is from Cox & Cox and even has warm LED lights to bring it to life as dusk falls.
9. Use Hanging Planters For a Lush Feel
This is the ideal solution for anyone after a fast fix for a dull fence — plus, should you move in the future, it can be taken down, packed up and accompany you to your next home.
Hanging pots and planters come in a range of sizes and styles and are available to suit all budgets — the teal hanging planter from Dunelm, shown here, costs just £8. Fill them will anything that takes your fancy, from trailing plants to salad leaves.
If you want to save money or like the idea of upcycling, why not start saving crates, containers, food tins and wooden cartons and use these as hanging planters rather than buying new?
10. Plant a Hedge to Cover the Fence
So, this one is not necessarily the quickest of fixes — but good things come to those who wait.
Planting a hedge directly in front of your fence will certainly mask it, but this solution also comes with a whole host of other benefits. Hedges add depth and a lush feel to your garden as well as giving all kinds of wildlife a home — they can even add a soundproofing layer.
If you are looking for a fast-growing hedge, laurel and hawthorn are both good options. Do bear in mind that once your hedge is well established it will require trimming one or two times per year.
11. Make Your Fence Sparkle With Fairy Lights
There are very few things that can't be made better with the addition of a string of pretty fairy lights — and boring fences are no exception.
The great thing about fairy lights is that they often require no power source — they can be battery powered or run on solar energy, meaning you can move them around or take them right down to the bottom of your garden with no need to call in the electrician.
There are also a wide range of garden lighting ideas and styles out there, from strings designed to drape over the top of a fence to those in net form that can be spread over the entire fence to create the ultimate sparkly feature for your evening garden gatherings.
12. Mask Your Fence With Potted Trees and Shrubs
If you would prefer not to start digging up the ground in front of your fence or want something more instant than a hedge to cover your fence, it is time to start gathering together a selection of garden planters.
Choose a range of pots, container and tubs in various styles, heights, sizes and colours and fill them with all kinds of plants, shrubs, flowers and trees — you can even use them as a base in which to plant vigorous climbing plants.
Spread them out in front of your fence, mixing up heights for a less uniform look — and don't forget to water them on a daily basis in the summer months.
Get the Homebuilding & Renovating Newsletter
Bring your dream home to life with expert advice, how-to guides and design inspiration, direct to your inbox.
Natasha is Homebuilding & Renovating's Associate Content Editor and has been a member of the team for over two decades. An experienced journalist and renovation expert, she has written for a number of homes titles. Over the years Natasha has renovated and carried out a side extension to a Victorian terrace. She is currently living in the rural Edwardian cottage she renovated and extended on a largely DIY basis, living on site for the duration of the project. She is now looking for her next project — something which is proving far harder than she thought it would be.