Smart Home Tech for Every Budget
By Neil Mohr published
Smart home technology can be a minefield, but which devices actually make your home easier, brighter, warmer and safer, and at what cost?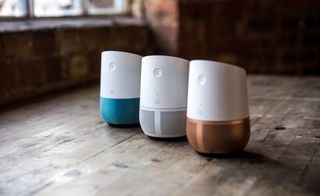 (Image credit: Google Home)
The term smart home tech seems to cover a multitude of bases, from home cinemas and audio-visual experiences, a house that automatically responds as you move through your day (with automatic lighting and heating), to a home that you can control with either spoken command or your phone.
The truth is, it can be all of this.
In recent years there have been huge changes and developments in the smart home market, not just in terms of the tech available and its price, but also homeowners attitudes to it. But it can still be confusing in terms of what the smart tech can do and how it can improve your home.
Here we explain a range of smart home tech options that are available for a range of price points so you can find the best one for your home and your budget.
Professionally-Installed Smart Home Tech
Wired vs wireless
The solid core of a smart home is its network infrastructure. While wireless will be a key component, you can't beat a wired infrastructure.
If you're aiming for a fully integrated smart home, your first port of call should be a smart home installer. Cedia (opens in new tab) is an international trade organisation that represents the smart home industry and, while it's not a regulatory body (such as the Gas Safe Register), it offers training, education and certification, and maintains a list of registered companies you should strongly consider.
You'll find installers that specialise in specific areas such as lighting or home audio/video (AV) and ones that can handle all aspects. Besides their experience, they'll be able to tailor a bespoke, all-in-one home solution that delivers exactly what you require, packaged into a seamless control system.
A professional installer will also be able to leverage commercial solutions that are only really available to the trade — systems such as:
These standards and products enable a deeper level of integration, slickness in their execution and ultimately, a better end experience than the consumer-grade products on the market. The obvious downside is the extra cost.
How Much Does Installation Cost?
It's hard to pin a budget on a professional installation as there's so many options, and even a basic home wired network design and install could cost upwards of £3,000. You'll find a similar cost for a basic AV installation and for a multi-room audio solution. On a pragmatic level, there's little use considering a home-wide smart lighting install that costs much less than £10,000.
Smart Home Tech to Heat Your Property
At the entry level for home heating control is the Nest Learning Thermostat (opens in new tab); it will easily wire into your combi boiler (although you can buy them just for hot water boilers) combining the bundled Heat Link wireless controller and the Nest thermostat.
Can only handle a single heating zone (additional units are required for more than one zone
Entire system can be controlled via most smartphones (Apple Android) using the Nest app
Can be linked to other smart-home hubs (Amazon Alexa and Google Home)
Spun out of a trial in the UK by British Gas back in 2011, Hive is owned by Centrica and has grown to encompass more than just heating control.
The core package is a Nest-style smart thermostat, boiler controller with the addition of a Hive smart-hub bridge, which costs £249. It's the inclusion of the Hive hub that expands its capabilities to cover individual lamp (bulb) control, basic security camera and sensor monitoring, plus plug-in socket control that extends its usefulness.
If you want integrated multi-zone heating control, including individual radiators, take a look at the Honeywell Evohome (opens in new tab) solution (from £215).
Can support up to 12 individual zones, including radiators and underfloor heating
Weaves in a fuller home security offering with panic buttons, contactless door controls, sensors and camera options with GPRS mobile back up – all controlled via an app
Smart Home Tech for Lighting
If you fancy a smart home lighting system at consumer level, pickings are slim.
One of the more widely supported options is the Philips Hue system. This ties in with the usual suspects of Amazon Alexa (opens in new tab), Google Home (opens in new tab) and Apple Homekit (opens in new tab).
As with all these consumer units it requires a dedicated proprietary 'hub' that bridges the wireless control of the individual lights to your smartphone or tablet.
Using an industry standard called 'ZigBee (opens in new tab)', the £50 Philips hub promises interoperability with other compatible ZigBee lights — and at £25 to £50 for the individual Hue lamps (i.e. bulbs), you'd hope so.
IKEA has neatly sidestepped the whole issue of 'smart' lighting with its range of TRÅDFRI wireless (Philips Hue and ZigBee compatible) lighting solutions.
It doesn't require a smartphone or the like to work, just a neat wireless remote (£15) and motion sensor (£15) controls. The really smart part is: add in its Smart Gateway (opens in new tab)(£25) and suddenly the system can be entirely smartphone, Alexa or Apple homekit controlled too, meaning you can control all your TRÅDFRI-compatible bulbs anywhere in the home. At this level, it's a good, affordable solution.
A more complete consumer solution would be LightwaveRF.
This provides smartphone-controlled solutions for:
light switch dimmers
smart heating
power sockets
radiator valves
thermostats
boiler controls
It ties in directly to Amazon, Google and Apple kits plus additional services such as If This Then That (opens in new tab) (which opens up basic programming logic for the system).
Available through ScrewFix and other suppliers, it utilises standard wiring and plumbing, and is operated by its own wireless hub and smartphone app. A single gang dimmer starts at £44.99 and a 2-gang wall socket starts at £40.
Smart Home Tech for Multi-Room Audio
Sonos was the original company to release a practical multi-room audio solution back in 2002 and has since iterated and improved its offering to a point where its consumer-level speakers remain among the best available on the market. What's more, Sonos is efficient enough to be able to support up to 32 devices.
The beauty of Sonos is its flexibility. Utilising your Android or Apple phone, you'll use the app to connect speakers to your network. You can then assign speakers to rooms, configure them to be controlled via TV remotes, and assign your favourite streaming services, including:
Apple Music
Amazon Music
Google Play Music
Spotify
Deezer
Pandora
Soundcloud — the list goes on
It'll also stream music from a local server or laptop.
There's a range of speaker options from Sonos, too:
The core Play:1 and 5 speakers (opens in new tab) (£199, £499 respectively) are well complemented by the range of dedicated TV audio options available, which include: Playbar (opens in new tab) (£699) and Playbase (opens in new tab) (£699) which both offer a two-in-one experience of cinema and sound for your TV with the ability to also stream music; and Sub (opens in new tab) (£699) that connects to any of your Sonos speakers for a deeper bass without the vibration.
It has most recently added Amazon Alexa support with the Sonos One speaker (opens in new tab) (£199), offering voice control and the ability to manage other smart devices.
The Sonos Connect bundle (opens in new tab) (£349), meanwhile, attaches to your HiFi and allows you to stream your LPs and CDs to Sonos speakers throughout the house.
Sonos doesn't have the market to itself however, and there are certainly higher-end options but it's at the lower end where all the interest seems to be.
All offer multi-room audio with 'smart' extras bolted on. Whether any of those are better for pure audio than the Sonos is highly debatable.
Smart Home Tech to Create the Ultimate Home Cinema
There is a lot of snobbery regarding home entertainment installations, but TV technology has advanced so much that any recent HD TV is going to deliver the smart, connected experience most people will be happy with.
Devices like the Google Chromecast or its latest 4K (referring to a high-definition resolution of 4,000 pixels) Chromecast Ultra are tiny wireless devices that plug directly into any empty HDMI port in the back of your HD TV, instantly transforming it into a Smart TV.
Controlled with your Android or Apple phone or tablet, it can also beam your photos, music and streaming services – think Netflix, Amazon, BBC iPlayer, YouTube, NowTV et al – to your TV.
Google isn't the only streaming show in town. If you like your Apple devices, the versatile Apple TV 4K box (£199 for the 64GB model) delivers the same functions and ties into your existing iTunes account.
Meanwhile, Amazon offers its Fire Stick, which ties into Amazon Prime Video and Music accounts.
For a subscription service, Sky TV with Q Multiscreen is an 'out of the box' solution that supports 4K Ultra HD on the main Q box, and Full HD on up to four additional Q mini boxes, all around your home. The main Q box offers all of your traditional Sky programming, the ability to pause and record programmes plus the ability to pause and carry on watching in another room.
The wireless Q mini boxes can also work independently, so everyone at home can enjoy their own programmes or pick up recordings from the main Q box. You'll need a base Sky subscription and an additional £13 per month Q subscription.
Sky supplies the Sky Q box and a Q mini, with additional Q mini boxes costing £99.
If you like to have more control over what you watch and listen to, then you'll need a system to store your content on. The installer's choice is typically a Kaleidescape media streaming solution (from around £5,400) that can store and stream hundreds of DVD or blu-rays.
A Smart Alternative
A smart alternative is to choose a NAS (Network Attached Storage) box that's capable of local 4K HDMI playback and network streaming. One option would be the QNAP TS-453mini (opens in new tab) with 16TB of storage, costing around £985.
Utilising the supplied Plex Media Centre (opens in new tab) software, it can stream locally stored films, TV, music and photos to any device on your network (or over the internet) that supports the Plex app, including most smart TVs, Android, Apple iOS devices and the Google Chromecast.
Homebuilding & Renovating Newsletter
Get the latest news, reviews and product advice straight to your inbox.
Thank you for signing up to Homebuilding. You will receive a verification email shortly.
There was a problem. Please refresh the page and try again.