How to Pour a Concrete Floor
Pouring a new concrete floor is not just a job left for the builders. Natasha Brinsmead explains how you can carry out the work on a DIY basis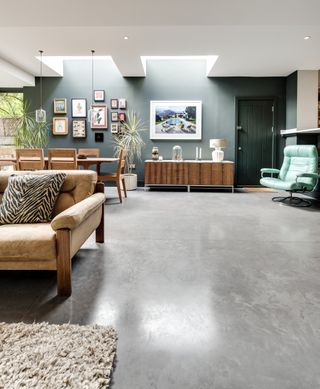 (Image credit: Lazenby)
If you have built an extension or new home, then there will come a point when you are ready to pour a concrete slab. In most cases this will be when the foundations have been laid and the walls have been built up to the damp-proof course.
Before this happens, there are several key preparation stages that need to be carried out:
Assuming the hardcore – or more commonly a Type 1 floor seal – is already in place, this must be properly compressed before work can be carried out.
If hardcore has been used, sand blinding will need to take place next (although this is unnecessary if a Type 1 floor seal has been used). This involves building sand being shovelled into the area where the slab is being poured, before it is distributed and levelled off. A string line or laser level is useful in getting the levels right at this stage. The sand will fill any bumps and hollows, and a thickness of around 50mm is usual once the sand has been tamped down.
Next, the damp-proof membrane (DPM) will go down. Thicknesses of DPMs vary, but 1,200 gauge is a common thickness. It is preferable to cover the area being worked on with just one large sheet, but in cases where more than one sheet is required, joins should overlap by at least 150mm and be sealed to prevent any moisture coming up through the new concrete slab. The edges of the DPM will go up the walls and wrap over the brick walls, and eventually sit under the next course of bricks — although sitting in place with a brick here and there will do for now.
Next comes the concrete — although the insulation boards are sometimes laid at this point. If your extension is only very small, you might want to consider barrowing it in yourself as it is mixed. However, this is a labour and time-intensive exercise. The other options include having it poured straight from the lorry, if access is not a problem. The preferential option, however, saving time and effort (and costing a little extra) is to have ready-mixed concrete pumped directly into place; 100mm is typical. You will then need to wait at the very least three days for it to cure.
If your concrete floor needs to be reinforced (in areas which are likely to be heavily loaded, such as garages), then a metal mesh standing on plastic feet will be put down before the concrete is poured.
Once the concrete has been levelled and has set, the insulation will go down (if it didn't go down before). Typically 75–100mm of rigid foam boards are installed.
Finally, many people choose to put down a vapour barrier on top of the insulation before the screed is poured. Any pipework for underfloor heating is then laid out and secured before the screed is put down. The screed will need to cure for a week.
In most cases, your builder will install your floor, although it is possible to do it on a DIY basis — but it is not a one-man task.
Step-by-step
Hardcore or a Type 1 floor seal is compacted using a whacker plate.
Sand blinding will take place if necessary.
A damp-proof membrane is put down.
Concrete is poured and left to cure — for a minimum of three days.
Insulation is put down.
Underfloor heating pipes are put in place if necessary.
A final screed layer is put in place and left to cure for a week.
Our Estimate
Approximately £1,400* (including labour)
Beam and Block Floors
Larger extensions often benefit from a suspended concrete floor — almost all new builds are now built using this system as it is quicker, you can walk on it sooner, and it reduces any risk of damp coming up through the floor.
Concrete joists, with lips on either side about halfway up, are placed on the floor. Concrete blocks are then laid horizontally between the joists, resting on the lips and level with the top of the joists. Insulation is then put down underneath the screed or, in some cases, timber sheets.
Get the Homebuilding & Renovating Newsletter
Bring your dream home to life with expert advice, how-to guides and design inspiration, direct to your inbox.
Natasha is Homebuilding & Renovating's Associate Content Editor and has been a member of the team for over two decades. An experienced journalist and renovation expert, she has written for a number of homes titles. Over the years Natasha has renovated and carried out a side extension to a Victorian terrace. She is currently living in the rural Edwardian cottage she renovated and extended on a largely DIY basis, living on site for the duration of the project. She is now looking for her next project — something which is proving far harder than she thought it would be.