An Extraordinary Subterranean Extension to a Listed Cottage
By Amy Reeves published
Norman and Zoë Carter have renovated and extended a run-down cottage in the Cotswolds to create a unique, futureproofed home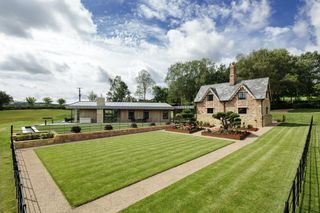 (Image credit: Simon Maxwell)
Zoë and Norman Carter are no strangers to building sites, so when they decided to relocate to be closer to their grandchildren, they knew they would be looking for another project.
"We self-built our last house in Cornwall and lived there for 10 years," begins Zoë. "We knew that we were going to have to build again because we wouldn't be satisfied living with other people's decisions!
"We love the Cotswolds so began looking for building plots and buildings that could be refurbished," she adds. What they ended up purchasing was a former woodcutter's cottage, on a two-and-a-half acre plot, which had fallen into disrepair.
In many ways, the project Zoë and husband Norman took on represents the best of both worlds: they have restored a Grade II-listed cottage, building an extension which contrasts with contemporary styling.
(MORE: Get inspired by our gallery of radical extensions where more homeowners have embraced bold ideas)
Image 1 of 3
Image 2 of 3
Image 3 of 3
A Difficult Planning Proccess
Project Notes
Homeowners Norman and Zoë Carter
Location Gloucestershire
Project Contemporary extension to a Grade II-listed cottage
Build route Self project managed
Build size Cottage: 75m2; extension: 220m2; garage: 50m2
Build time July 2016 - August 2018
House cost £735,000 (Nov 2015)
Build cost £1.5million (including landscaping)
Current value £2.75million
The couple bought the modest two-bed cottage with outline planning permission for an extension which followed the line of the existing outbuildings. However, the plans didn't meet Building Regulations, making reapplying with new designs essential.
The Carters went back and forth, revising their design and attempting to comply with planning conditions like the restricted head-height and position imposed on the extension, after numerous conversations with the conservation officer.
"The cottage had to look dominant, which we were happy with, but it is only one-and-half storeys high, and when you're working with two-and-a-half acres it was difficult to get something of a decent proportion," says Zoë.
"There were parts of the planning process we really struggled with and we thought 'let's just put it back on the market', but then we would come here on a really clear, sunny day and realise that some things are worth fighting for, so we fought," remembers Norman.
Image 1 of 3
Image 2 of 3
Image 3 of 3
After their first application was refused and their original architect left the project, Norman and Zoë brought local architect John Ford on board.
Much more familiar with the local planning authority's expectations, architect John worked with Norman and Zoë to achieve the home design they were looking for.
Norman had originally hoped to use the cottage as a home office and entryway to the new extension, but their design developed so the original layout of the cottage was restored with a snug, a boot room and two bedrooms for when their children and young grandchildren come to stay.
(MORE: You won't believe the incredible homes that beat tough countryside planning rules)
Restoring a Grade II-Listed Cottage
"Another year and the cottage would have fallen down, and to be honest, it would have been easier just to knock it down and start again," Zoë reflects.
Each wall was taken down individually so new foundations could be retrofitted to counteract subsidence and the timber frame twisting.
The original oak frame was carefully restored too, with timber retained where possible and new wood spliced in where the original frame was beyond repair.
Modern additions such as underfloor heating were added and original features brought back to life, including the original inglenook fireplace. Unfortunately, during the process of renovation, the chimney collapsed, meaning the couple had to rebuild it, stone by stone.
Designing a Future-proofed Home for Life
Moving from the cottage, beautiful modern extension ideas have been incorporated, including a glass link which leads towards the new addition. This importantly ensures that Norman and Zoë's living spaces – including a master suite with bathroom and dressing area, Norman's office, and the kitchen – are accessible.
"Our idea is that, if we're here for the rest of our lives, from our living area we can live on one level, and we designed the renovation so it could become a carer's cottage. The boot room could easily be converted into a kitchen and it has its own garden cornered off so it has a little privacy," says Norman.
The design for this lifetime home also means that, although spanning 220m2, it remains hidden as visitors approach from the main road behind the cottage and a subterranean floor houses two further bedrooms, a family bathroom and the plant room.
"We made the downstairs wide because I was concerned it would feel too much like a bunker," explains Norman of the surprisingly bright underground spaces.
Smart home tech also features throughout the house, including automated lighting and integrated thermostats.
Image 1 of 4
Image 2 of 4
Image 3 of 4
Image 4 of 4
Finishing the Landscaping
Image 1 of 3
Picture windows, from Internorm, are scattered through the house to capture the stunning Cotswolds views.
Image 2 of 3
Image 3 of 3
After living in their flat in Bath during the project and spending the weekends living on site in a caravan, Norman and Zoë moved into their new house — 20 months after they first bought the cottage. However, the project pressed on still.
"It was important for us to continue the project until the garden design was completely finished," Norman explains.
The result is the cherry on top of an impressive project: separated into distinct areas – cottage garden woodland, orchard, parkland and the garden 'amphitheatre' – the grounds are joined together by a rill water feature and encased by idyllic countryside hedges.
"It was a very stressful project but we are very proud of it," says Zoë. "It is wonderful to be in the house especially when the sun is shining and the garden is in full bloom — we wouldn't change a thing."
Assistant Editor Amy began working for Homebuilding & Renovating in 2018. She has an interest in sustainable building methods and always has her eye on the latest design ideas. Amy has interviewed countless self builders, renovators and extenders about their experiences for Homebuilding & Renovating magazine. She is currently renovating a mid-century home, together with her partner, on a DIY basis, and has recently fitted her own kitchen.
Homebuilding & Renovating Newsletter
Get the latest news, reviews and product advice straight to your inbox.
Thank you for signing up to Homebuilding. You will receive a verification email shortly.
There was a problem. Please refresh the page and try again.